As the monsoon starts to gracefully abate, we look forward to Ganesh Chaturthi and celebrations that are not complete without those authentic, awesome-tasting modaks.
Stuffed with coconut and jaggery, these rice dumplings are offered to Lord Ganesha during the 10-day festival.
Here is a traditional recipe from Maharaj Ganga Singh of Rasotsav, a vegetarian restaurant serving Rajasthani and Gujarati food in Mumbai.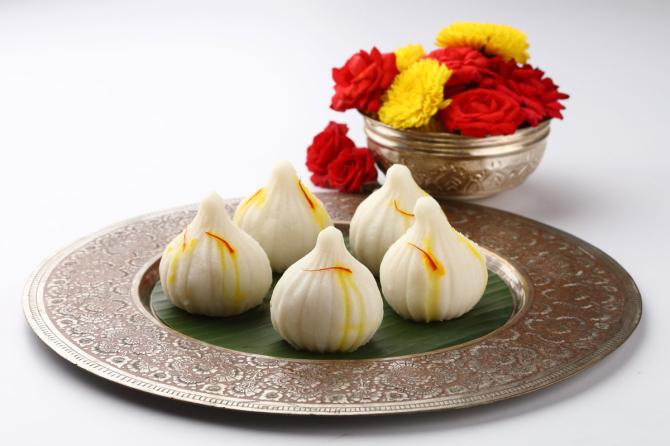 Ukadiche Modak
Servings: 12 pieces
Ingredients
For the outer covering
1½ cups rice flour
Pinch of salt
1 tsp oil + oil for greasing
1¼ cup water
Ghee, for serving
For the stuffing
1½ cup grated fresh coconut
1 cup jaggery
1 tbsp khus khus or poppy seeds, roasted
Pinch of green elaichi or cardamom powder
Pinch of nutmeg powder
Method
For the outer covering
Heat the water with salt and the 1 tsp oil in a heavy-bottomed saucepan.
Bring to a boil, reduce heat and add the rice flour in a steady flow, stirring continuously to prevent lumps from forming.
Cover the pan.
Pour some water on top of the lid and cook on low heat for three minutes.
Remove the lid, sprinkle some cold water on the rice flour and cover again.
Repeat this process 2 more times.
Take the pan off the heat and keep covered for 2 minutes.
Transfer the mixture to a large plate.
Grease the palms of your hands with oil and knead the dough till it is smooth and pliable and not stick to your palms.
Cover the dough with a damp cloth and let it rest.
For the stuffing
Combine the grated fresh coconut and jaggery in a heavy-bottomed kadhai or pan and cook on medium heat for 1-2 minutes till light golden brown.
Make sure it doesn't overcook.
Add the roasted poppy seeds, cardamom powder and nutmeg powder.
Take off heat and let it cool.
Assembly
Divide the rice flour dough into 12 equal portions and shape into balls.
Grease the palms of your hands and flatten each ball to give it the shape of a tiny bowl.
Press the edges to reduce the thickness.
Place a portion of the stuffing in the centre, pleat the edges of the dough and gather them together to form a potli or bundle.
Pinch to seal the edges at the top (please see pic above).
Heat sufficient water in a steamer.
Place the modaks on a perforated plate in the steamer and steam for 10 to 12 minutes.
Take off heat and serve hot with ghee.