August marks the beginning of a series of festivities across the country.
From delicious halwas to lip-smacking barfis, Indian households truly come alive with the fragrance of wonderful sweetmeats.
Here are some recipes packed with the added crunch of walnuts to amp up your favourite Indian sweets and make your celebrations special.
All photographs: Kind courtesy California Walnuts
Walnut Barfi

Recipe by Chef Sabyasachi Gorai
Ingredients
1 cup walnuts
¼ cup milk
250 gm khoya or mawa
¼ cup sugar
1 tbsp ghee/clarified butter + a little extra for greasing
½ tsp cardamom powder
Method
Take ½ cup walnuts in a bowl.
Add ¼ cup of milk and let it soak for 1 hour. Thereafter, blend it into a coarse pureé.
Heat 1 tbsp of ghee in a pan and add the remaining walnuts. Sauté till golden, drain and set aside.
In the same ghee, add khoya and sugar and mix well. To this add the walnut puree and mix again.
Keep cooking this till it gets thick and leaves the sides.
Add cardamom powder and fried walnuts and mix well.
Spread this on a greased plate and let it set for a few hours.
Slice into pieces and garnish with walnuts.
---
Walnut Rasmalai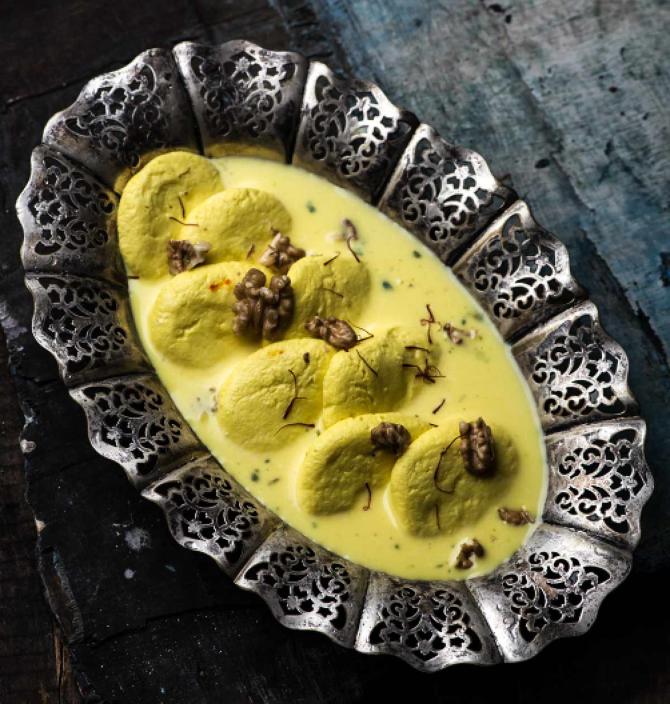 Recipe by Chef Varun Inamdar
Ingredients
For the chenna
8 cups full cream milk
1/4 cup lemon juice
1/4 cup water
For walnut milk syrup
2 ½ cups walnut milk
3 tbsp milk powder
1/3 cup sugar
A few drops of yellow food grade colour
For garnish
1/8 tsp saffron strands
1/2 tsp cardamom powder
1 tsp walnut flakes
Handful walnuts, chopped roughly
For the sugar syrup
3 cups water
1 cup sugar
Method
For the chenna
Boil milk in a heavy bottom pan.
When it boils, add in vinegar and water mixed together. Stir and turn the flame off.
Strain the curdled milk using a muslin cloth and wash the milk solids under running tap water. Keep aside till they cool.
With the heel of your palm massage the washed curds for 15 minutes till it is shiny and smooth. Divide into 12 balls.
Roll them and flatten them.
For the syrup
Heat sugar and water together till they start boiling, in a heavy bottomed vessel.
Drop in the chenna balls. Cover with a lid and allow it to roll boil for 15 minutes.
Switch the flame off and allow the syrup and chenna to come down to room temperature.
For walnut milk syrup
In a heavy bottomed pan, add walnut milk and bring it to a boil.
Add in sugar, yellow colour and milk powder.
Once the sugar is dissolved, switch the flame off.
To assemble
Take the poached balls, press them and drain the syrup off.
Transfer into the flavoured walnut milk.
Garnish with saffron strands, pistachio flakes and crushed walnuts.
Serve chilled.
---
Old Bombay Nankhatai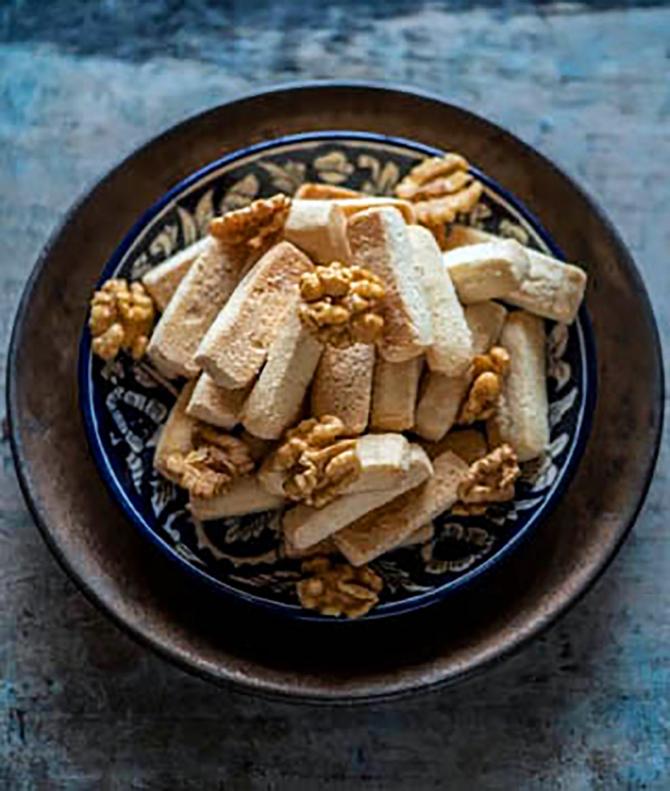 Recipe by chef Varun Inamdar

Ingredients
1/2 cup ghee
1/2 cup powdered sugar
3/4 cup refined flour
1/4 cup walnut powder
Pinch of salt
1 tbsp semolina
1/4 tsp baking soda
1/2 tsp cardamom powder
For glazing
2 tbsp milk
1 tbsp powdered sugar
Method
In a mixing bowl ghee and powdered sugar, whip smooth for 10 minutes till it is soft, white, fluffy and creamy.
Add refined flour, walnut powder, salt, semolina and baking soda, cardamom powder.
Mix well and knead the dough combining with your hand. Do not over knead.
Roll into a baking sheet till the dough is 1 cm thick. Transfer onto a baking tray.
Cut into long rectangles.
Mix milk and sugar in a bowl and apply on top of the cut triangles using a brush.
Bake at 180°C for 10 minutes.
Remove the tray and allow the cake to cool completely.
Store in airtight container.
Borhri Malai Khaja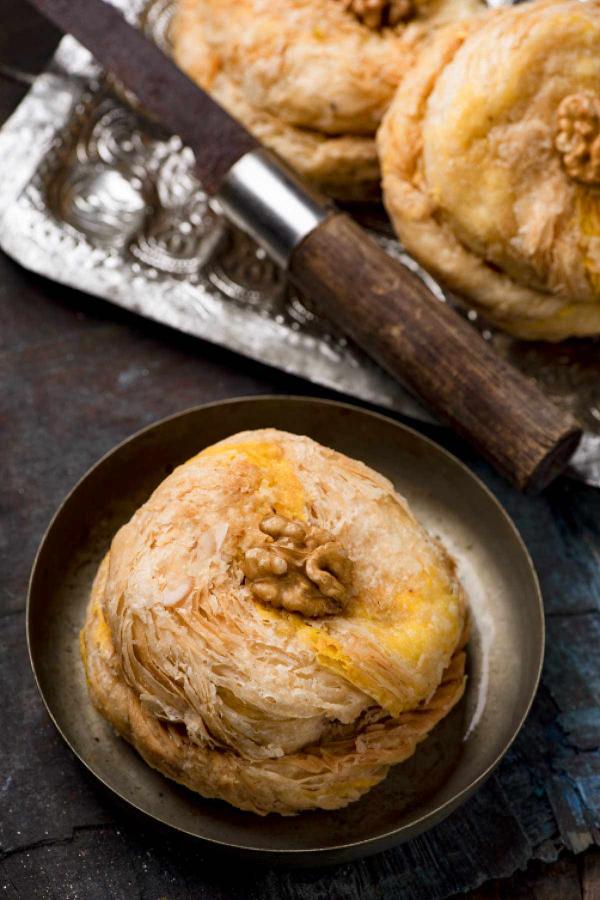 Chef Varun Inamdar
Ingredients
For covering
2 cups refined flour
2 tbsp ghee
For layering
1 tbsp refined flour
1 tbsp ghee
For stuffing
1 cup khoya
1/2 cup walnut powder
1 cup powdered sugar
1 tsp green cardamom powder
1 tsp saffron water
Oil for frying
Method
Roast the khoya and walnut powder on low flame for 10 minutes.
Cool and mix sugar, cardamom powder. Keep aside.
Knead refined flour and ghee with little water to form a stiff dough. Make into orange sized balls.
Roll each ball to a thin disc 9 inches in diameter. Smear ghee and sprinkle refined flour all over.
Roll into a thin cylinder, twist it and spiral it up. Chill for 10 minutes.
Roll the chilled spiral ball into a 4 inch disc and add in a scoop of the cooled filing.
Bring the ends together and roll into a ball yet again.
Give it a smear of saffron water and chill for 15 minutes.
Deep fry over low flame.
Garnish with powdered sugar.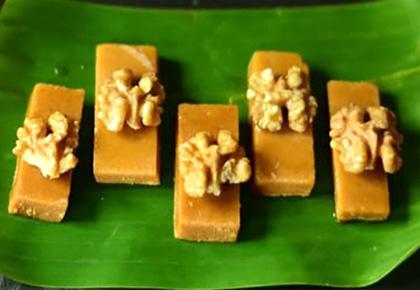 ---
Would you like to share an interesting recipe or cooking video?
Please do send your recipe/video to us at getahead@rediff.co.in (Subject: My Recipe) along with your name, location and, of course, the recipe.