Make your Ganesh Chaturthi festivities more satisfying with this melt-in-your-mouth Chocolate Barfi from Chennai-based online cookery expert Hemasri Subramanian.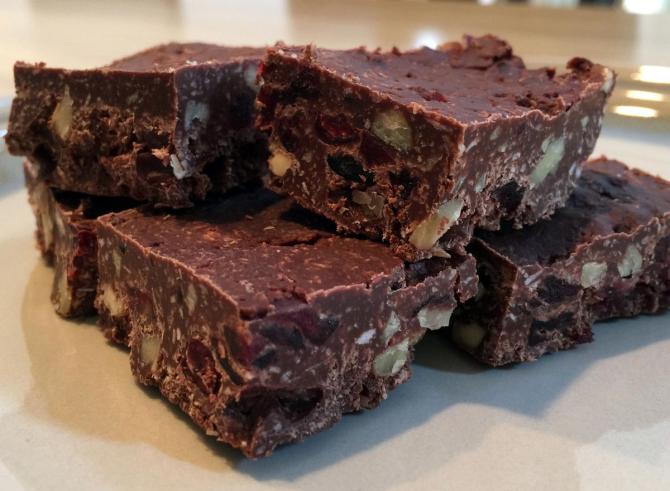 Chocolate Barfi
Servings: 12-15 pieces
Ingredients
3 cups walnuts
200 gm dark chocolate (85 per cent about)
50 gm unsalted butter (please see the note below)
½ cup milk
2 cups milk powder
1 cup powdered digestive biscuits
1 cup condensed milk
Butter for greasing the plate
Method
Pulse the walnuts in a blender a few times so that the nuts break down into small pieces.
Transfer the ground walnuts into a bowl and keep aside.
Chop the dark chocolate into small pieces and transfer into a bowl.
In a heavy-bottomed pan warm the butter along with the ground walnuts over low heat.
To this mixture, add the chopped chocolate and mix well.
Add the milk, milk powder and stir slowly.
Add the powdered biscuits and mix.
Add the condensed milk and give the mixture a good stir.
Take off heat and immediately spread the barfi mixture onto a greased plate.
Let it cool down completely and then cut into squares.
Serve.
Note: Leading companies are now producing unsalted butter. Or opt for white butter which is unsalted.
Else if using salted butter, check salt while adding the digestive biscuits, which usually contain salt, and opt for marginally reducing the quantity of powdered biscuits and maybe increasing the quantity of walnuts, powdered.