What better way to celebrate mangoes than with a fresh, colourful and vibrant salad with crunchy bell peppers and capsicum?
This recipe has been shared by Maharaj Jodharam Choudhary, corporate chef, Khandani Rajdhani, a chain of thali restaurants serving Rajasthani food.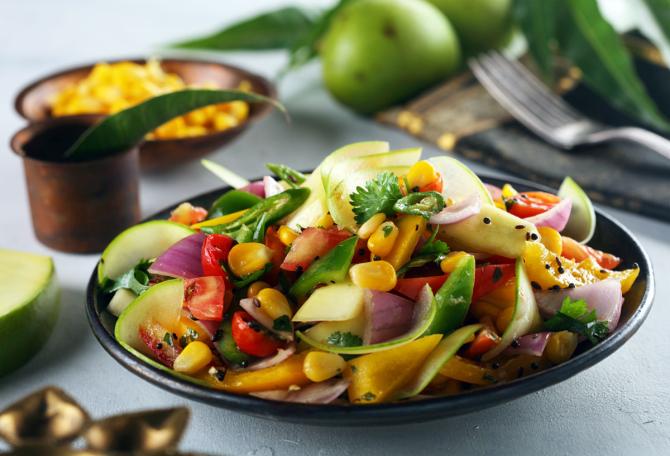 Teekhi Kairi Makai Ka Salad
Serves: 2
Ingredients
100 gm American corn kernels
30 gm red bell pepper or capsicum, diced
30 gm yellow bell pepper or capsicum, diced
100 gm raw mango, diced
30 gm green capsicum, diced
30 gm tomato, diced
20 gm green chillies, cut diagonally in long slits
Black salt to taste
For the tempering
A sprig of curry leaves
2 tsp rai or mustard seeds
2 tbsp vegetable oil
2 tsp jeera or cumin seeds
Method
Place a saucepan with water over medium heat.
Once the water boils, add the corn kernels and let it cook for 10 minutes.
Take off heat, strain using a channi or colander and and bring it to room temperature by placing the strainer under running water.
In a bowl, combine the cooked corn, diced red and yellow bell pepper, raw mango, tomato, green capsicum and chopped green chillies.
Add black salt and mix well.
Heat oil in a tempering pan over medium heat.
Once hot, add the mustard and cumin seeds.
Let it crackle.
Add the curry leaves and quickly pour this tempering over the salad and mix well.
Serve at room temperature.