A comfort meal to eat anytime in the day.
Brown Rice and Chicken Congee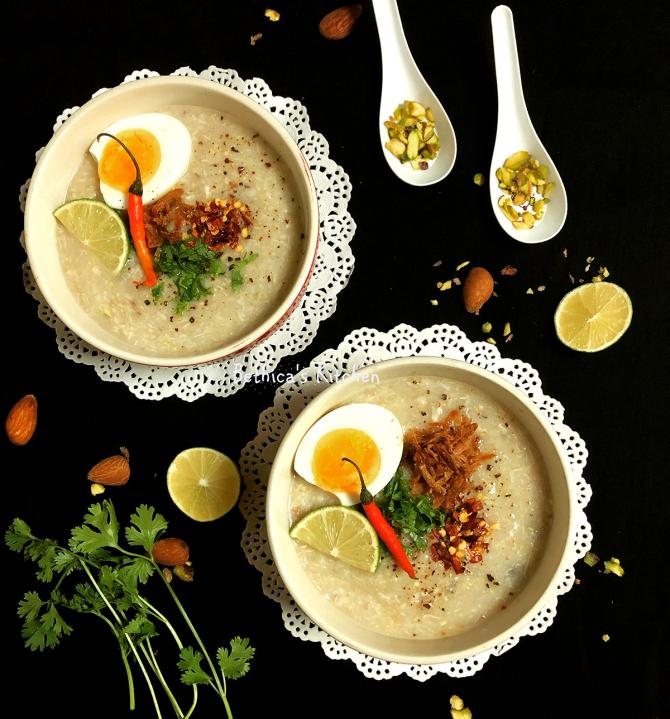 Ingredients
1/3 cup brown basmati rice, soaked for 2-3 hours
3/4 cup chicken stock
6 cups water
1 chicken cube
Salt to taste (optional)
1 tbsp chopped almonds
1 tbsp chopped pistachios
Chopped coriander leaves, fried onions, red chili flakes, lime wedges and boiled eggs for the garnish
Method
In a pan add rice, chicken, almonds, pistachios, chicken stock, salt and water.
Bring it to a boil.
Cover and simmer for 35-40 minutes or till the rice turns soft and mushy.
Keep mashing with a masher at intervals to get a smooth consistency.
Water/stock may be adjusted according to the consistency desired.
Ladle into individual bowls and serve it hot, garnished with chopped coriander leaves, fried onions, chili flakes, boiled egg and lime wedges.
You may also drizzle some chili/tomato sauce for added flavour.
We ask you, Dear Readers what is your go-to dish in the winter?
It could be a green leafy vegetable sabji or a immunity boosting soup.
Do you have a special hot chocolate recipe? Or is gajar halwa your winter favourite?
Please share your recipes and we'll publish the best ones on Rediff.com.
Please mail your recipe(s)/video(s) to getahead@rediff.co.in (Subject: Winter Recipe) along with your name, location and, of course, the recipe(s).