Rediff.com's Hitesh Harisinghani shows you to make the classic Indian pulav.
Photograph and video: Hitesh Harisinghani/Rediff.com
Chicken Kheema Pulav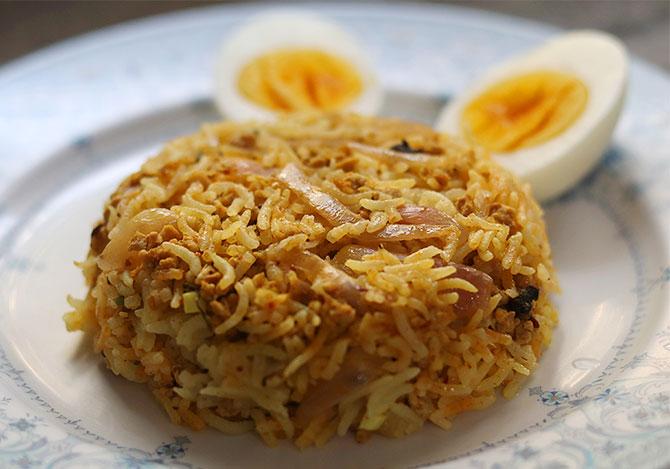 This recipe is prepared with minced chicken also known as kheema which is marinated and steam cooked with rice.
Kheema Pulav is best served with yoghurt, salad or boiled eggs.
Watch how you can make it at home!
Ingredients
1 cup basmati rice washed and soaked for 20 minutes
200 gm chicken Kheema
1 big chopped onion
2-3 green chillies
5 cloves of garlic chopped
1 inch ginger chopped
6-8 cloves
1-2 cinnamon sticks
6-8 black pepper corns
1-2 bay leaves
1 tsp cumin seeds
2 tsp coriander powder
2 tsp turmeric powder
2 tsp red chilli powder
2 tsp garam masala
Salt as required
2-3 tbsp curd
Method
Heat oil in a kadhai.
Add cumin, bay leaves, cloves, cinnamon and pepper corns.
Add onions and green chillies.
Add ginger and garlic. Saute for 5 to 6 minutes.
Add salt and remaining spices.
Add kheema and curd. Mix well.
Add basmati rice. Mix gently so rice doesn't break.
Add 2 cups of water. Add coriander leaves and cover with a lid. Let it cook for 15 minutes.
Serve hot with eggs, salad or curd.