Craving for comfort food? Here's a recipe you can enjoy as you snuggle under your blanket.
The recipe has been shared by Executive Chef Merajuddin Ansari of Four Points by Sheraton, Navi Mumbai.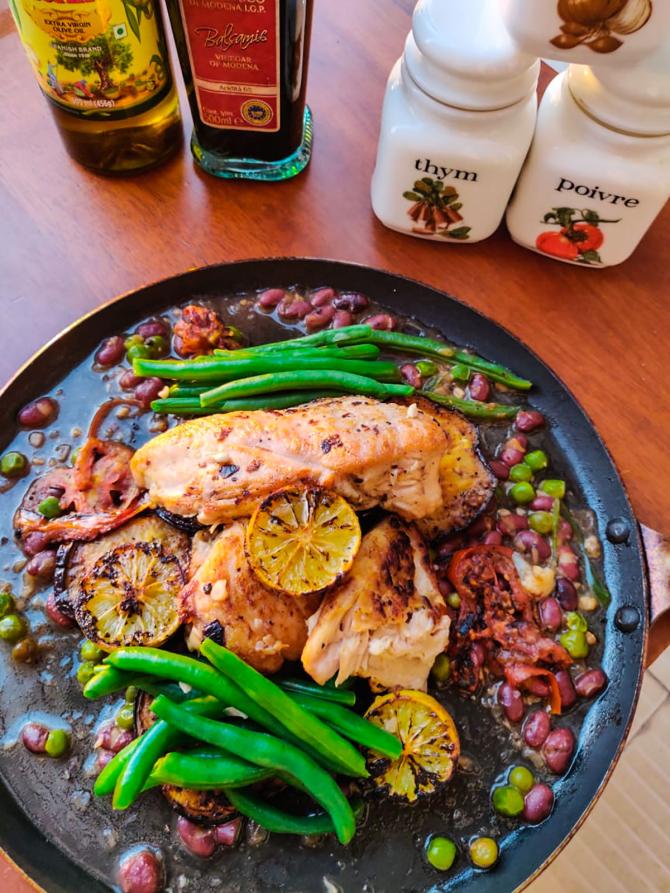 Pan-seared Chicken
Ingredient
1 tbs olive oil
1 tbsp onion, chopped
3 cloves garlic, chopped
1 large chicken breast
500 ml chicken stock
1 slice bread, cut into cubes
2 large handfuls of spinach, shredded
4 green beans, trimmed, halved and cut into chunky pieces
40 gm fresh or frozen peas
400 gm borlotti beans, drained and rinsed (This is optional. You can choose any green vegetable as per your liking.)
Method
Heat oven to 200°C/180°C fan/gas.
Heat 1 tsp of the oil in a pan and brown the chicken.
Remove from flame.
Bring the stock to a boil in the same pan.
Add the chicken and cook for 5 minutes.
Turn off the heat and cover with a lid.
Let it stand for 30 minutes.
Put the bread cubes on a baking tray.
Drizzle with oil, some salt and parmesan.
Bake for 6 minutes until crunchy and golden.
Remove and scrape off the bread onto a plate.
Remove the chicken from the pan and slice it.
Take a pan and saute onion, garlic, spinach, blanched beans, green peas and boiled borlotti beans.Cook for 5 minutes.
Add chicken stock to the vegetables and cook for 1 minute.
Heat everything through, then pour into bowls on top of chicken or you can put on the base.
We ask you, Dear Readers what is your go-to dish in the winter?
It could be a green leafy vegetable sabji or a immunity boosting soup.
Do you have a special hot chocolate recipe? Or is gajar halwa your winter favourite?
Please share your recipes and we'll publish the best ones on Rediff.com.
Please mail your recipe(s)/video(s) to getahead@rediff.co.in (Subject: Winter Recipe) along with your name, location and, of course, the recipe(s).