We asked you, Dear Readers, what would you cook for US Vice President Kamala Harris?
Vinay Kamtikar from Bengaluru believes Kamala Harris should sample the superfood moringa or drumstick.
"I'm a vegetarian," he says, "and always envied the very appealing sight of a non-vegetarian eating a chicken or mutton bone. The manner in which they ate the bones, with great pleasure, and leaving the bare bones in the end, always left me... well, feeling very jealous. But my vegetarianism did not permit me to eat a bone.
"Now, I don't envy non-vegetarians anymore. I have discovered moringa. The cooked moringa in sambar, or any curry has perfect (similarity) to a non-veg bone -- long and tubular, it looks like a tempting bone," says Vinay.
"The moringa's scaly green exterior adds to its appeal. If you open the moringa, what do you get? A nice fleshy pulp with white pods."
"The moringa is best enjoyed when eaten with your hands, gently scooping out the fleshy pulp with your incisors, almost like a bone, relished slowly and lovingly. Once you are done eating it, you leave those tell-tale signs -- dry scaly skin, just like a fully chewed bone.
"It's a most satisfying feeling indeed that keeps my vegetarianism intact too."
Please click here for three moringa recipes you will love.
---
"I admire Kamala Harris," says Nalini Kudalkar a resident of Mumbai, sharing a recipe from Potato Cheese Bombs.
"This is an easy and quick snack recipe which can be had at any time of the day. It is prepared mostly in winter and during the monsoon. I have it when I am hungry."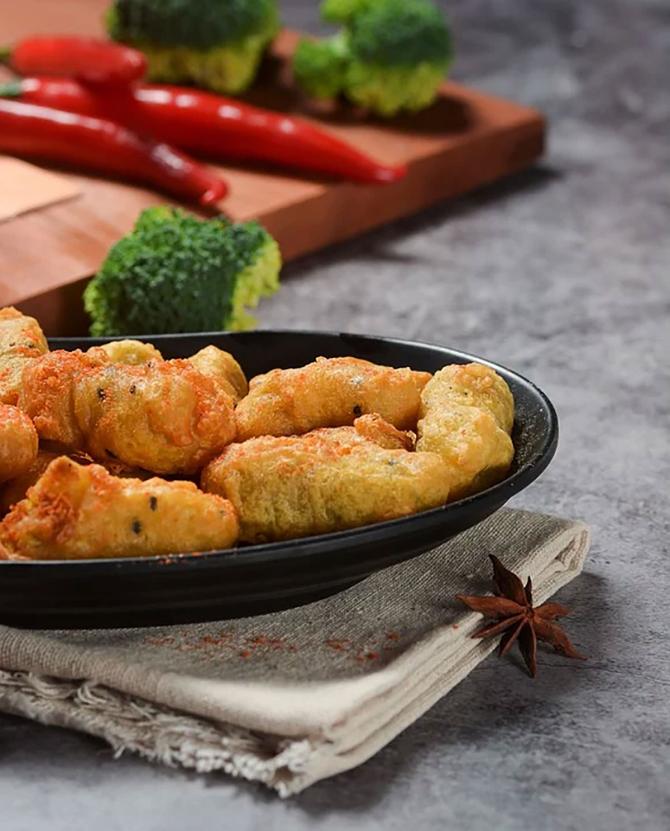 Potato Cheese Bombs
Ingredients
2-3 cups mashed boiled potatoes
A small piece ginger, peeled, grated
Cheese, grated, as per requirement
½ tsp garam masala
½ tsp haldi or turmeric powder
½ tsp chilly powder
1 cup dhania or coriander leaves, finely chopped
Bread crumbs
Ghee or oil for making the bombs
Oil for frying, if using a kadhai /em> or wok, but an air fryer is a healthier option.
Method
In a bowl, mix the mashed potatoes with the grated ginger, garam masala, turmeric powder, chilly powder and coriander leaves.
Grease your palms with a little ghee/oil and make small balls of the mashed mixture.
Flatten the balls into small puri-shaped circles.
Add a heap of grated cheese in the centre and seal the edges to make a ball.
Coat with a layer of bread crumbs and deep fry in a kadhai or wok.
If using an air fryer, fill the potato bombs in the air-fryer basket and drizzle with a little oil.
Cook at 180°C for 10 minutes on each side.
Serve warm with mayonnaise, tomato ketchup or any sauce of your choice.
---
What would you like to cook for Kamala Harris?
Mail your recipes to getahead@rediff.co.in (subject: Recipe for Kamala) along with your NAME and the place where you LIVE.
Please don't forget to share pix of your dish. And a video too, if you have it. We'll publish the best entries on Rediff.com.