Television chef Padma Lakshmi cooked Tamarind Rice to mark Kamala Harris's ascension to the United States vice president's office.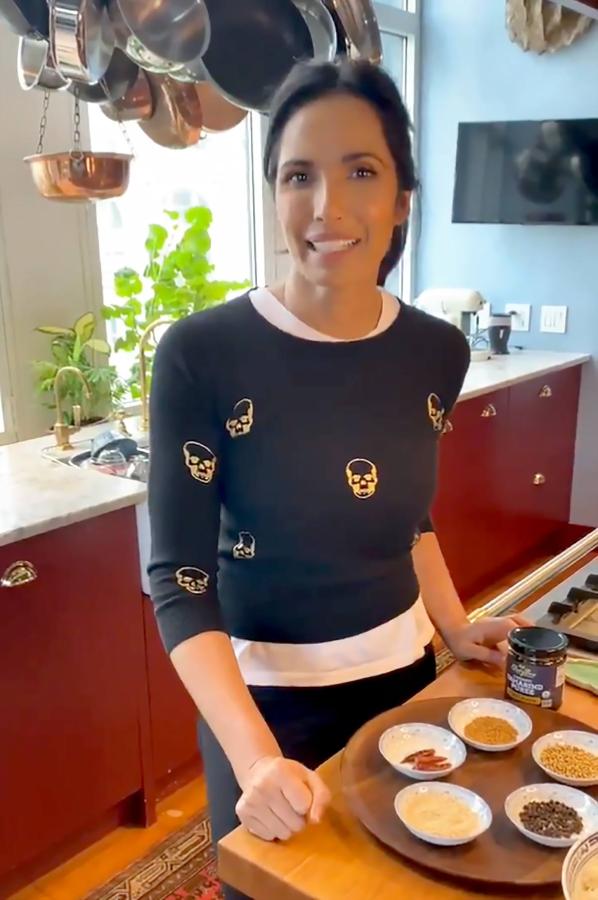 'We made Tamarind Rice in honor of our new @VP Kamala Harris,' Top Chef host and bestselling-author Padma Lakshmi posted on Twitter, welcoming America's first woman and first Southeast Asian vice president.
'It's one of her favorites and mine too,' said Padma, as she tossed the fluffy rice with the piquant imli paste in a video that has now gone viral, with over 100,000 views.
Padma always offers a scrumptious presentation of her recipes. To watch her cook Tamil-style Puliyodarai, please click here (external link)
But Tamarind Rice is not Harris's only weakness.
Food is a giveaway when it comes to one's identity and in interviews, Harris has spoken about her love for Indian cuisine.
What are her favourite foods?
'So South Indian, it would be idli with... a really good sambar, and then north Indian -- probably any kind of tikka.' Hmm. You can take a girl out her mom's country, but you can't take the country out of the girl!'
Tikkas are made in umpteen ways across the length and breadth of India in restaurants and street stalls. So it is with sambar. too
Here are two versions for you, Dear Reader. Do check out these simple, basic recipes for a vegetarian tikka and for sambar.
---
Paneer Tikka
Recipe by Sangita Agarwal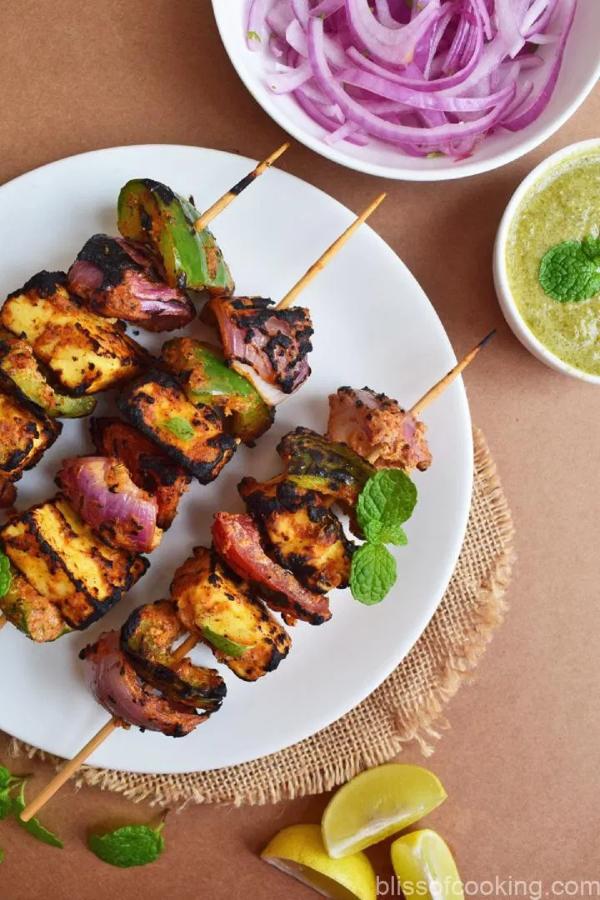 Ingredients
300 gm paneer or cottage cheese
1 large capsicum, cubed
1 large onion, cubed
2 tomatoes, de-seeded and cubed
1 tsp mustard oil for brushing the paneer later
For the marination
1 cup hung dahi or curd/youghurt
1 tbsp ginger-garlic paste
2 tbsp roasted besan or chickpea flour
1½ tsp kasuri methi or dried fenugreek leaves
1 tsp ajwain or carom seeds
2 tsp garam masala
1 tsp Kashmiri mirchi or red chilly powder
2 tsp jeera or cumin powder
½ tsp kali mirch or black pepper powder
1½ tsp chaat masala powder
2 tsp kala namak or black salt
½ tbsp chopped dhania or coriander leaves, optional
½ tbsp mint leaves, optional
1 tbsp lemon juice
2 tbsp mustard oil
Pinch of saffron, optional
Salt to taste
Accompaniments required
Mint chutney
½ cup onions sliced
Lemon wedges
Method
In a large bowl, add all the marination ingredients and stir till you have a smooth paste.
Cut the paneer into 2-inch square pieces.
Add the cubed paneer, onions, capsicum and tomatoes to the marinade. Coat well and leave it to refrigerate for 30 to 40 minutes.
Skewer the paneer and the vegetable cubes, alternating the capsicum, paneer, tomato and onion in any order. This should make about 3-4 skewer-fuls.
There are many ways of roasting the tikkas -- directly on the flame, in a grill pan, in the oven, in a tandoor. Even a non-stick pan can be used. This recipe opts for a grill placed over the gas.
Grease the grill and place it on the stove. Switch on the gas and place the skewers on the grill. Roast them uniformly -- occasionally brushing with the mustard oil -- by turning till they are well roasted on all the sides.
Once nicely grilled, verging on charred, turn off heat. Serve.
Alternatively
If using a grill pan, drizzle oil till it starts smoking. Place the skewers and add ghee or butter as required. Roast on all the side by turning till grill marks appear.
If using the oven, pre-heat to 220 C. Place the skewers on a rack and bake for 15-20 minutes. Make sure you rotate it halfway into baking.
Serve with the sliced onions, mint chutney and a fresh squeeze of lemon!
Note: I always suggest marinating the paneer cubes for 2 hours or more. You can also keep the marinated paneer overnight in the fridge. The longer it is marinated, the better the flavours get infused in the paneer and the veggies.
---
Spicy Vegetable Sambar
Recipe by Ramapriya Suresh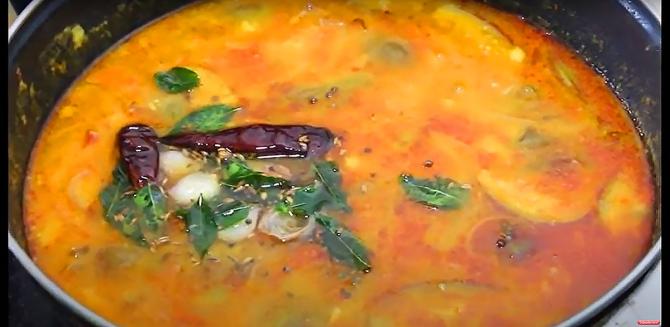 Ingredients
10 gm imli or tamarind, soaked in water for 30 minutes and then strained
2 cups toor dal or split pigeon peas
½ tsp haldi or turmeric
3 tbsp refined oil
1 tbsp jeera or cumin seeds
1 tbsp methi or fenugreek seeds
1 cup grated coconut
5 to 6 small onions
1 tsp red chilly powder
Pinch of hing or asafoetida
30-50 gm drumsticks, cut in pieces
50 gm tomatoes, cut in half or diced
2 small brinjals or eggplants cut into four
1 carrot, diced small or cut into 1-inch pieces
Potatoes, pumpkin or any other vegetable of choice, cut into chunks
1 tbsp sambar powder, optional
Salt as per taste
For the tempering
3 tbsp coconut oil
5 to 6 fresh curry leaves
2-3 dried red chillies
1 tsp rai or mustard seeds
For the garnish
1 tbsp dhania or coriander leaves, finely chopped
Method
Pressure cook the toor dal with turmeric powder for up to 3-4 whistles and keep aside.
In a pan, heat the oil. Add the cumin seeds, fenugreek seeds and saute on medium heat.
Add the grated coconut and saute on low heat for a minute.
Add the chopped onions and stir.
Add the coriander seeds.
Saute for a minute and turn off the heat.
Now add the red chilliy powder and asafoetida.
Add these roasted ingredients into a mixer, with a little water, and grind the masala to a fine paste.
In a kadhai or wok, heat the 1 tbsp refined oil.
Add the cooked dal and chopped vegetables one by one.
Add 2 cups of water (or till the vegetables are covered in water) and mix well.
Add salt.
Cover and cook over medium heat for 10-15 minutes or till vegetables are cooked well.
Add the ground masala paste and the tamarind juice. Stir well.
At this stage add sambar powder for flavour, if desired.
Cook a few minutes longer. Turn off heat.
In a tempering kadhai, heat the coconut oil. Add the mustard seeds. When it splutters add the curry leaves and dried red chillies.
Pour the the tempering into the sambar.
Stir and cover with a lid and allow it to sit for a few minutes for the flavours to blend in.
Garnish with fresh coriander leaves.
Serve hot with idlis, medu vadas, rice or pongal.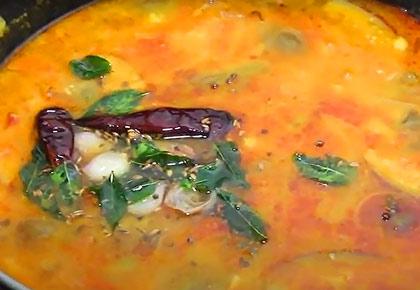 ---
We ask you, Dear Readers, what would you like to cook for Kamala Harris?
Do you also want to make Tamarind Rice for her? Do you have your own special, super-good version of this wonderful recipe?
Or do you want to treat her tastebuds to some authentic Chennai cuisine?
Or would you rather introduce Veep to some lip-smacking north Indian favourite like Alu Paratha?
Do mail your recipes to getahead@rediff.co.in(subject: Recipe for Kamala) along with your NAME and the place where you LIVE.
Please don't forget to share pix of your dish. And a video too, if you have it. We'll publish the best entries on Rediff.com.