Chef and model Padma Lakshmi whipped up Tamil-style Tamarind Rice or Puliyodarai in honour of US Vice President Kamala Harris.
The typical South Indian dish happens to be Kamala and Padma's favourite, both Indian Americans with Chennai (Besant Nagar, insists the resident Rediff.com oracle, himself a Besant Nagar native) roots.
Posting a video on Instagram as she cooked Tamarind Rice, Padma urged her followers to try out the recipe.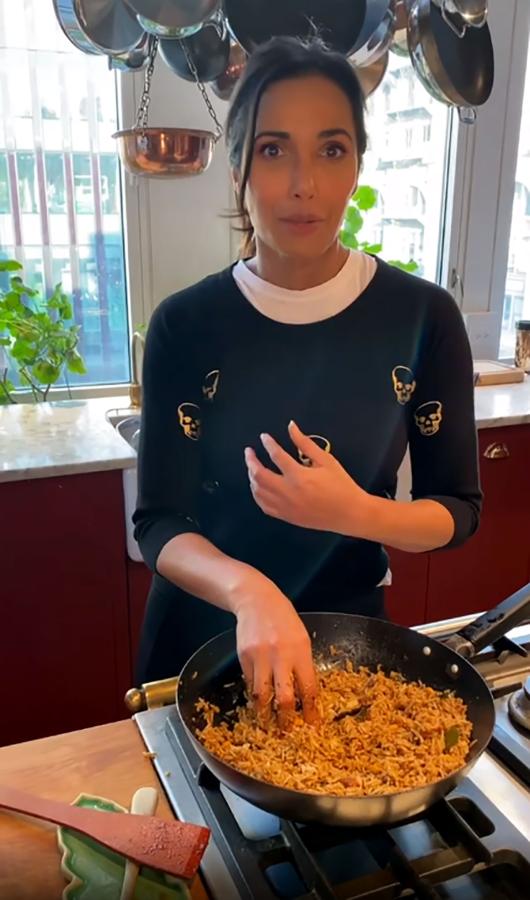 'It's very easy to do and has a lot of spice,' says Padma.
'It is basically making a tamarind paste, with a lot of spices, and then using that paste to mix into rice with some hot oil and a pinch of salt.
'Once you get all the ingredients, which are shelf staples, other than the rice and curry leaves, Tamarind Rice is a great dish to make,' she added.
Check out her recipe below. You can also watch a video of Padma making Tamarind Rice (external link).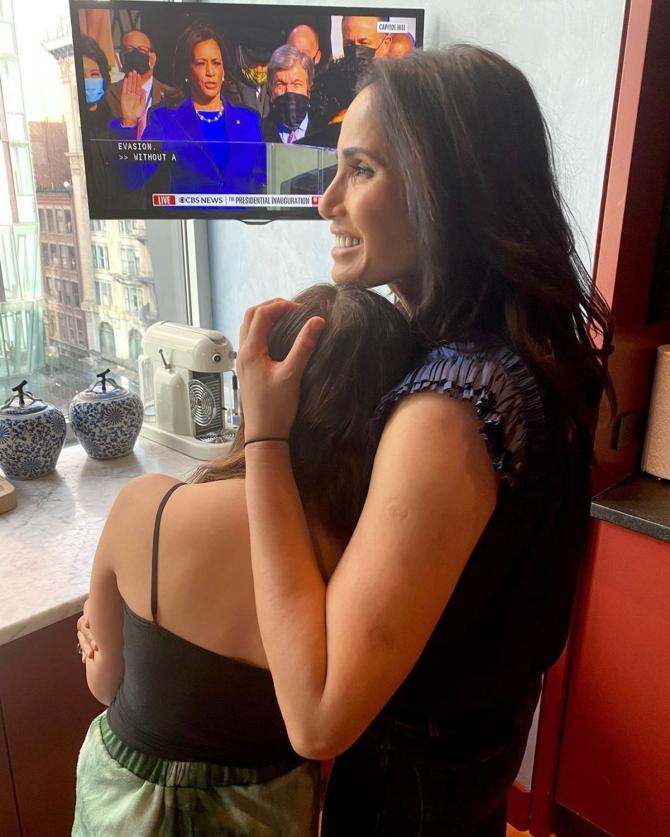 We ask you, Dear Readers, what would you like to cook for Kamala Harris?
Do you also want to make Tamarind Rice for her? Do you have your own special, super-good version of this wonderful recipe?
Or do you want to treat her tastebuds to some authentic Chennai cuisine?
Or would you rather introduce Veep to some lip-smacking north Indian favourite like Alu Paratha?
Do mail your recipes to getahead@rediff.co.in(subject: Recipe for Kamala) along with your NAME and the place where you LIVE.
Please don't forget to share pix of your dish. And a video too, if you have it. We'll publish the best entries on Rediff.com.
---
Padma Lakshmi's Tamarind Rice
Ingredients
½ cup or a tangerine-size chunk of tamarind pulp, peeled and compressed (you can also use tamarind puree, which is easily available in stores)
1 cup water, hot, to melt the tamarind
1 tbsp methi or fenugreek seeds
1 tbsp dhania or coriander seeds
1 tbsp black peppercorns
3 + 3 dried red chillies
2-3 tbsp til or white sesame seeds
½ cup peanuts
1 tsp channa dal or split Bengal gram
1 tsp rai or black mustard seeds
¼ cup til or sesame oil
A handful of fresh curry leaves
1 tsp salt (you can use Kosher salt)
5½ cups cooked Basmati rice, made from 1 cup uncooked rice
A pinch of haldi or turmeric
A pinch of hing or asafoetida
3-4 tsp jaggery, powdered (brown sugar also a good substitute)
Method
Pour the cup of hot water in a bowl.
Add the tamarind pulp to the water and let it soak for 30 minutes.
Then strain the tamarind pulp through a sieve.
Heat up a small kadhai or wok. A frying pan will also do.
Add the fenugreek seeds, coriander seeds, black peppercorn, 3 red chillies and white sesame seeds.
Dry roast the mixture until it starts to smoke and the seeds splutter. Take off heat.
Once cool, grind the mixture in a mixer or coffee grinder. Or by hand, using a mortar and pestle, will also work.
In the same wok/pan roast peanuts for a few minutes. Keep aside.
Heat up the sesame oil in a kadhai or wok on medium heat.
Add the mustard seeds, 3 red chillies, channa dal and once the oil heats up, add the curry leaves.
Add the roasted peanuts and keep stirring so it doesn't burn.
Add the tamarind pulp and a little water, and let it cook.
Add the salt, turmeric powder and hing. Stir it.
Let it simmer for a few minutes and then add the jaggery.
Cover the kadhai/wok and let it simmer for 20 minutes.
Once the oil begins to separate from the masala it is done.
Next add the ground fenugreek-coriander etc mixture.
Mix well. Add the rice, which is now at room temperature and mix carefully.
If the rice is too dry, heat up some more sesame oil and add it to the rice.
Your Tamarind Rice is ready.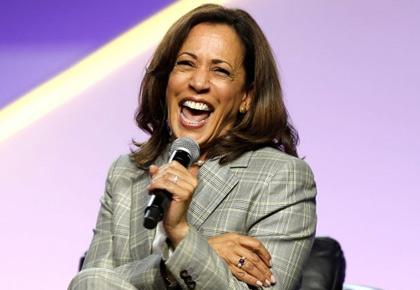 Lead image: Kamala Harris on the campaign trail in Detroit, Michigan, 2020. Photograph: Rebecca Cook/Reuters