Students made online music education possible during COVID-19, say teachers, and they will determine its future.
Swapnil Joglekar reports.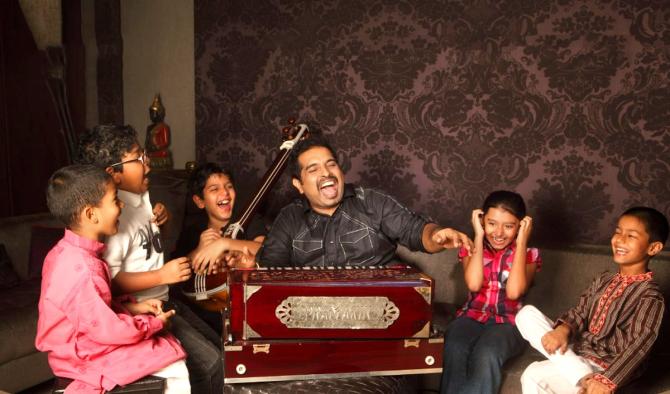 Sanchari Bose did all she could to learn singing.
She would travel six hours by train from Jabalpur to Allahabad, stay in a hotel for a couple of days, and step out to record four 45-minute classes with her guru.
The winner of the singing reality show, Sa Re Ga Ma Pa's Children's Special, followed this drill from 2004 till 2010 just so she could practise well at home.
Bose, who now teaches music, was prompt in shifting her classes online after the COVID-19 pandemic curbed travel.
The little studio she had at her house in Mumbai for riyaaz (practice) and recording songs came in handy.
Now take Aishani Khanna. She joined an online music class in May to regain the confidence to sing.
The 25 year old from Noida doesn't feel comfortable humming a tune in front of her family, but has no such inhibitions in her class.
"One reason could be that I am not with them in person," she admits. She plans to stick to online classes even after the threat of the virus recedes.
As with learning in general across India, the pandemic halted in-person music lessons and, oddly, encouraged aspirants to shrug off reservations that they had in the real world and embrace online learning.
Some of the biggest names in online music education -- from the decade-old Shankar Mahadevan Academy to Dance with Madhuri (DWM), backed by screen legend Madhuri Dixit -- saw enrollments and online traffic jump two to seven times.
Music is said to be a confluence of vocals, instruments and dance.
For many, learning music simply became a means to relieve stress induced by the pandemic.
But purists argue that this goes against the tenet of teaching and learning seena ba seena (literally heart to heart), where taleem (education) is proffered with the guru and shishya (disciple) sitting cross-legged in a room, facing each other.
Rupali Gokhale, assistant professor at the Department of Music, Madhav College, Gwalior, says e-learning may be the need of the hour but music remains a gurumukhi kala, an art to be learned straight from the teacher's mouth.
"In online learning you may just learn what the raga is, but its mood can only be discovered sitting face-to-face," she says.
But despite some obvious troubles, online music education finds itself on a strong footing.
Most of the teachers spoken to said the time lag caused by poor Internet connections has made teaching taal (rhythm) trickier.
The rhythmic beats help keep track and are central to any song.
But there's at least a three to five-second delay, so if the teacher reaches the fourth beat she discovers the students only beginning with the first.
Having a large group of students sing together is thus out of the question.
Pune-based tabla player Suresh Talwalkar says this makes rectifying mistakes in real time difficult.
Students also have to look at the screen, their instruments and their book of notations.
It's tougher for dancers. Samir Kumar Prusty from Dhenkanal, Odisha, says the first few online classes he taught presented some unique challenges.
"I would do a motion with my right hand, but my students would repeat it with the opposite hand."
Now, he focuses on one part at a time, zooming and adjusting the camera lens -- first the feet, then the body movement, followed by a close-up shot of the hand and eyes, and then the whole movement at once.
The time lag in live classes has led to a greater acceptance for recording performances.
Some teachers tape songs and send them to students, asking them to record their rendition and send it back.
Mapping the progress, the teachers give feedback and even tweak the course at times.
"The minute students have to record it makes them practise much more. In a physical class they may play a few times, but with recordings they are ensuring their best take is being sent and so are practising more," says musician Taufiq Qureshi, who helms the rhythm and percussion division at The Foundation Room (TFR), Mumbai.
Bollywood actor and dancer Madhuri Dixit concurs.
"Every day we receive hundreds of performance videos from our users who have successfully learnt a style. When we started (in 2013), Internet penetration was abysmally low, and if it was available the quality of service was bad and very expensive. Hence, early adoption was not as rapid as we desired," she says.
But things turned around gradually and the pandemic push came at a time of widespread Internet and smartphone adoption.
"When we began, we had to convince our friends and families to take up our online music class. A lot of people told us that music cannot be taught online, but we believed this was the future," says singer Mahadevan.
His academy has students from 82 countries and uses a special learning management system with live classes, graded assessments and a voice recorder for students to get feedback.
Others use a more bare-bones approach with WhatsApp and video calling apps.
Even the recording setup varies from dedicated studios to simply rooms built for in-person classes.
Samira Kelkar, director and co-founder, TFR, says the medium of teaching depends on many factors.
"TFR Specials are the large community activities we have with 250+ audience members where the performance elements are more prominent. That is where we prefer Zoom, as the host controls for managing larger audiences are better. But for our detailed courses, we prefer Google Meet. Once the classes are set up, the link stays the same and it is easy for learners to use," she says.
Online music exams have also got a makeover.
Aditya Kumar from Jamshedpur says he was asked to sing two pieces of a raag and answer only a couple of questions for his second-year exam (prabhakar).
An important part of a dance exam these days is also the correct camera placement so that the performer is fully visible, says Priyal Najpande, a dance teacher.
Recently, Najpande was on a video call with a student from London and an examiner from Mumbai.
Usually the examiner does the recitation, called padhant, and the examinee dances.
But unequal Internet speeds meant her student had to do both.
Despite the challenges, many students are taking online lessons to heart and turning professional.
Students from Dixit's DWM like Savio Barnes and Salman Yusuf Khan are now working in films and teaching dance.
"Our student Oksana Rasulova from Azerbaijan went on to win Zee TV's India's Best Cinestars Ki Khoj," says Dixit's husband and business partner Dr Shriram Nene.
Mahadevan's academy boasts of pupils who have performed at concert halls all over the world -- from the National Centre for the Performing Arts in Mumbai to the Bay Area in the US.
One student is the youngest member of the Metropolitan Opera in New York, says the academy.
Experts say keeping up with the technology, elements of augmented reality and virtual reality may soon be embedded in teaching music online.
But students shall remain at its heart. They made online music education possible during COVID-19, say teachers, and they will determine its future.