'You could be out of sight, out of mind, but it may take just one song to bring you back and to let you know that your audience is still rooting for you.'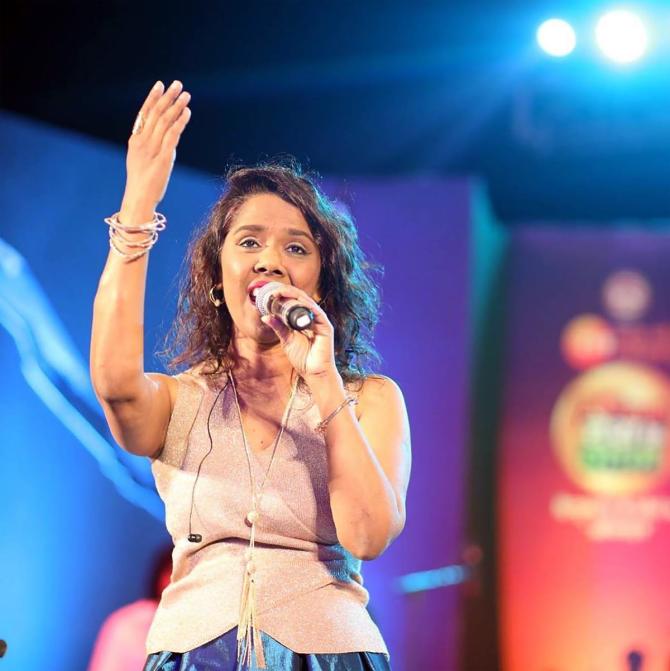 Mahalakshmi Iyer has been singing for the movies for more than two decades.
Trained in Hindustani music, she has songs in different genres, different languages.
She has even got an Oscar-winning song -- Slumdog Millionaire's Jai Ho -- to her credit.
She looks back at her career, and gives Rediff.com Senior Contributor Radhika Rajamani beautiful insights into it and the amazing composers she has worked with.
You are trained in Hindustani music. Was the atmosphere at home a musical one? Is that what made you take up singing?
Yeah. My mother was a wonderful Carnatic singer.
I am the youngest of four sisters.
There was so much music in the family, so much music playing from morning.
Everybody had varied tastes.
Automatically, I would start singing. Everyone was singing, of course.
Somewhere down the line, my parents, like the quintessential south Indian parents, decided one must learn music.
They decided Hindustani would be better because we lived in Mumbai and sang a lot of Hindi -- mainly north Indian music.
Also, my father was a keen listener of Hindustani classical music.
The mahaul (atmosphere) was so music-dominated that I had no choice but to take up music later.
I learnt from the time I was 10 years of age.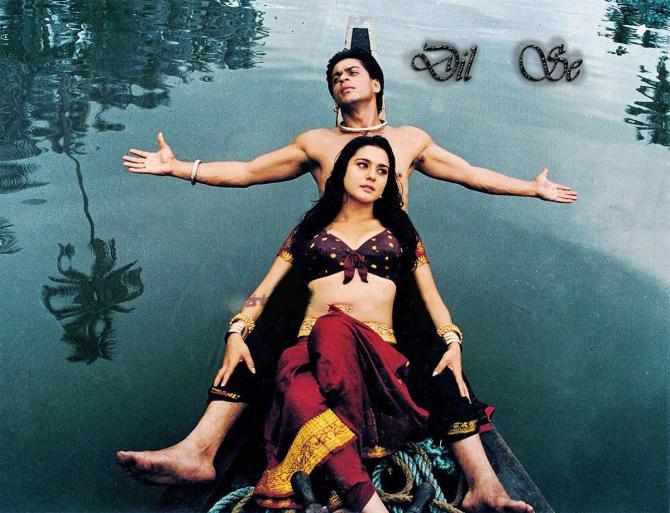 How did playback singing happen? You made your debut in 1998 with Dil Se..
I sang a lot of jingles.
Television was big at that point of time, so I sang for a lot of serials.
I was working with a few musicians who were working with Rahman sir. So someone mentioned about me.
When I met the musician Ranjitji (Ranjit Barot), he told me, 'I thought you would be recording in Chennai.'
I said I haven't received the call.
He said, it will happen.
I was very excited.
Unfortunately, it did not happen then.
Much later, Rajiv Menon mentioned that he wanted me to do a song for a film which did not materialise. I was still waiting.
A close friend -- I call him my mentor, Brij Bhushanji (voiceover artist Brij Bhushan Sharma) -- was a close friend of Rahman sir. He had mentioned about me to Rahman sir, but he said he did not have any songs for me then.
Somewhere an opportunity came up and Brij Bhushanji called and said why not try her?
Rahmanji said there is not much for her in this song.
Brij Bhushanji told Rahman that he could at least check her vocals and her texture.
So Rahman sir called me and I sang that little part in Dil Se..
I think he liked it and within the same month, I went back and did a few more songs for Rahman sir.
That set the ball rolling.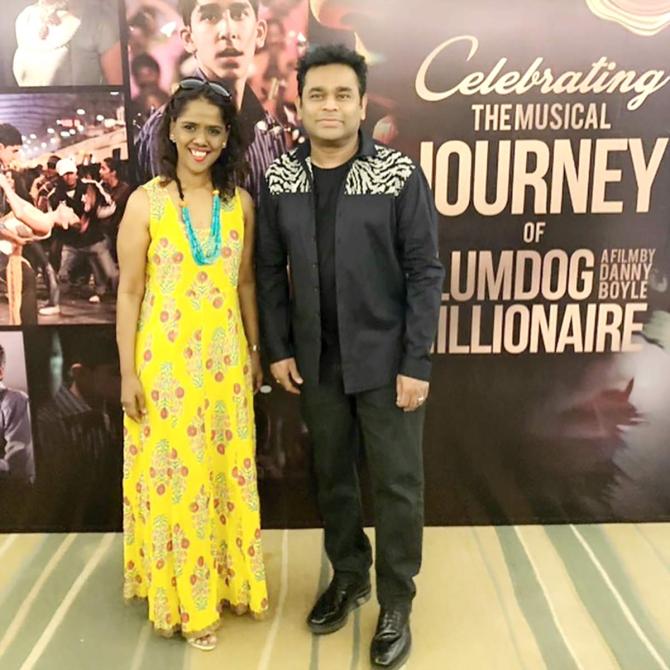 You went on to sing many songs in different languages and under different music composers. Could you talk about your association with different composers? You seem to have collaborated more with Rahman and Shankar-Ehsaan-Loy.
I recorded for Shankar-Ehsaan-Loy's first Hindi feature film Dus and Rahman sir's Dil Se.. in the same week.
Unfortunately, Dus did not release because we lost the film's director (Mukul Anand) during the making of the film.
The soundtrack was recorded and released as a tribute to him and the song (Sonu Gaur Se Duniya Walon) became very popular.
I have been fortunate to work with the top notch music directors of this country from Raja Sir (Ilayaraja), Harris Jayaraj, Murthy or Guru Kiran in Kannada or Deva Sir, D Immam.
In Mumbai, I have worked with Vishal-Shekhar, Salim-Suleiman, Annu Malik...
I am close to Shankar-Ehsaan-Loy because my association goes back to them from my first jingle. I started with them and did a lot of jingles with them.
Shankar-Ehsaan-Loy know my style.
They even give me against my type.
I was typecast as this sweet, soulful, melodic voice singer, but they gave me unusual songs like Aaj Ki Raat and Jhoom Barabar.
Shankar-Ehsaan Loy have always made me push my own boundaries.
Rahman sir has also given me interesting songs.
Chalka Chalka Re is one song where he pushed us saying I want you to sing like this -- sing like a goat, sing like an old woman sings to make the song interesting.
Rahman Sir would say just take this song and make it yours. Just sing it.
Raja (Ilayaraja) sir is a very text book kind of a music director who will give you the song, give the lines and you just have to go behind the mike and execute it as best as you can.
He does not change much during the recording of the song.
Ravindra Jainji, with whom I worked in television and albums, would change everything while you are on the mike. He would keep adding variations.
People like Vishal-Shekhar, D Imman or Harris Jayaraj are very involved during the recording process and the voice mixing process. They have a lot of inputs.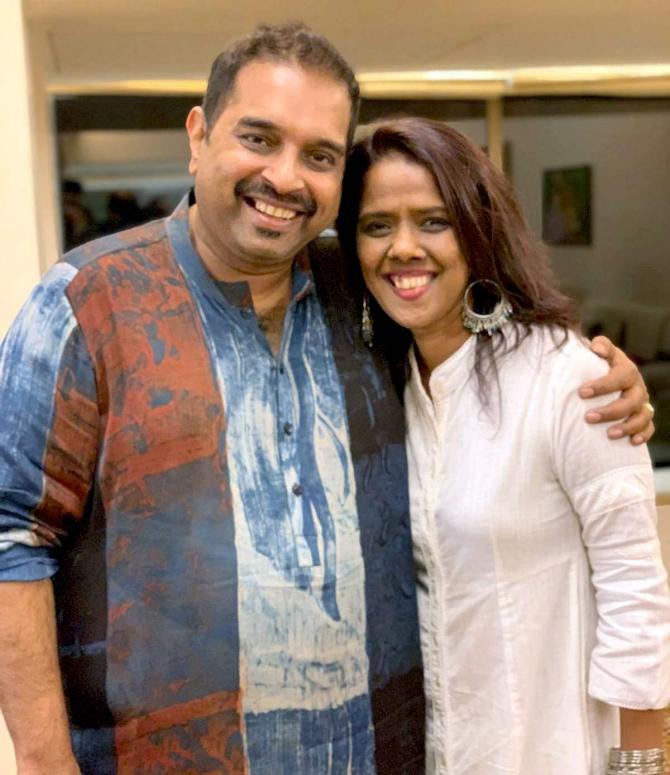 You are equally at ease with all kinds of genres, be it romantic, ghazals or sad songs. Which genre do you like most?
I can't choose.
I am very happy that I have been able to sing everything.
I was getting stuck in the romantic and soulful genre.
I think as a playback singer, it is very important to sing a variety of songs, all kinds of genres.
I have sung pop songs, Punjabi, ghazals and devotional.
Personally, I love ghazals or songs, which have a slightly classical edge to them. I love classical music.
You have sung in so many different languages. How do you get the diction right?
I have sung in Bengali, Telugu, Kannada, Tamil, Assamese and Marathi.
I think I have a flair for languages.
Even in school and college, I used to sing in a lot of languages.
I obviously have a supervisor who will sit with me and tell me the gist of the song, or what the lyric is supposed to mean. I try and assimilate it.
The music director, the producer and the director are also there to guide me on how it is supposed to sound.
It's not easy to know each and every word, but when you know the mood of the song because of the melody and when someone gives you a brief, you can sing it accordingly.
What would you like to say regarding singers you have sung with?
I have sung with everybody, right from SPB (the late S P Balasubrahmanyam) sir to some of the newer singers.
It's not like I have sung songs with only so and so like you used to have the SPB-Janaki amma combination.
I don't have a combination as such.
I have sung with Sonu Nigam quite a bit, also with KK and Shankar Mahadevan.
Down south, I have sung with Karthik, Mano Sir, Srinivasji...
Hariharan...
Yes, I have sung a lot with Hariharanji.
Some of my initial hits were with him.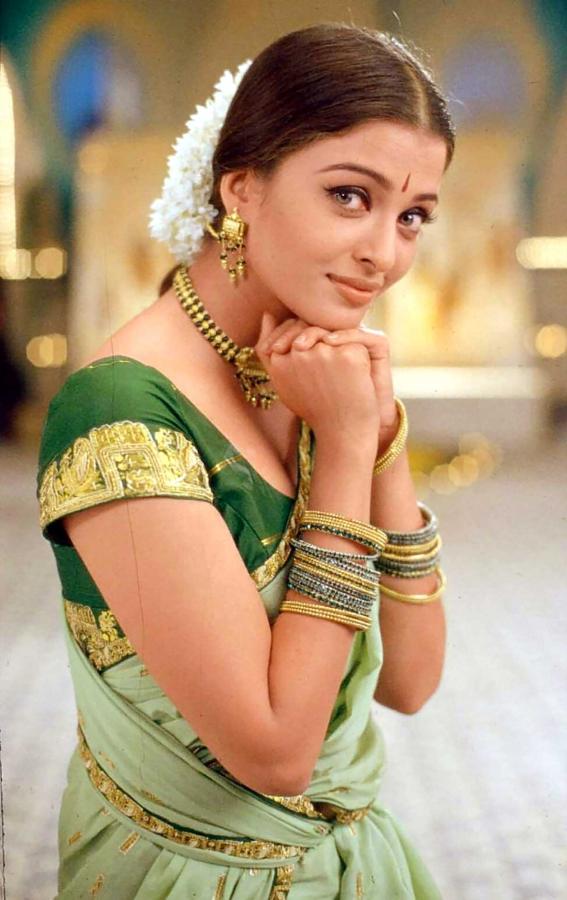 Any personal favourite songs?
Quite a few.
I absolutely love Kandukondein Kandukondein.
I love Poove Vazhpesum, Yaaro Yaaro di and Chalka Chalka in Hindi.
I love Bola Na Halke (Jhoom Barabar Jhoom). I love Aaj Ki Raat (Desh Rangeela.
How do you compare singing for television serials to films? You sang for the serial Mere Sai about two years ago.
Oh yes! That was another feather in my cap.
I worked with Pyarelalji.
I was still in college when I had got to record a song with Laxmikant-Pyarelal.
It wqas a dummy song as they say. I just recorded the vocals for someone else to come in to dub over me, and that was when I worked with them.
I remember Laxmikantji saying that if you put in proper effort and riyaaz, you can become a good singer.
Unfortunately, I never got an opportunity to work with them.
But Pyarelalji did the music for Mere Sai and he called me to record.
That was an unbelievable day for me!
Just going and sitting in his music room, learning the song from him and then recording it in front of him and hearing him tell me you have a beautiful voice... that was a huge compliment!
Just like Raja sir saying, after I sang the second or third song, you have improved quite a lot.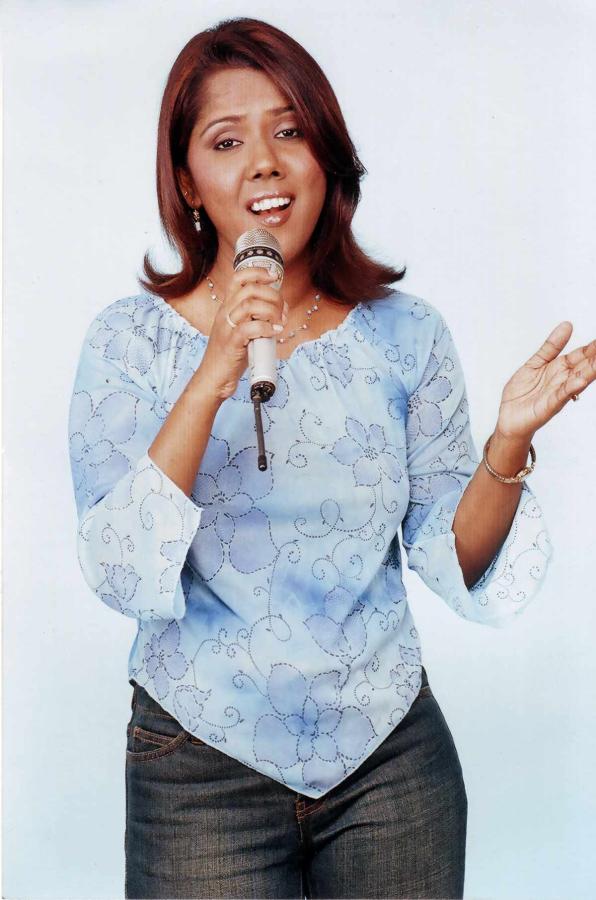 How different is it singing for television than films?
There is nothing different.
The only thing is the television title serial song remains with the audience for a long time because it comes every day or every week.
Sometimes serials go on for 350 episodes and more.
When it comes to films, you go out of sight, out of mind if you don't have a release for too long.
But with a television song, you are always fresh in people's memory.
That's the only difference I feel.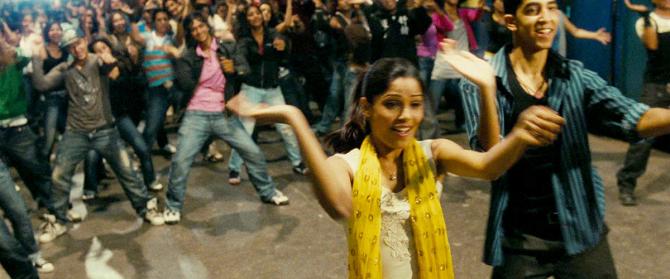 How was the experience of singing Jai Ho?
Brilliant!
I recorded it after a long day of shoot.
Rahman sir and I were shooting for a television show and at the end of the day, close to 11 pm, he asked are you up to recording a song?
We had shooting the next day too.
I said okay sir, let's try.
We started very late in the night and went on till the wee hours.
I was not even aware it was for Danny Boyle's film.
Later it released and became a huge hit.
Never in my wildest dreams did I think the song would go on to win the Oscar and the Grammy.
It feels proud to be a part of such a phenomenal song.
Why do you choose to keep a low profile?
I am a shy person.
When I was younger I was very shy. I think I have opened up now.
It's not that I kept away from anything I have done. I have appeared in television shows.
But I like to be in my little zone and do my own thing, like listen to music, do my riyaaz.
I think I like to make time for the other things in life as usual because when I am busy, I am extremely busy -- I am either recording or travelling for a live show and that takes up a lot of time.
So I tend to guard my private time fiercely.
Recently, you sang Tamizha Tamizha along with many other South Indian artistes to pay tribute to the nation. How did this happen?
During COVID, we wanted to do something for the Prime Minister's Fund.
We wanted to generate funds to be able to contribute to the fund and what better than musicians and singers doing what they do the best?
The idea was mooted by some of the senior singers. They reached out to all the singers from the south and (singers) Srinivasji and Rahul (Nambiar) decided that this song is the best.
It was in Tamil and we made it the South Indian industry's tribute to our COVID warriors.
Do you have any plans of releasing albums?
I have already released a Hindi solo album.
I am working on some singles.
I am very keen on doing a ghazal.
I will follow that up with a Tamil song or a Marathi abhang album.
The time is right for artistes to not just rely on music companies, but to be able to produce and upload their songs on various portals/OTT platforms.
You are involved in a lot of social causes. Do you think social responsibility should be a part of your life?
Yes, absolutely.
We are very lucky with what we receive.
We did not set about thinking that we would reach this far.
I think this is my way of giving back to society in whatever little way I can.
I come from a middle class upbringing and I know what it was to not be able to do something or not have the means.
You have also taken up issues like rape.
Yes, I have recorded a song.
As a woman, I would always raise my voice against something as horrid like this and hopefully, our voices will be heard and things will get better.
Unfortunately, in our country, even as we speak we are witnessing more of this.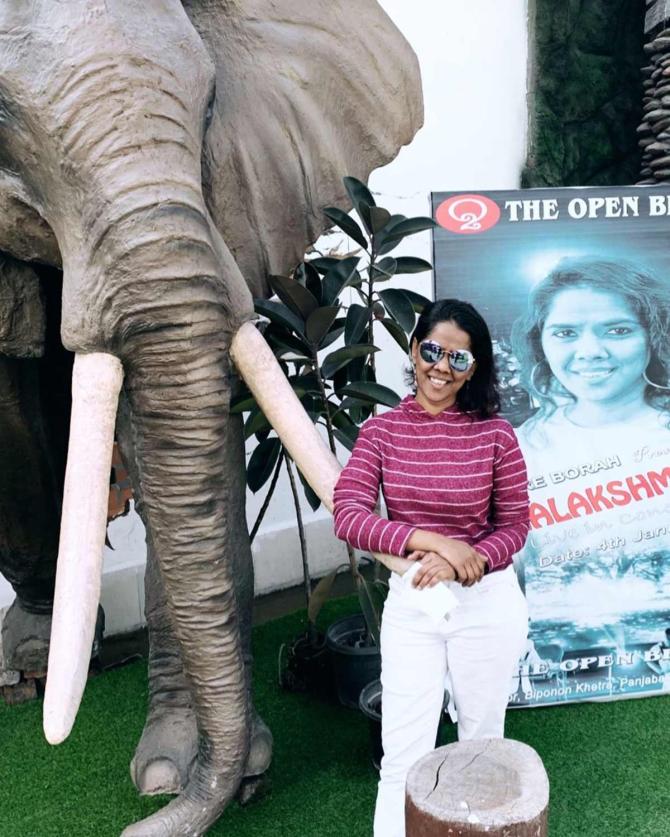 How do you maintain your voice?
I try to put in as much riyaaz as I can.
The lockdown has given us more time, so a lot more regular riyaaz is happening.
As far as taking care of my voice is concerned, I don't do anything. It takes care of itself.
I don't abuse it.
I don't scream or shout, but I do have oily food, pickle and cold stuff.
I am fortunate that it doesn't affect my voice.
I also believe that it's all in your head.
What kind of music do you listen to?
I love listening to all kinds of music.
I listen to a lot of Western music, the new-age pop brands.
I listen to jazz, blues.
I love listening to classical music but that's of course, my riyaaz also.
I am a huge fan of ghazals, abhangs, Marathi sugam sangeet -- all kinds of music -- it depends on the kind of mood that I am in that day.
What do you do in your free time?
I read a lot.
You would be surprised to know that I had not read the Harry Potter books, and I kept saying this is not for me.
But I was bitten by the Harry Potter bug (laughs) sometime last year and I read all seven books within two-and-a-half months.
I was just amazed at her (J K Rowling's) ability to write something like that.
There are books that have left a deep impact on me like Jonathan Livingstone Seagull.
I am a fan of Khalid Hossein's books.
I sketch.
I love doing the little DIYs.
I cook, I make candles -- all that I could not do in my childhood and my younger years, I am trying to do all that.
Life can get so hectic and sometimes, I feel so tired.
These are the things I do to keep my mind fresh.
You have been in the industry for more than two decades. How has your journey been?
Wonderful.
Enriching.
I have had my share of ups and downs, but I would like to think of it as more ups and fewer downs.
I am happy with the opportunities I got.
My fans love my songs. Even now when I do an Instagram Live, I get a lot of requests and love.
Recently, I put up a home video of a ghazal and it got close to a lakh of views within a week!
It is wonderful to stay connected and know that the audience is still loving your work.
You could be out of sight, out of mind, but it may take just one song to bring you back and to let you know that your audience is still rooting for you.