'I knew one day I will explode if I don't get some sanity with making music.'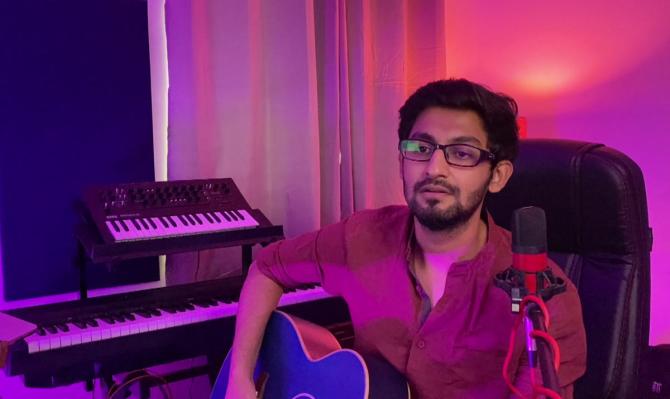 Born in Bhopal, Bhuwan spent almost six years of his life working as a marketing executive until he realised his true calling.
Back in college, Bhuwan used to be a part of an indie/alternative duo band called Already Taken where he'd experimented with sound design and composition with blues guitar licks and acoustic riffs.
In 2020 he left his corporate job for good to pursue music full-time and share his learnings with other upcoming producers.
"I have followed the traditional path in education that every Indian household 90s boy/girl went through -- engineering and MBA," the 31 year old who lives in Hyderabad tells Hitesh Harisinghani/Rediff.com.
Bhuwan is out with his latest album 'Better Days' -- a series of 7 songs (electronic and lyrical) which has experimental ambient styles.
"Every song conveys an emotion/feeling of a personal battle and how I overcame the fear and finally accepted myself for who I am," he adds.
What inspired this engineer-MBA to quit a lucrative corporate career to produce music?
Did music always fascinate you?
100%. I started playing the keyboard at age three and then there was no stopping.
I always wanted to produce music and write songs and kept on learning and growing. (I) slowly transitioned to teaching myself how to play the guitar and did a blues guitar certification, music production and mixing and mastering.
Weren't you scared to quit a well paying job to follow your passion?
To be honest, being at this age when you have responsibilities, it took some time for a carefully planned exit.
The most encouraging factor and a huge moral support was my wife who was nothing less than being supportive.
In fact she is the biggest critic of my songs and music production in general which helps me improve and grow.
She's a classically trained singer as well and a much better singer than me so she knows the know-how of how music should be made.
Yes I was scared initially, and to a point I still have those days of feeling uncertainty as now I'm not that carefree 20 year old who has zero responsibilities and no inhibitions. But it's slowly fading away because I am growing day by day in my craft and I know I can pull this thing off and have a legit career in music.
It might take time, but I'm ready to hustle because it's now or never.
We musicians thrive on our listeners' support and encouragement which are the two most important things that will build our careers.
Tell us about your first gig,
Aahh! My first gig was in college where I was paid a 'samosa and cold drink' which was quite a big deal at that time.
Who inspires you, your music?
Being born in a house where both Hindi andWwestern music was played, I grew up listening to all kinds of music.
So I took inspiration from every artist and musician out there irrespective of the genres.
To name a few I would say -- John Mayer, Coldplay, Pink Floyd, Creed, Simple Plan, Strings, Amit Trivedi, Papon, Lucky Ali, Michael FK, Vacant, Vesky and Tony Anderson.
How supportive were your parents about your choice of profession?
Well, I have reached a stage in life where they don't have to worry about my 'future' so to speak. Because I did everything that they had desired for -- completed education, got a job and climbed up the corporate ladder. Now they know that this is what I want and they are fine with what I am doing.
As they have seen the positive change in my wellbeing because of music, and can finally see me being happy.
What is the story behind 'SUNTYD', your artiste name?
I was struggling to find a good moniker to fit the style of music I produce -- which BTW is ambient future garage and chill step electronic music.
Being a huge astrophysics geek, I strongly believe in the power of the mighty Sun. You have a smile on your face when you see it rise and then forget about everything that happens with you during that day when it's setting, and with my music I wanted to bring those emotions to the listener.
As humans and as an artist we are all tied to the sun in one way and I kind of joined the words 'Sun' and 'Tied' and stylised it as SUNTYD.
How has your musical journey been so far?
Oh where do I start? It's a long strenuous journey but I'll try and keep it short.
After completing my MBA, I joined the corporate workforce where the days were long and nights were even longer.
To my utter shock, the usual societal statement -- 'Take a job and then do whatever you want in music after that' started proving a distant ship in the horizon which was slowly fading away to oblivion.
I could never understand why it was called a 9 to 5, when in reality it was 9 to 12 am, and sometimes waking up in the middle of the night to finish work.
My guitar and keyboards were locked up in the cupboard and I stopped playing or producing soon after.
I was slowly slipping into depression and developed a severe anxiety disorder with temperamental disorientation. I wasn't happy and I knew one day I will explode if I don't get some sanity with making music.
It was my 30th when I sat down and contemplated on what I have achieved in life and what I want to, in the future.
Can I see myself doing this for the rest of my life? The answer was right there -- apart from earning money and being a slave I had done nothing for my dreams.
I realised I did everything to make others happy, but no one could understand my dreams and what made me satisfied.
I took the leap of faith and left everything without any plan. Because unlike what others said 'you can balance both job and music' it was not the case with my long hours and highly stressful work profile.
Then SUNTYD was born and there was no looking back.
I started writing music which truly reflected the emotions I went through.
I named the album Better Days which is kind of like a hope for a better tomorrow.
Tell us about your new album.
The album is a series of 7 songs (electronic and lyrical) which has experimental ambient styles.
Every song conveys an emotion/feeling of a personal battle and how I overcame the fear and finally accepted myself for who I am.
It tells a story of hope, dreams and simply a relaxing state of being. I Made You Me is a song sung in two languages -- English and Assamese -- while other tracks like Guzre Woh Din and Aaina Mera have very deep lyrics and feel to them.
Tracks like Into the Haze and Light Within are ambient electronic pieces meant for meditative listening sessions.
I collaborated with amazing musicians and friends of mine -- Ban (bassist for Light Within) and Arpit Chourey (vocals and lyrics for Aaina Mera).
How much has the Indie scene changed in the last few years?
A lot. India has produced a lot of new indie artists who have shaped how music is made and consumed.
I'm a huge fan of some of the regional language musicians as well. They have really infused new age music with their unique touch. But it's true that the audience for such music is still very low in the country.
People have to look beyond Bollywood and support independent artists. They will be surprised to find some amazing talent and music there.
Do you plan to work in Hindi film industry?
Not at the moment as I feel I still haven't figured out "my" sound. But if the opportunity arises for composing scores and ambient music I would definitely take it as it's the best way to make people more aware about the independent artist and composer scenes and bring our kind of music to them.
There are some amazing composers and music producers giving music and background scores to web series on the OTT platforms. I would love to do a gig like that.
Any artistes you want to work with?
Amit Trivedi, hands down. I feel his music and it would be awesome to work with him.
What's next for you?
Well I'm working on a full length album entirely focused on ambient music. I'm also a content creator and YouTuber where I share music production and sound designing tutorials.
So working on bringing much more content on that front as well. Since the pandemic hit, live gigs have taken a huge hit but once things get better I will be launching myself as a session musician in the live music circuit.