Have a look at these intriguing makhana or fox nut recipes from Taruna Bakshi that truly celebrate the festive season.
Sample the rich Makhana Burfi.
Dig into spicy-sweet-tangy Makhana Chaat.
Or enjoy comforting, creamy Makhana Kheer.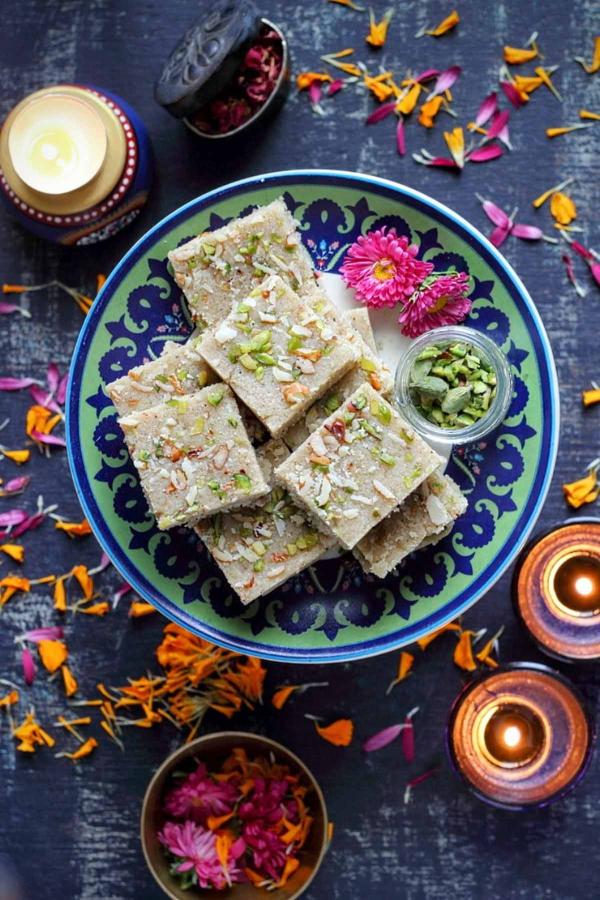 Makhana Burfi
Servings: 12 pieces
Ingredients
2 cups makhana or fox nuts
1/3 cup grated desiccated coconut
¼ cup sesame seeds
2 cups whole or full-fat milk
½ cup sugar
1 tsp elaichi or cardamom powder
1 tbsp finely chopped assorted nuts, for garnish, optional
A small 6 in x 5 in tray with raised edges
Method
Line the tray with butter paper or parchment paper or grease with ghee or a neutral oil. Set aside.
Boil the milk in a heavy-bottomed saucepan and keep simmering till it reduces to half over high heat, stir constantly.
Or else reduce the heat and stir occasionally.
While the milk is reducing, dry roast over low heat, in a frying pan, the makhana, till toasty and crumbly when pressure is applied.
Cool and grind to a powder.
In the same pan, over low heat, roast the desiccated coconut till it just about begins to turn golden.
Very quickly pour in a bowl or onto a plate and set aside to cool.
Desiccated coconut can burn really fast so be very careful while roasting and also be very quick in taking out of the pan.
In the same pan, over low heat, toast the sesame seeds.
Toast while continuously tossing around the pan, till they begin to pop and change colour.
Take out of the pan onto a plate or a bowl.
Set aside to cool.
Grind sesame seeds to powder by pulsing in the mixer (pulse and don't grind continuously, else seeds will release oil).
Once the milk has reduced to half, add the sugar and keep stirring till it dissolves.
Reduce the heat to low and add the powdered makhana, desiccated coconut, cardamom powder and powdered sesame seeds.
Mix well.
Keep cooking till the contents come together like a non-sticky ball.
Take off heat and transfer onto the tray.
Using a spatula or the back of a spoon spread to even thickness.
Sprinkle the nuts if desired and allow the burfi to cool completely.
Set it in the fridge for two hours and then cut to the desired size and serve.
Note: Substitute sugar for jaggery for a healthier dessert.
---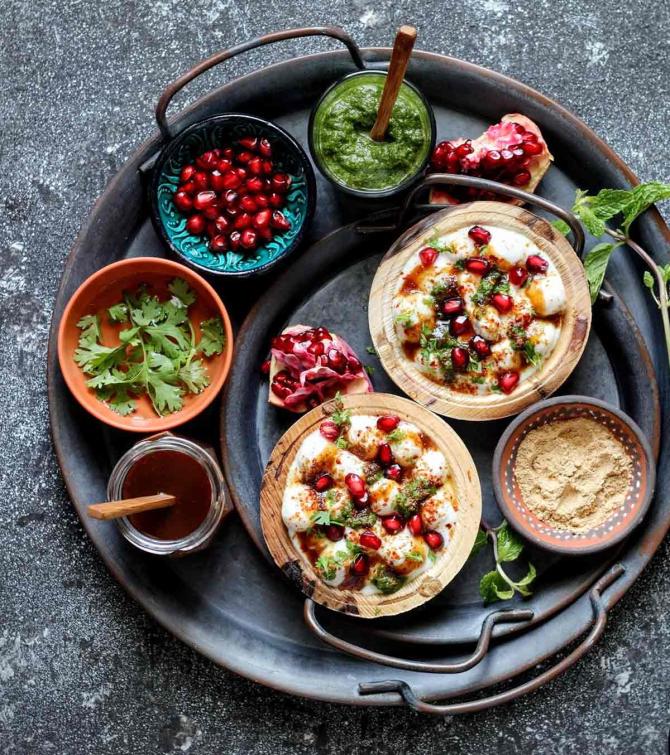 Makhana Chaat
Serves: 2-3
Ingredients
1 cup makhana or fox nuts
1½ to 2 tsp ghee or any oil of choice
1½ cup fresh yogurt (it should not be sour)
2 tsp roasted jeera or cumin powder
2 tsp chaat masala
1 tsp kala namak or black salt, adjust to taste
½ tsp red chilly powder
½ cup tamarind chutney
3 tbsp green chutney
2 tbsp pomegranate pearls
Few mint leaves, for garnish
1 tbsp finely chopped green dhania or coriander or cilantro, for garnish
Method
Heat the ghee in a heavy-bottomed pan.
Add the makhana and toast on high heat for half a minute.
Reduce the heat to minimum and toast for 8-10 minutes (the time will depend on the size of the makhana).
Take off heat and transfer onto a plate.
Set aside to cool.
Whisk the yogurt in a medium-sized bowl.
Add ½ tsp roasted cumin powder, ½ tsp chaat masala, a pinch of red chilly powder along with ¼ tsp of black salt.
Once the makhana is completely cool, add it to the whisked yogurt.
Mix well and set aside in the fridge for approximately half an hour to soften the makhana.
Spoon the chaat into individual bowls and sprinkle some more of the cumin powder, chaat masala, black salt and red chilly powder over it.
Drizzle the tamarind and green chutney over it.
Finish off with the finely chopped fresh coriander, pomegranate pearls and garnish with mint leaves.
Note: Alternately, to retain the crunchy texture of the makhana in the chaat, serve immediately upon assembly.
Optionally, for sweeter chaat, add a tsp or 2 powdered sugar to the yogurt.
---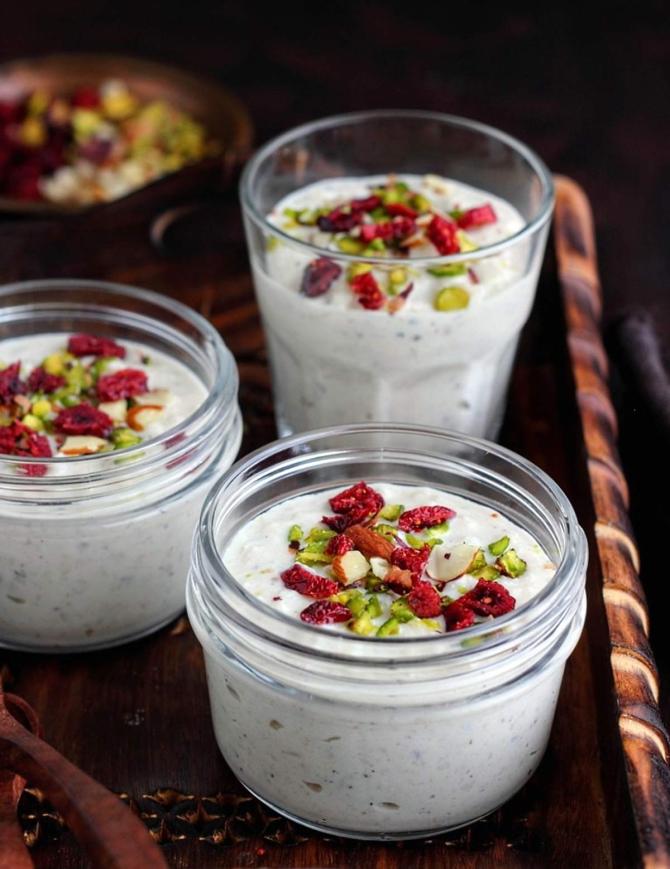 Makhana Kheer
Serves: 4-6
Ingredients
50 gm makhana or fox nuts
1 litre + 250 ml full-cream milk
2½ tbsp sugar (can substitute with jaggery)
1 tsp elaichi or cardamom powder
2-3 tbsp nuts of choice
Method
Boil the milk in a heavy-bottomed pan over low heat.
While the milk is boiling, roast the makhana in a heavy-bottomed frying pan over low heat till it slightly change colour and becomes crunchy.
Take off heat and let the makhana cool before coarsely grinding using a mortar and pestle.
Once the milk has come to a boil, add the roasted and crushed makhana.
Simmer on low heat, stirring regularly till the milk becomes creamy and begins to thicken. Do not thicken too much as it will thicken further on cooling.
Take off heat, add the sugar and cardamom powder.
Check for sweetness and add more if required.
Keep stirring to prevent formation of a creamy layer on top.
Add the nuts and serve warm or at room temperature.
Note: The texture of the kheer is best enjoyed when warm or at room temperature.
If it thickens after refrigeration, simply add a few tbsp of milk and reheat.
Taruna Bakshi lives in Mumbai and is the creator of the food blog Easyfoodsmith.