What better way to cool off in the October heat than with chilled Gulab Ki Phirni and cooling Pineapple Raita.
Chef Varun Inamdar's refreshing recipes will go well with your fasting menu as well.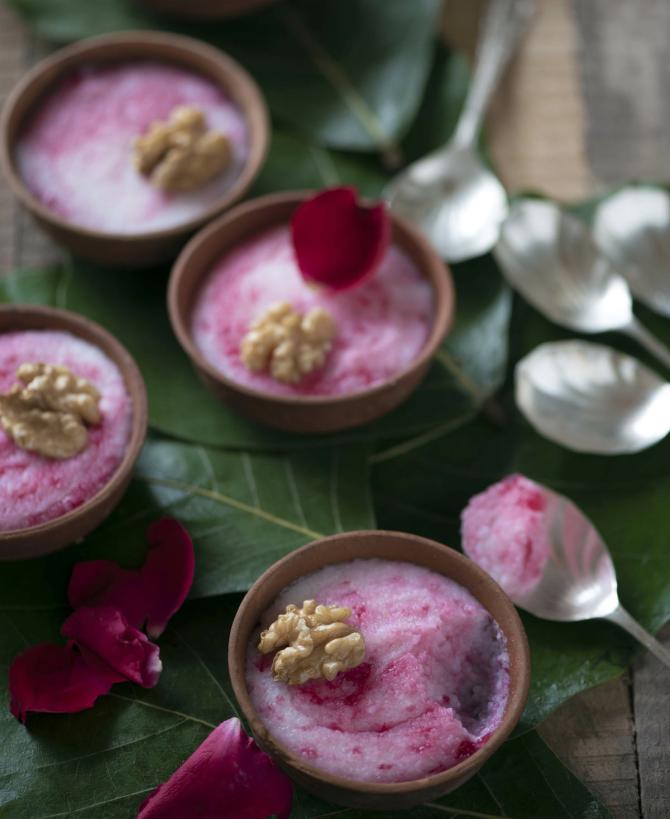 Gulaab Ki Phirni
Serves: 5-6
Ingredients
¼ cup Basmati rice
4 cups walnut milk (recipe given below)
¼ cup sugar
3 tbsp rose syrup
Rose petals, for the garnish
Walnut halves, for the garnish
Method
In a bowl of water soak the rice for 30 minutes.
Drain water and grind in a mixer till you get a grainy texture. Keep aside.
Heat the walnut milk in a heavy-bottomed saucepan and let it simmer for 10 minutes.
The milk will thicken and reduce.
Add the rice paste and whisk continuously to avoid lumps.
Bring the milk and rice mixture to a boil and then lower the heat and allow it to simmer.
Keep stirring the mixture so that it doesn't stick to the bottom.
Add the sugar and mix until it dissolves.
Take off heat and divide into two equal parts.
Mix rose syrup in one part.
Transfer the mixture into small earthen pots -- pouring in a little of the rose mixture and then the regular one, and stir a little.
Garnish each serving with rose petals and a walnut half.
Cool in the refrigerator for 2-3 hours for it to set.
Serve chilled.
---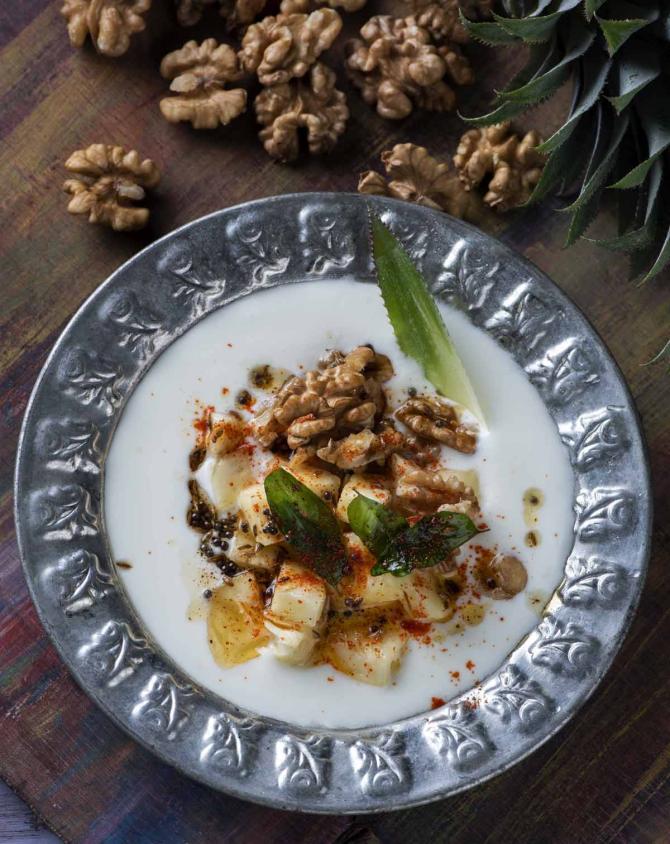 Pineapple Raita
Serves: 3-4
Ingredients
1 cup chopped fresh pineapple
½ cup walnuts, roasted and chopped
1 cup curd or yoghurt
¼ cup water
1 tbsp powdered sugar
¼ tsp black salt
Salt to taste
1 tsp jeera or cumin seeds
1 tsp rai or mustard seeds
¼ tsp red chilly powder
Few curry leaves
1 tbsp ghee
Method
Mix the curd, salt, water, black salt and sugar in a bowl.
Whip till smooth and refrigerate till required.
Add the pineapple and roasted walnuts.
Heat the ghee in a heavy-bottomed tadka pan and add the mustard seeds.
Add the curry leaves and then the cumin seeds.
Add the red chilly powder and sprinkle over the raita.
Serve immediately.
How to make walnut milk
Ingredients
1 cup whole walnuts
1 cup cold water
Method
Soak a cup of untoasted walnuts for 2 hours in 2 cups of water. Strain and rinse walnuts well.
Transfer to a blender with one cup of cold water. Blend on high for a minute.
Strain through a muslin cloth till you get an almost dry powdery mass in the cloth after pressing the milk.
Transfer in a glass jar and store in the refrigerator. This gives you 2 cups of homemade pressed walnut milk.
Varun Inamdar is a chef, food stylist and chocolatier.