A popular dessert in Chhattisgarh, Dehrori is prepared during festivals. It's made by fermenting rice and curd overnight.
Chef Varun Inamdar presents his adaptation of the traditional sweet by adding walnuts.
Store it at room temperature for a week and don't forget to warm in the microwave before serving.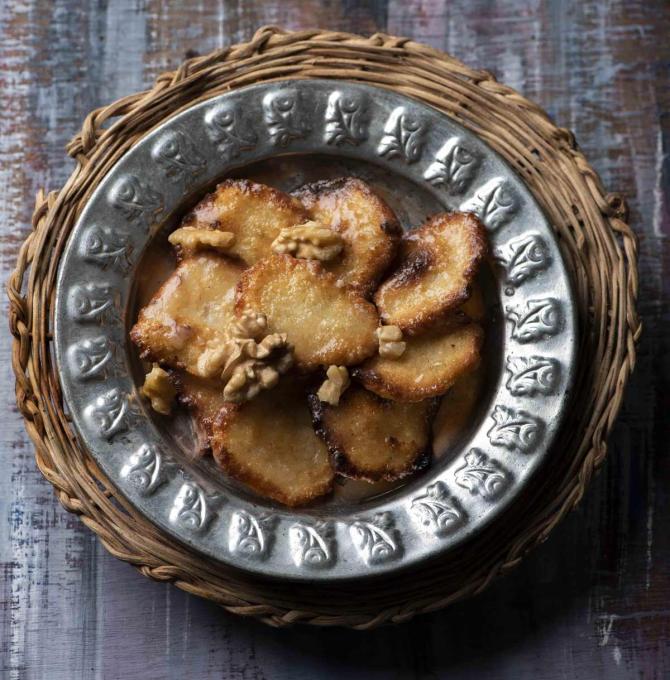 Dehrori
Serves: 3-4
Ingredients
For the batter
1 cup rice
½ cup curd or yoghurt
2 tbsp walnut powder
For the syrup
2 cups sugar
1 cup water
1 tsp lemon juice
¼ tsp green elaichi or cardamom powder
¼ cup ghee, for shallow frying
For the garnish
Method
Soak the rice in water for at least 2 hours.
Drain and grind into a coarse paste in a mixer along with the curd and walnut powder.
Transfer into a bowl and cover.
Keep aside in a warm place to ferment overnight.
Heat ghee in a heavy-bottomed kadhai or pan over medium heat.
Gently drop pancake shapes of the batter into the hot ghee and fry until golden brown.
At the same time, heat the water and sugar in a heavy-bottomed kadhai or saucepan over medium heat.
Once it becomes a thick syrup, add the lemon juice and green cardamom powder.
Take off heat and keep aside.
Dip the fried pancakes into the sugar syrup and let it soak in the syrup for a couple of minutes.
Drain out and garnish with chopped walnuts to serve.
Varun Inamdar is a chef, food stylist and chocolatier.