A simplified version of tiramisu made without eggs and mascarpone cheese.
The ladyfingers are replaced with slices of chocolate sponge cake.
Strawberry-Flavoured Tiramisu can be quickly prepared and served as a impressive dessert.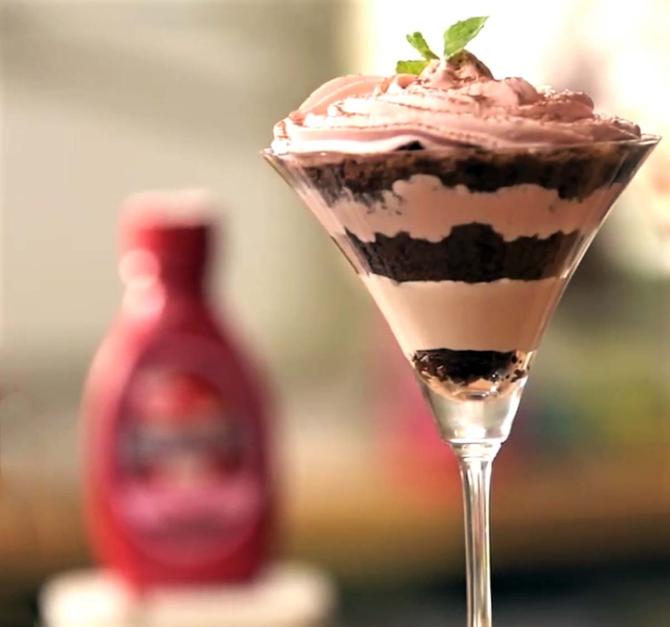 Strawberry-Flavoured Tiramisu
Recipe courtesy: Hershey India
Serves: 2 portions
Ingredients
100 gm chocolate sponge cake
100 gm whipped cream
3 tbsp vanilla custard (kindly click here for the recipe)
3 tbsp strawberry syrup
75 gm cream cheese
2 tsp cocoa powder
Fresh strawberries, sliced, for the garnish, optional
5-6 tbsp coffee syrup
Mint leave, to garnish
Cocktail glasses, to serve
Method
Cut the cake into thick slices to fit the glasses.
Place a one slice as the bottom layer in each glass.
Pour a little coffee syrup over it and let the cake soak it in.
Meanwhile, in a bowl combine the custard, cream cheese, strawberry syrup and whisk it well.
Lightly fold in the whipped cream and pour the mixture in a piping bag with an attached nozzle.
Pipe the mixture over the coffee soaked cake.
Add another layer of cake, followed by more of the piped cream mixture.
Repeat the process until the glass is full.
Sprinkle some cocoa powder using a small sieve and top off with sliced strawberries (optional) and a mint leaf.
Chill in the refrigerator and serve cold.