Bored of gajjar, sujee and moong dal halwa?
Try Mattar Halwa featuring green peas, milk, sugar and dry fruits.
A calorie-rich dessert, it takes just a handful of ingredients to prepare and is a great post-meal indulgence.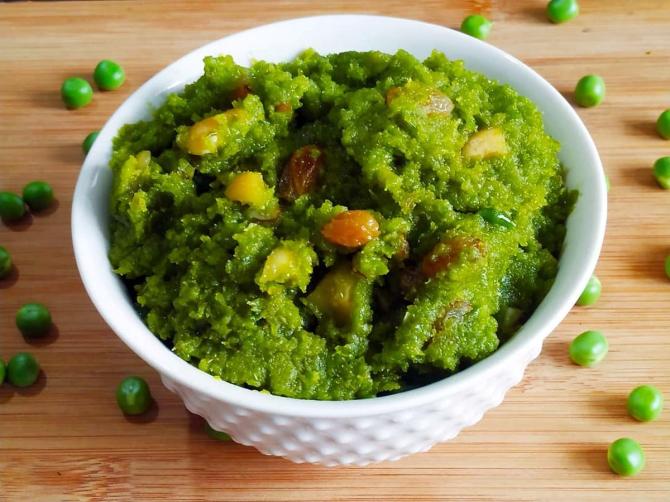 Mattar or Green Pea Halwa
Recipe courtesy: WelcomHotel by ITC Hotels, Dwarka, New Delhi
Serves: 4-5
Ingredients
500 gm fresh mattar or green peas (can be substituted with frozen peas, but fresh preferable)
1½ litre full-cream milk
150 gm sugar
100 gm mava or khoya or milk solid, grated
20 gm raisins
20 pistachios, chopped
100 ml ghee
2-3 cups boiling water for blanching the peas
Method
Blanch the fresh green peas in 2-3 cups boiling water (frozen peas don't need blanching, just washing).
Drain off the excess water and blend, without water, into a coarse mixture in a mixer.
Keep aside.
Heat the ghee in a heavy-bottomed kadhai or pan.
Add the chopped pistachios and raisins.
Reduce the heat and stir for a few minutes.
Drain the raisins and pistas from the ghee and keep aside.
In the same pan add the ground green peas mixture and saute for a few minutes.
Take off heat.
In a separate large thick-bottomed large saucepan boil the milk and let it simmer for 25-30 minutes till it reduces and thickens.
Add the sauteed green peas, sugar to the thickened milk and simmer for 10 minutes or until the sugar dissolves.
Add the grated mava and stir well and allow the halwa to thicken.
Take off heat and transfer into a bowl.
Garnish with the pistachios and raisins and serve warm.