You can too, by following Garvita Gulhati's tips, says Swarnami Mondal.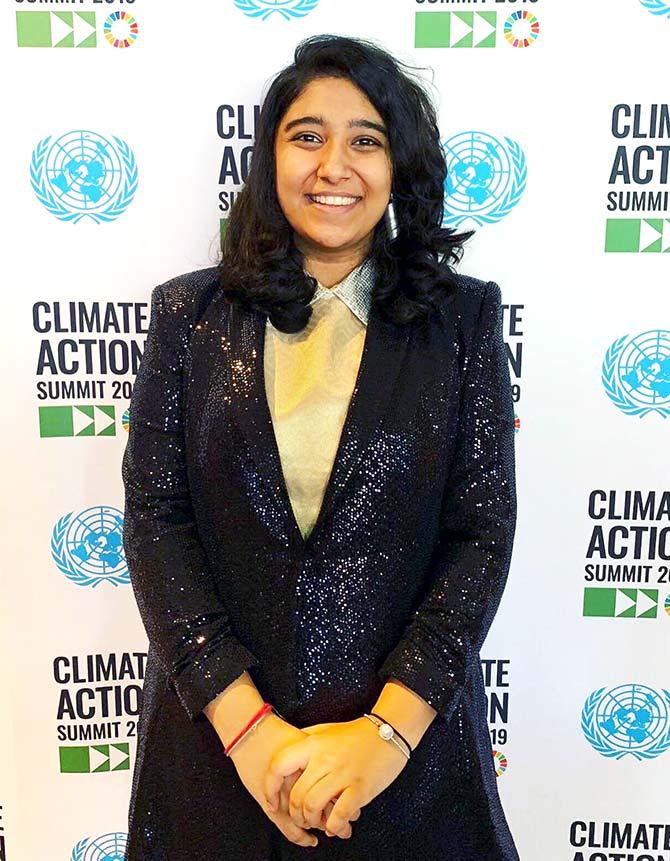 Garvita Gulhati was barely 18 when she came across this piece of information: On an average, 14 million litres of water are wasted every day -- this is only the water we leave behind in glasses in restaurants.
It was then she decided to change the mindset of people by educating them about the need of conserving water.
She started by setting up a water-conservation initiative, Why Waste, with the help of four friends in 2016.
Currently pursuing an engineering degree from Bengaluru's PES University, Gulhati, 23, says, "We teach conservation of water and management of resources through self-sustainable simple solution."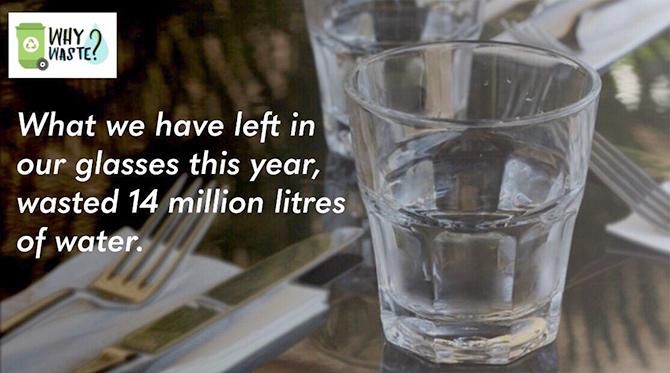 Less water please!
One solution to reduce water wastage in eateries could obviously be serving less water, say half a glass, instead of full.
Why Waste started by educating and spreading awareness among restaurant goers and owners about reducing the wastage of water and it launched its first campaign -- Glass Half Full, aiming at controlled consumption.
As part of the campaign, cue cards or small placards are placed at the patrons' table to illustrate the cause.
"Through this campaign, we convinced the eatery owners to only fill the patron's glass till the half mark," says Gulhati.
However, convincing restaurant owners was challenging. Most eatery owners said it was against the basic rules of hospitality to keep a half-filled glass at the table where patrons sat.
It took several sessions of unlearning and re-learning on the part of restaurant owners to change this mindset, says Gulhati.
As far as the restaurant goers were concerned, several campaigns were organised at public spaces to increase awareness.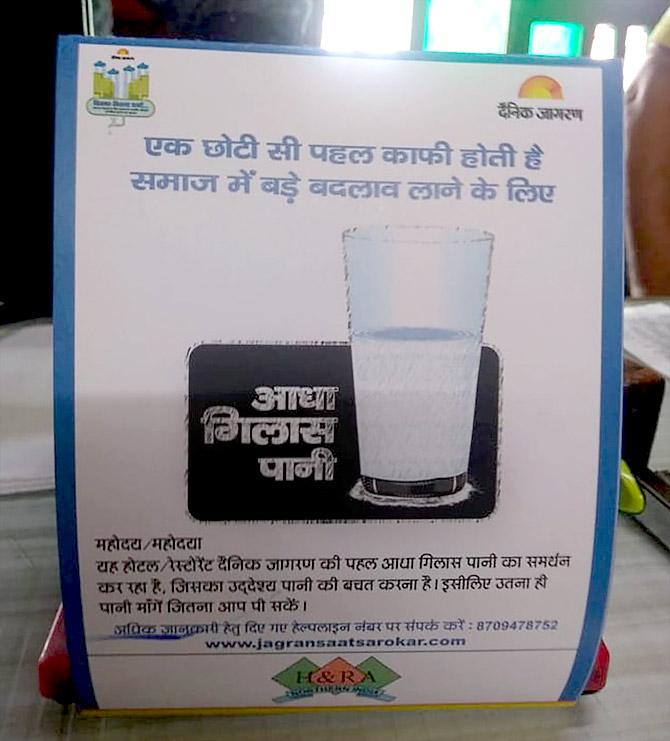 The campaign, which took off within a handful of restaurants in Bengaluru, is now eyeing a countrywide implementation with the help of National Restaurants Association of India.
"So far, the campaign has been successfully launched by over 80,000 eateries across India. People have become more aware and this simple step has helped save millions of litres of water across the country," says Gulhati, adding, "Next time you eat out, make sure your glasses are empty before leaving the food joint."
Gulhati further says, "After launching the Glass Half Full campaign, we wanted to design a module, which would attract more people in our attempt to save water. This module aims at promoting self-sustainability among people within the sphere of conservation."
Comprising a small PDF kit, the module is available for free download on Why Waste's website.
One can take print outs of the module, design their own cards and spread awareness among people.
In the past four years, Why Waste has branched out of Bengaluru; its chapters are present in all metropolitan cities of India and there are active chapters in the UK, the USA and Oman.
The team has expanded to 45 core members and over 200 volunteers across national and international chapters.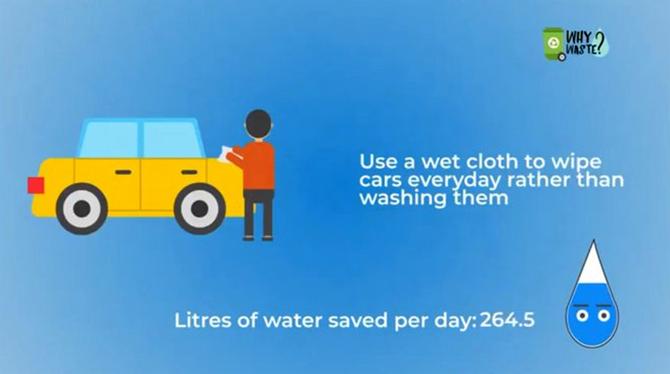 Way ahead
On World Water Day (March 22), Why Waste plans to launch its Mexico chapter and also an app.
Gulhati says this app will function like a lifestyle monitoring app where users can track the water they saved and the impact they created by conserving. "The app will help them track their conservation goals and check their progress. Through this app, users will be able to save hundreds of litres of water."
Why Waste is also planning to develop a three-pronged approach in conserving more water by reducing wastage in agriculture practices.
This strategy, still at a very nascent stage, aims to encourage people to consume less wheat and rice and more millets.
Gulhati says: "Wheat and paddy require huge amount of water for cultivation. If we can convince people to shift to eating whole grains like legumes and millets, it will not only reduce wastage of water and pressure on farmers, but also will help promote healthy and inclusive eating habits."