"No problem is insurmountable," Shaheen Mistri tells Anjuli Bhargava.
Illustration: Dominic Xavier/Rediff.com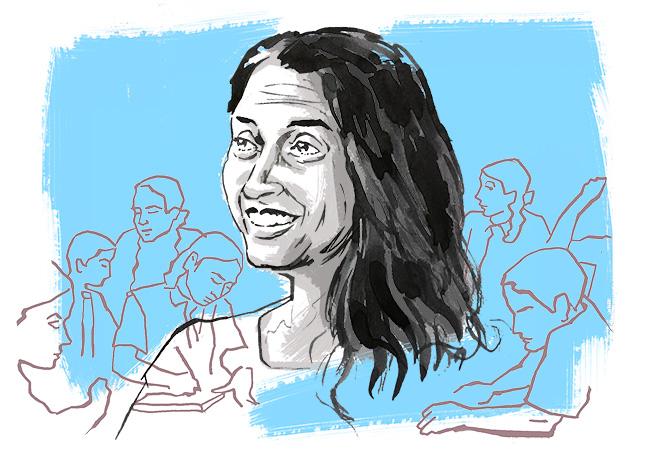 Starting from the age of 12 and through her teens, she volunteered at Mumbai's EAR school for hearing and speech impaired children, at the Happy Home and School for the blind, again in Mumbai, at an orphanage for special needs children in Indonesia, worked with autistic youth in New York while interacting with and observing closely children with multiple disabilities because her mother worked in the field.
She studied at a French pre-school in Lebanon, a British and then an international school in Greece, an elementary school in Indonesia and completed her junior high and high school in the US, finishing her education from a very high income, elite school in Greenwich, Connecticut, a rich suburb outside New York.
As a result, Shaheen Mistri, now 48, the force behind Teach for India, couldn't help but question the dichotomy between her own life of privilege and the lives of children she came in contact with during her formative years.
"What had I done to deserve all that I had?" was a question that occupied her mind, unaware that this was an unusual thought for a teenager.
Her "powerful" volunteering experiences and such thoughts shaped the direction her life would later take.
We are meeting at Mumbai's Royal China restaurant in the Fort area.
Mistri orders a sweet corn soup and a prawn and chive dumpling.
I opt for a lemon coriander soup and stir-fried vegetables in black bean sauce and fried rice that I suggest we share.
It was at the age of 18 and after a year at the Tufts University, USA, that, to her parent's surprise and dismay, she decided to drop out of and come back to live with her grandmother in Mumbai, feeling a tug she could not quite explain and one that has lasted 30 years.
She enrolled in Xavier's Mumbai to earn a degree, the only condition her parents, who had encouraged her to think independently, placed on her.
Soon she found herself spending all her free time to discover Mumbai in a new light, one that she had not been exposed to in her yearly summer vacation visits.
Mistri started going to a slum in Cuffe Parade every day where she made her first friend -- a girl who was the same age and who lived a life radically different from her own.
With the assumptions that grow naturally from a life of privilege, Mistri expected she would be able to teach her friend and the community a lot but soon found it was the other way round.
She also didn't expect to see so many positives in a community that faced so many challenges.
The courage, acceptance and yet the resilience and positivity blew her away.
"I came in with this idea that I had so much and I was the one who was going to give not realising that I will be the bigger receiver here," she adds.
The unassuming Mistri did however bring her own set of skills to the table and soon started teaching a bunch of kids from the slum every afternoon at Sandhya's house, which had become her base in the slum.
That is where the seeds of what would later become The Akanksha Foundation were sown.
There were other traumatic experiences that she feels shaped her world view.
At the slum, a 15-year-old mentally challenged girl who lived with her working mother succumbed to her burns after her clothes caught fire while cooking.
Mistri spent 15 days in the hospital at the girl's bedside as the mother had no time to spare.
The mother was almost relieved her child was no more as she felt the odds were stacked against her in more ways than one.
"To see a mother actually thinking her only child was better off dead was heartbreaking," Mistri explains.
She was also appalled at the kind of superstitions the community held onto even at times to their disadvantage.
Education, she felt, was the only way to lift them out of their situation.
A second massive influence that led her on the unconventional path her life took was her maternal grandmother she lived with, a rebel who lived life entirely on her own terms.
She'd had a love marriage back when no one understood the concept, helped her children explore things generally forbidden and became a painter at the ripe age of 75.
Our food has arrived and I am the only one focusing on it.
My soup is delicious, so are the stir-fried vegetables.
She has her soup, dumplings and a tiny amount of stir-fry, eating absent-mindedly.
After she'd been teaching kids in the slum for a while, Mistri felt she needed a space outside the slum so that she could take her students out of their circumstances and teach in a different environment.
She approached 20 schools in south Mumbai, all of which refused to offer her their premises even for two hours after regular school hours were over.
Their intransigence in fact strengthened her resolve.
Finally, one of the priests at the Holy Name high school in Colaba agreed to give her space and the first Akanksha centre was born as an after-school school.
Every time she went to Xavier's, she met dozens of students who were willing to volunteer their time.
She also saw children with an insatiable hunger to learn.
All she needed to do was act as a bridge between the two and spark people's willingness to help.
These "pockets of resources" were brought together and Akanksha grew from that single Colaba centre to 60 across Mumbai.
Over 4,000 students over the last 15 years were offered every type of support -- adult guidance above all -- so that they could overcome the challenges they were born with and find their place in society.
The centres soon evolved into 20 full-fledged schools run in partnership with government schools.
Mistri says that through this journey she enjoyed the privilege of being let into people's lives.
"The grace, generosity, lack of resentment we saw in our kids taught us a lot including the fact that no problem is insurmountable," she adds.
She wanted to reach more children and as a consequence Teach For India was born in 2009.
She was convinced that you could only change the system if you changed the calibre of people who engage with it.
In India, the bottom 10 per cent of the graduates get into the education sector with the stars opting for more lucrative professions like investment banking, law or consultancy.
In 2009, the Teach for India programme was formally launched in India, with the caveat that only the best would be recruited as fellows.
Over 2,500 applications came in and 87 fellows were chosen in the first year.
"The counter-intuitive approach worked. You take something that people usually don't want to do and make it impossible to get in and lo and behold, people want in!", she points out.
The fellowship teaches youngsters "leadership like nothing else can" by giving them charge of a bunch of young kids in a government school setting, with challenges they may have never faced themselves or knew existed.
Now in its tenth year, 3,000 fellows have completed their tenures and 1,000 fellows are engaged in the two-year fellowship in seven cities currently.
A pipeline of leaders has been created for the sector in the process as 70 per cent of the fellows have stayed on in the education sector and launched initiatives of their own.
I interrupt to ask what else -- education is evidently her biggest passion -- keeps her going.
Mistri is deeply knowledgeable about art (she's recently started taking classes) and theatre, she plays the piano and absolutely loves animals.
In fact, the only real conflict she ever faced was whether she should work with children or with animals.
She's now glad she picked the former.
As we wind up our conversation, she drives the conversation back to her Akanksha children (she has two girls of her own).
As I can see, the lady might have covered a fair distance but is far from done.