Meet street skateboarder Jay Singh, 18, proud winner of the Skater of the Year Award.
Photographs: Hitesh Harisinghani/Rediff.com; Video: Hitesh Harisinghani/Rediff.com, Afsar Dayatar/Rediff.com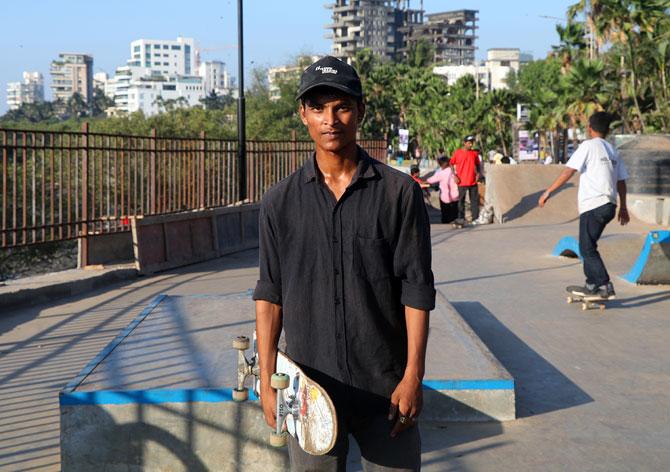 Jay Singh was introduced to skateboarding just two years ago, when he was 16. Twentyfour months later, the self-taught skateboarder has won the Skater of the Year Award, a national skateboarding competition.
"I used to practice B-boying at Bandra's Carter Road (north west Mumbai) and spotted boys my age skateboarding. I liked the challenge involved and took up the sport," says Jay.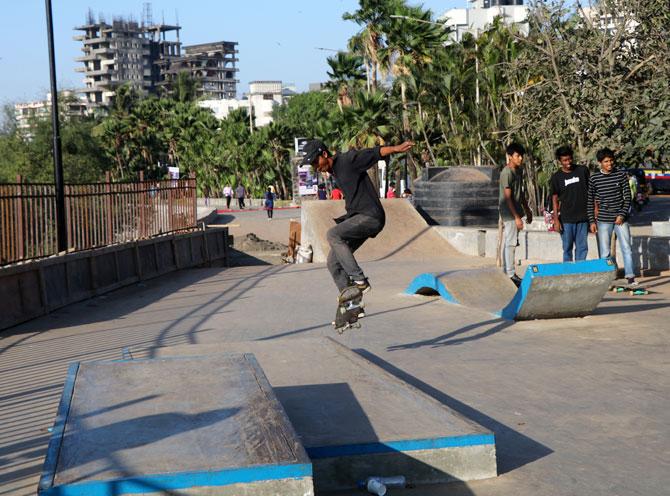 After clearing his Class 10 exam, Jay decided to focus entirely on skating.
He lost his father when he was just two, and his mother and siblings, who are farmers in a village in UP, are doing their best to help him pursue his passion.
Jay too is cutting corners and saving money on travel by choosing to skate 8 km, from his home in Bandra East to the Carter Road Skatepark, both in north west Mumbai.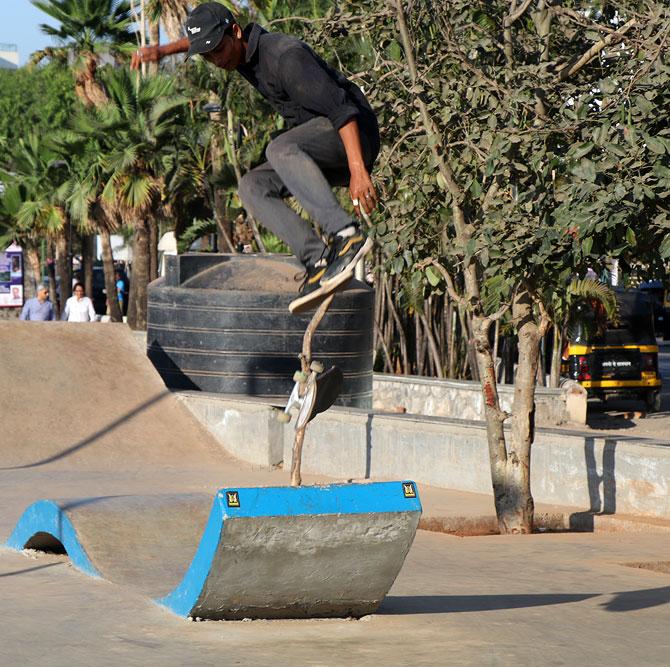 Jay's dedication caught the eye of Steven Jhangiani, founder of the men's clothing brand Kurtees India.
Having brought him onboard as Kurtees's main athlete, Steven hopes to fund the skateboarding sensation's transportation and nutrition.
"I see a determination, tenacity and pure joy on Jay's face when he's flying through the air," says Steven.
"Skateboarding is a rigorous, taxing sport. Without adequately prepping your body with the right nutrients, you wouldn't have the energy to succeed," explains Steven. "It's key for us to provide Jay with this very basic building block."
"Jay does not live within close proximity to the Carter Road Skatepark. As he is unable to pay for transportation, he frequently has to make his way through the city on his skateboard. Walking on Mumbai streets can be tough, so imagine skateboarding on them," adds Steven.
"Again, from an energy perspective, skateboarding on street surfaces are taxing as well. We'd love for him to be able to conserve that energy and spend it in a place more useful to him," says Steven.
Watch the video to know more about Jay's journey, his struggles and how he plans to spread the love for skateboarding.