Suriya Prabha trains students from government schools in rural Tamil Nadu to code and use Artificial Intelligence to solve problems.
This is her inspiring story.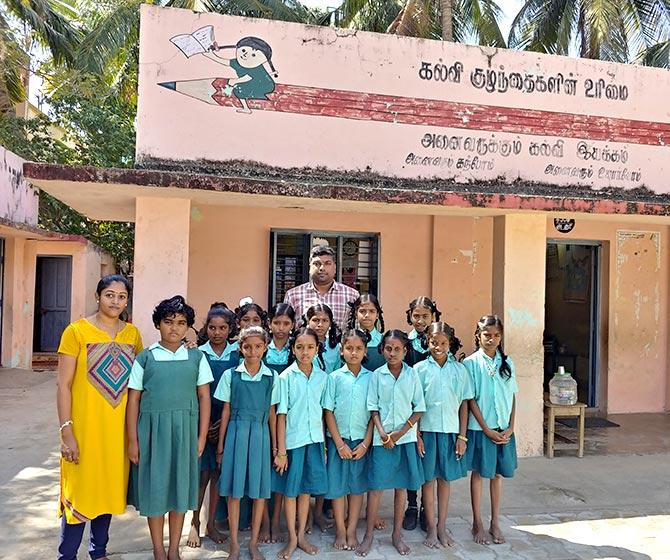 According to the latest National Employability Report 2019 (external link), over 80% engineers in India are unfit for employment because they lack the basic skills required for the job.
A majority of Indian graduates lacked basic English, functional and core technical skills, the report mentioned.
Suriya Prabha, a microbiology graduate who grew up in Cumbum, a small town in Tamil Nadu's Theni district, had realised the gravity of the situation -- the skill gap that existed between graduates and employers -- long before that, and had even worked out how to tackle it.
The solution, according to Suriya, was simple -- to go beyond textbooks and make technical skills an important part of the school curriculum.
Suriya had moved to Chennai where she became a mother of two children. But she wanted to help individuals like her (who grew up in villages and studied in government schools) to know about Artificial Intelligence and coding skills so they could be independent, job-ready and use technology to solve problems.
At the age of 31, Suriya was inspired to do something different.
"While I was surfing (the Internet) I found that both Google and Amazon were teaching AI to kids in the US and other Western countries. I first learnt it (coding) and then decided to teach kids in rural Tamil Nadu," Suriya tells Rediff.com's A Ganesh Nadar in Chennai.
"Lots of facilities are available to city kids that rural areas never even know of. I come from a small town surrounded by villages. It was natural that I would think about them (rural children)."
With this vision in mind, Suriya pursued a diploma in multimedia encouraged by her husband Karthik Kannan who holds an engineering degree in mechatronics.
In 2018, Suriya learned both Java and Python online. The same year, she launched Youcode Intelligence Solutions so she could teach Artificial Intelligence to young children in rural Tamil Nadu.
She started her first class in Virudhunagar district.
"I approached the district education department with my plans. I wanted to teach only in government schools as they are the most neglected. With their permission, we started our work."
Suriya and her team make their own kits -- AIY (Assemble it Yourself) -- that cater to students from classes 6 to 12.
The children are first taught to assemble a codeable computer. They write simple codes using colour blocks.
They are also taught how to write codes to detect movement, recognise objects and facial expressions.
The children then try out their codes on tech toys.
Currently, there take up to 30 students in a batch.
The team spends between one and three days in the school (depending upon the strength of the school) to set up and start the training.
"It's a step by step process. We visit the school once in two months to take the children to the next step," says Suriya.
After Virudhunagar, they took the project to Ramanathapuram district. Here, their work was sponsored by the ICICI Foundation for the first year.
Their most recent project was set up in Meghamalai village in Suriya's home district Theni.
"It is an isolated village. They have recently got a bus service. A bus now comes once a day to this village," adds Suriya.
Their next project is in Tirunelveli. They have covered government schools in as many as 15 villages in Tamil Nadu so far.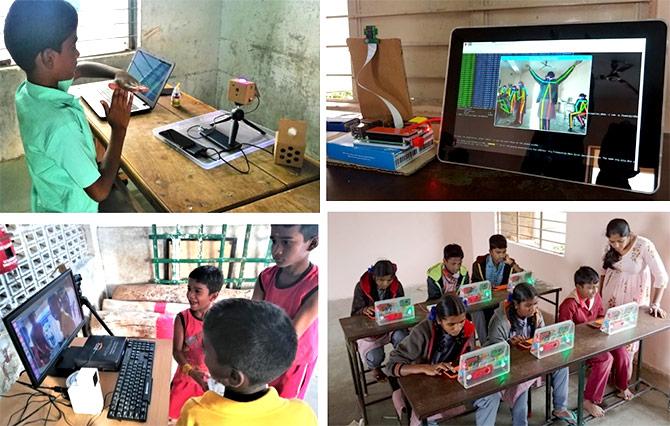 Currently, Youcode Intelligence Solutions has seven members which includes her husband Karthik.
Although the company's primary focus is rural Tamil Nadu, corporate organisations have invited them to teach at government schools in Chennai under CSR initiatives.
While Youcode was self-funded and started with a social objective, Suriya explains they do have a business model.
"We started with an initial investment of Rs 15 lakhs. We are breaking now. By next year I am hoping to make a profit," Suriya says.
Youcode can set up a class anywhere in Tamil Nadu provided the school can help them set up a mini lab. This includes a computer that can be assembled to write codes and tech toys.
The cost of setting up the lab is approximately Rs 100,000. "For a small set to practice AI you need at least Rs 50,000," she said.
As a part of the programme, they also train one teacher from the school to operate the lab.
Apart from making toys move, they also train children to solve local problems with AI.
A young boy in Virudhunagar, concerned by the increasing incidents of bike accidents in his village, wanted to make a helmet which would warn the driver in case he dozed off.
With the help of Suriya's team, the boy was taught to create a prototype helmet which would trigger an alert if the driver was drowsy.
"It is not a perfect product, but it indicates that the student is interested in solving problems with AI," says Suriya.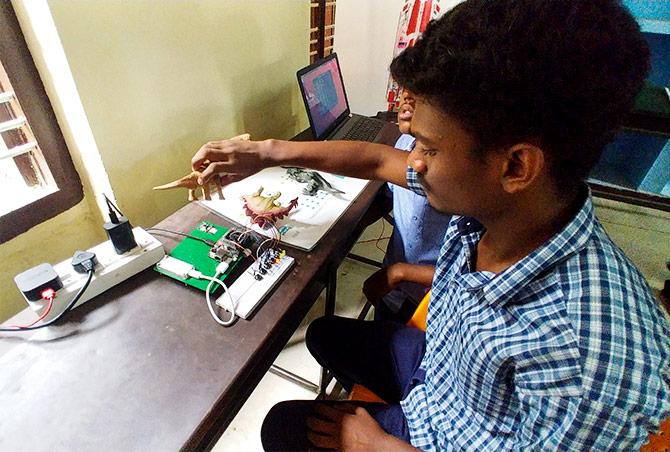 For a first generation entrepreneur, Suriya's optimism and vision for the future is inspiring and infectious.
"Our aim is to make rural Tamil Nadu digitally literate," she declares.
What's next?
"We are going to identify local problems in agriculture, health and infrastructure. We will then work with school children and civic authorities to use AI to solve them."