Impress your loved one with this Valentine's Day recipe shared by Chef Ranjan of Hotel Sahara Star.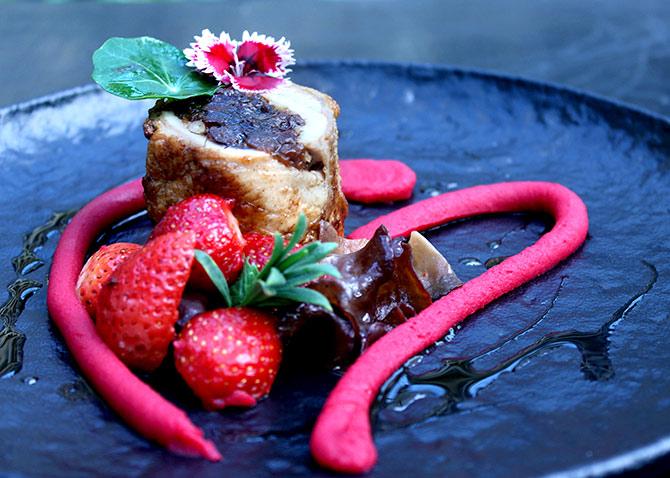 Chicken Roulade stuffed with prunes, sauteed wood ear, strawberry ralish and beetroot mash
Ingredients:
200 gm chicken breast
50 gm chicken skin
20 gm prunes
10 gm pine nuts
For sauteed mushrooms
10 gm wood ear mushrooms
2 gm chopped garlic
2 ml butter
2 gm salt
For mash
200 gm potatoes
50 gm butter
30 ml cream
10 gm beetroot reduction
Salt to taste
For ralish
50 gm strawberries
5 gm white balsamic vinegar
5 gm sugar
3 gm butter
2 gm paprika
Method:
Chop prunes and pine nuts. Keep aside.
Slit chicken, open properly and stuff prunes mixture inside and make a nice roulade.
Wrap with chicken skin and steam for 15 mins in steamer. Keep aside.
Make a regular mash of potaoes with butter, cream and salt. Add beetroot reduction and season well. Keep aside.
Saute wood ear mushrooms with garlic in butter and season. Keep aside
Cut strawberries in half. In a pan, take butter and saute the strawberries. Add sugar, salt and paprika powder. Keep aside.
In a pan, take oil and sear chicken roulade till golden brown.
Assemble in plate and garnish well.