Photographs and Recipes courtesy Out Of The Blue and Deli By The Blue
Spinach and Corn Quiche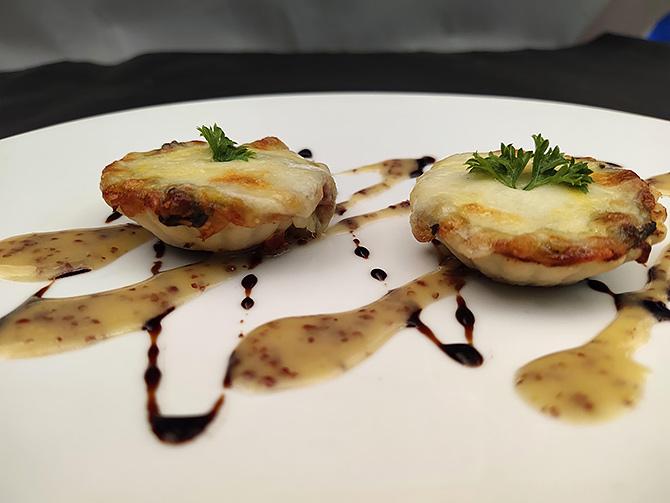 Ingredients
5 tart shells
15 gm oil
5 gm garlic
10 gm onion
80 gm spinach
35 gm boiled American corn
30 gm white sauce
6 gm salt
5 gm black pepper
1 tbsp parmesan cheese
45 gm processed cheese
Method
In a pan, heat oil. Saute onion and garlic cook till the onion is translucent
Add corn followed by spinach.
Add seasoning followed by white sauce and parmesan cheese
Allow the mixture to cool.
Fill the tarts shells and top it with process cheese and gratinate. Serve hot.
---
BBQ Chicken Wings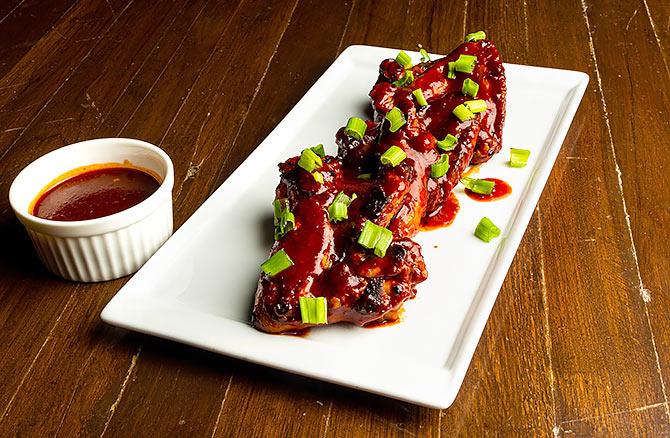 Ingredients
300 gm tomato ketchup
50 ml red wine vinegar
100 gm brown sugar
15 gm red chilli powder
30 ml soy sauce
5 gm mustard powder
60 ml Worcestershire sauce
5 gm ginger
½ lime
300 gm chicken wings
Method
Prepare barbecue sauce by blending all ingredients (except chicken wings).
Braise the chicken wings in stock water in the oven for 130 C for 30 minutes.
Toss the chicken wings with barbecue sauce.
Cook till sauce starts to caramelise on the edge of the wings.
Garnish with spring onion and serve hot.
---
One Alarm Pot Chilli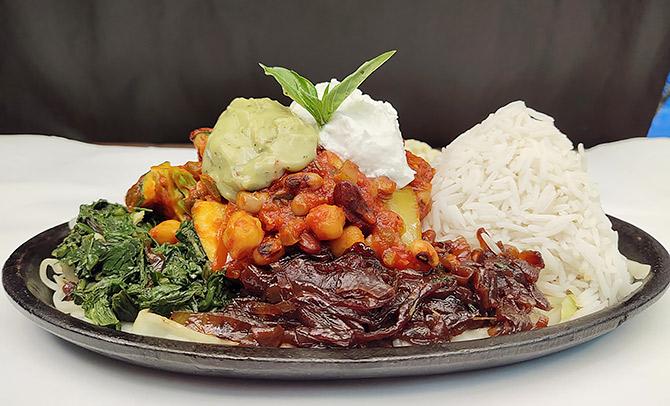 Ingredients
30 gm cooked chickpeas
30 gm cooked kidney beans
30 gm cooked cowpeas
30 gm blanched broccoli
30 gm zucchini
30 gm mixed bell peppers
100 gm tomato sauce
1 tbsp oil
1 tsp chopped garlic
1 tsp chopped onion
Salt to taste
Black pepper to taste
For plating on sizzler
20 gm blanched cauliflower
30 gm sauteed spinach
20 gm carrot batons blanched
15 gm caramelised onion
70 gm steamed rice
30 gm string beans blanched
For garnish
20 gm guacamole
20 gm sour cream
Method
In a thick bottom pan heat the oil and then add onion and garlic and saute them
Add all the cooked beans and toss
Toss all prepared vegetable and allow to cook
Add tomato sauce and seasoning and allow to cook on slow flame
Adjust seasoning and start with plating the sizzler
In a hot sizzler plate, start platting all blanched ingredients.
Place the prepared beans and vegetable mixture on sizzler plate along with accompaniments
Garnish with a scoop of Guacamole and sour cream scoop.
Serve sizzling hot.