Bored of spending time at home? Try out these yummy recipes.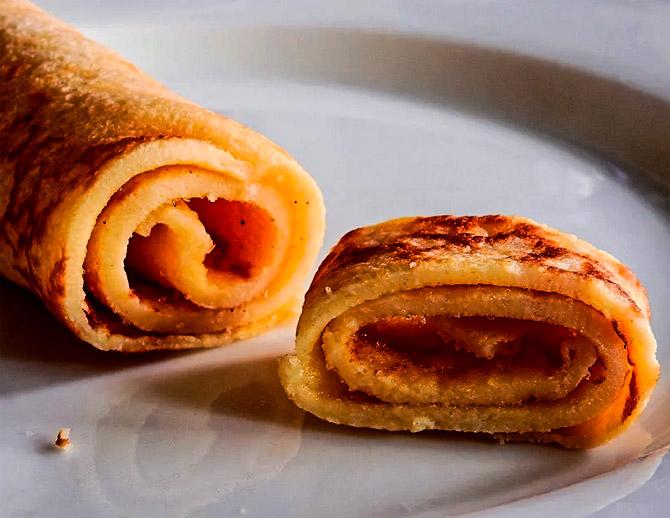 Omelette Pancake
Ingredients:
4 eggs
Handful of basil leaves
For the sauce:
2 tsp mustard oil + extra for pancake
1 yellow pepper, quartered, deseeded and thinly sliced
2 garlic cloves, thinly sliced
1 tbsp cider vinegar
400 gm chopped tomatoes
Wholemeal bread or salad leaves, to serve
Method:
For the sauce:
Heat oil in a large frying pan and fry pepper and garlic for 5 minutes to soften them. Spoon in the cider vinegar and allow to sizzle away. Tip in the tomatoes, then measure in a third of a can of water. Cover and leave to simmer for 10-15 mins until the peppers are tender and the sauce is thick.
For the pancakes:
Beat 1 egg with 1 tsp water and seasoning. Heat a small non-stick frying pan with a tiny amount of oil. Add the egg mixture and cook for 1-2 mins until set into a thin pancake. Lift onto a plate, cover with foil and repeat with the other eggs. Roll up onto warm plates, spoon over the sauce and scatter with the basil. Serve with bread or a salad on the side.
---
Ginger Chilli Sizzled Fish
Ingredients:
6 fish fillets, about 140 gm, skin on and scaled
3 tbsp sunflower oil
Large knob of ginger, peeled and shredded into matchsticks
3 cloves of garlic, thinly sliced
3 fat, fresh red chillies, deseeded and thinly shredded
1 bunch shredded spring onion
1 tbsp soy sauce
Salt and pepper
Method:
Season fish fillets with salt and pepper, then slash the skin three times. Heat a heavy-based frying pan and add 1 tbsp sunflower oil.
Once hot, fry the sea bass fillets, skin-side down, for five minutes or until the skin is very crisp and golden. The fish will be almost cooked through.Turnover, cook for another 30 seconds to a minute, then transfer to a serving plate and keep warm. You'll need to fry the sea bass fillets in 2 batches.
Heat 2 tbsp sunflower oil, then fry the large knob of peeled ginger, cut into matchsticks, 3 thinly sliced garlic cloves and 3 thinly shredded red chillies for about 2 mins until golden. Take off the heat and toss in the bunch of shredded spring onions. Splash the fish with 1 tbsp soy sauce and spoon over the contents of the pan.
---
Merajuddin Ansari is the executive chef of Four Points by Sheraton Navi Mumbai.
---
Lead pic used for representational purpose only. Photograph: Courtesy Pixabay.com