Rediff.com's Hitesh Harisinghani shares a recipe he learned from his mother. You can share your cooking tips and videos too!
Photograph and video: Hitesh Harisinghani/Rediff.com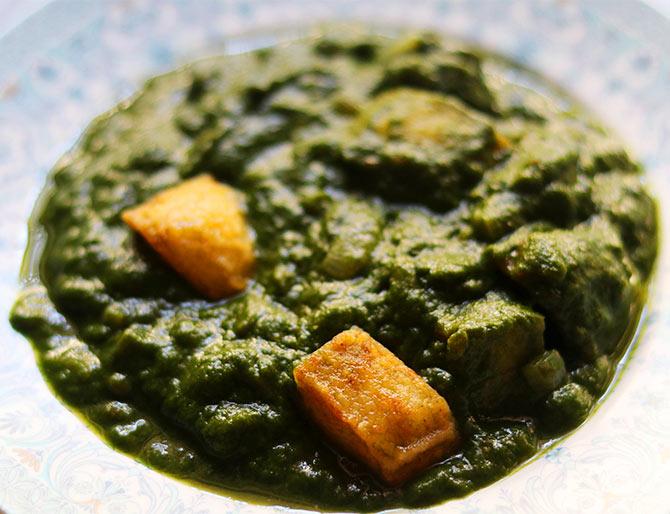 My mother would make this recipe quite often while I was growing up.
Since improving my cooking skills is one of my agendas in this ongoing lockdown, I decided to give it a shot.
It turned out to be delicious but I missed the quintessential 'maa ka pyaar'.
Watch this video to see how to make Aloo Palak:
Ingredients
1 large potato
400 gm spinach
1 onion chopped
1 tomato chopped
2-3 green chillies
5-6 cloves chopped garlic
1 inch ginger chopped
1 tsp cumin seeds
1 small cube of butter
2 tbsp oil
Method
For fried Aloo
Add salt, red chilli powder and cornflour to the diced potato.
Deep fry them till golden brown. Keep them aside
For palak
Blanch the palak in hot water for 2-3 mins
Remove the palak and add them to ice cold water.
To make Aloo Palak
Blend the palak. Keep it aside.
In a Kadai, add 2 tbsp oil and butter
Add cumin seeds.
Add garlic and onions.
Add ginger and green chillies. Saute for 4-5 mins
Add tomatoes and saute for 3-4 mins.
Add the blended palak.
Add half cup water and salt.
Add red chilli powder and coriander powder. Allow this to boil.
Add fried potatoes and mix well.
Serve hot with chapati or steamed rice.