Chatpata, crispy Masala Mathri from Sangita Agrawal, made with maida and wheat flour, along with a mix of spices.
A great snacking option, it can be made weeks in advance and stored in air-tight containers and are wonderful and comforting stuff to dip in your chai. Cheers!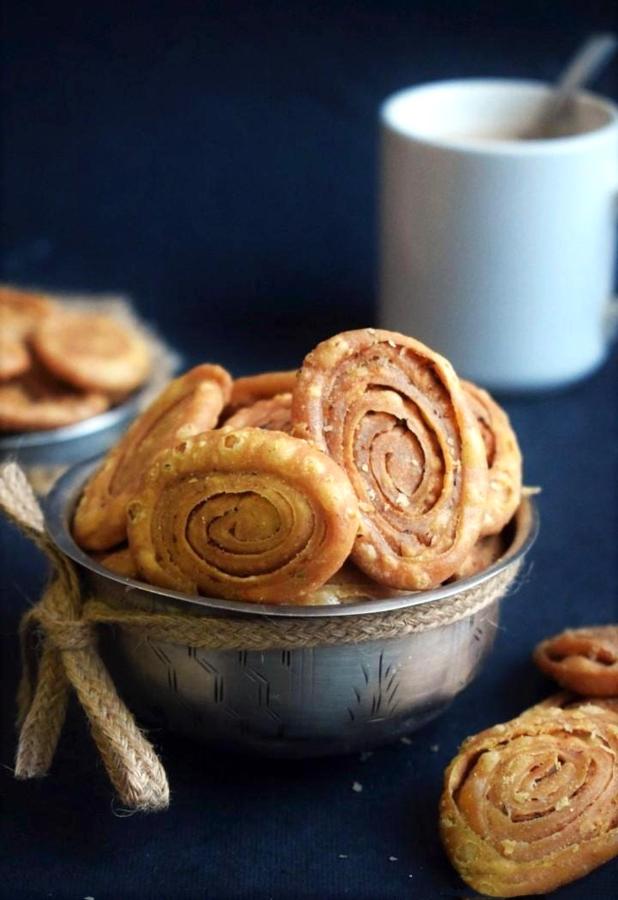 Masala Mathri
Servings: 20-25 pieces
Ingredients
1 cup wheat flour
1 cup maida or all-purpose flour
½ tsp ajwain or carom seeds
2 tbsp oil
½ cup water or more
Salt to taste
Oil for frying
For the masala mix
2 tsp chaat masala
2 tsp red chilly powder
2 tsp jeera or cumin powder
2 tsp kasuri methi or dried fenugreek leaves, optional
1 tbsp oil
2 tbsp maida or all-purpose flour
Method
In a large bowl combine the wheat flour, maida, ajwain seeds, salt and mix well.
Add the 2 tbsp oil and mix using your fingers so the oil is evenly mixed in the flour.
Add ½ cup of water and mix again.
Make a firm dough by adding more water if required.
Cover with a damp cloth and keep aside for 15 minutes.
In another small bowl combine thechaat masala, red chilly powder, cumin powder and dried fenugreek leaves.
Keep aside.
Lightly knead the dough again for a few minutes.
Divide the dough into 2 equal portions and roll each portion into a ball, so you have 2 large balls.
Flatten each ball with your hands or a rolling pin into a thin circle like a large chapati.
Apply oil on the top side of each of the circles and sprinkle evenly the masala mix along with 1 tbsp maida.
Roll up each chapati to form a long log and seal the ends of the log by applying a little maida mixed with water to prevent the masala from spilling out.
Using a knife, cut the logs into half-inch pieces and gently flatten them with a rolling pin.
Heat the oil in a heavy-bottomed kadhai or deep frying pan, and fry the mathris in a batch of 10 on medium to low heat.
Keep flipping often.
Fry till crisp and golden brown.
Drain the excess oil and transfer onto a paper tissue or paper towel-lined plate.
Cool and store in airtight containers.
They will last for 20 to 25 days.
Sangita Agrawal lives in Mumbai and publishes the food blog Bliss of Cooking.