Taruna Bakshi makes use of roasted pumpkin puree to prepare irresistible Pumpkin Petha Kalakand flavoured with cardamom powder and garnished with chopped pistachios.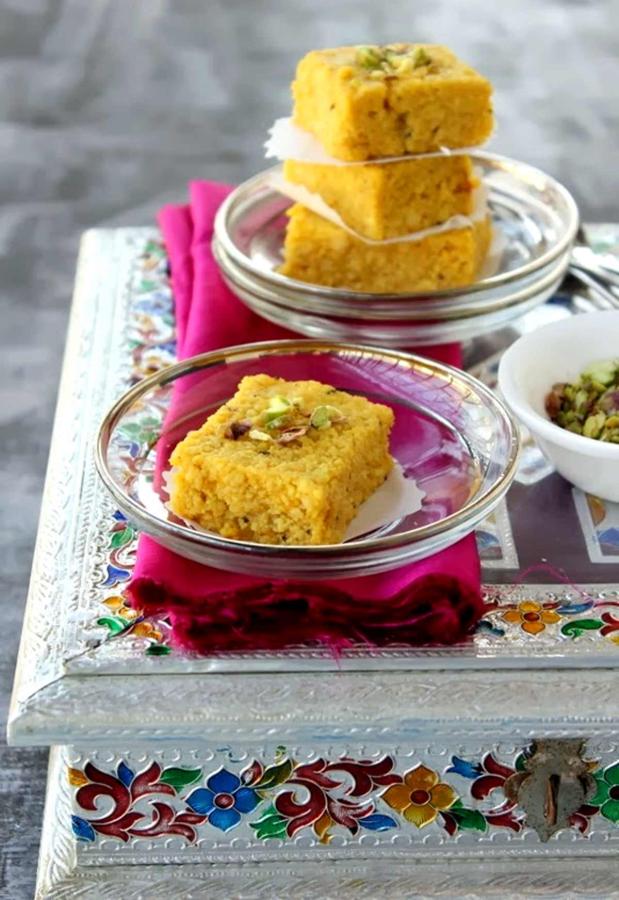 Pumpkin Petha Kalakand
Servings: 12 portions
Ingredients
2 l full fat milk
½ cup sugar
Pinch of kesar or saffron
¾ to 1 tsp green elaichi or cardamom powder, adjust as per taste
750 gm pumpkin made into ¾ cup puree (please check the method below)
2 tbsp finely chopped pistachios
2 tbsp lemon juice
Method
For the pumpkin puree
Cut the pumpkin lengthwise into one-inch slices and arrange on a baking tray lined with parchment paper or regular foil.
Sprinkle a few tsp of water on the slices and roast in an oven at 180°C, flipping the pieces once in between, until slightly brown and tender.
Take out of the oven, let it cool before scooping out the flesh and pureeing it in a blender.
Set aside.
For the cottage cheese
Boil 1 l of the milk in a heavy-bottomed saucepan.
When it starts to boil, add the lemon juice.
Stir and take off heat.
Using a muslin cloth-lined channi or colander placed over a large bowl to strain the curdled milk and wash the milk solids under running water.
Keep aside to allow the whey to further drain.
Cover and keep aside.
For the kalakand
In a heavy-bottomed kadhai or saucepan boil one more litre of the milk and keep stirring until it reduces to half.
Crumble the cottage cheese and add to the milk.
Continue to cook on low heat till the quantity further reduces to half.
Keep stirring the mixture so that it doesn't stick to the bottom of the saucepan.
Add the pumpkin puree, sugar, saffron strands and cardamom powder.
Keep cooking until the mixture thickens and most of the liquid has evaporated.
Ensure that the mixture has some moisture left or else the mixture will be too dry.
A fudge-like consistency is required to mould the mixture into kalakands.
Line a tray with raised edges with parchment or butter paper.
Alternately grease the tray with ghee and transfer the contents onto the tray.
Level evenly and sprinkle the finely chopped pistachio.
Cover the kalakand with cling wrap.
Make sure the cling wrap touches the top surface of the fudge to prevent it from drying and forming a crust.
Refrigerator for 4-5 hours, preferably overnight.
Cut into small squares before serving.
Taruna Bakshi lives in Mumbai and is the creator of the food blog Easyfoodsmith.