This interesting Mewa Ka Pulao recipe from Chef Hari Ballabh Singh is the perfect accompaniment to a vegetable or meat curry.
Garnished with khoya and nuts, it gets its flavour from the spices and the raisins.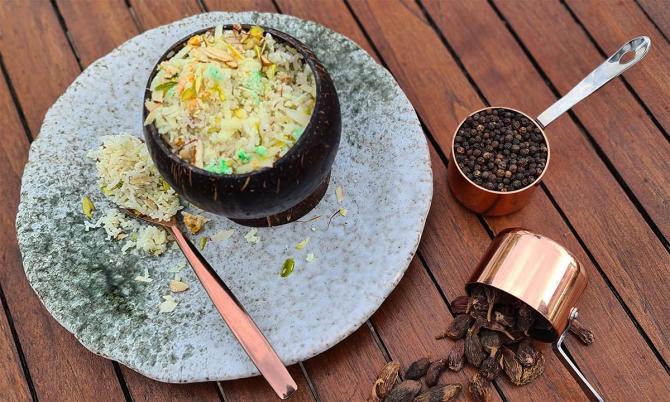 Mewe Ka Pulao
Serves: 2
Ingredients
1 cup raw Basmati rice
½ tsp jeera or cumin seeds
60 gm ghee
1 dal cheeni or cinnamon stick
1 tej patta or bay leaf
5-6 peppercorns
110 gm onion, chopped
20 gm pistachios, chopped
10 gm cashews, chopped
20 gm almonds, chopped
15 gm raisins
Salt to taste
50 gm khoya, or milk solids, crumbled
Few strands of kesar or saffron
Method
Wash and soak the rice in a bowl of water for 30 minutes.
Heat the ghee in a heavy-bottomed kadhai or pan.
Add the cumin seeds, cinnamon, peppercorns and bay leaf.
Add the onions and fry until golden brown.
Add the chopped almonds, pistachio, cashews and raisins.
Saute for a few minutes and add the soaked rice.
Add about a cup of water to cover the rice, salt and bring to a boil on high heat for few minutes.
Cover and cook until all the water is absorbed.
Basmati rice needs very little water to cook and for its strands to grow long.
Take off heat and garnish with the crumbled khoya and kesar.
Serve warm with a raita/curd, achaar and a vegetable or meat curry.
Hari Ballabh Singh is the chef at Tradition Saffron, Ozen Reserve Bolifushi's Indian outlet in the Maldives.