Savoury Walnut Kachoris from Chef Abinas Nayak will add a gourmet touch to your Navratri.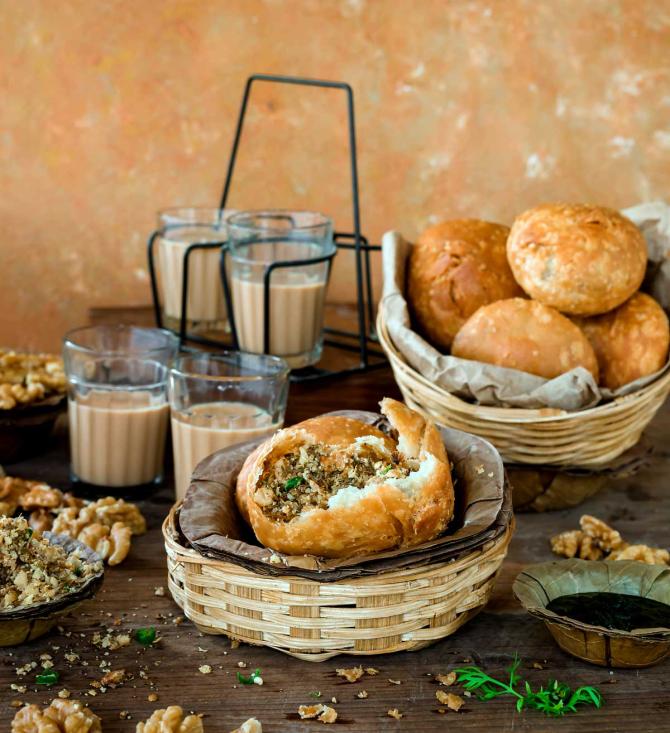 Walnut Kachori
Serves: 3-4
Ingredients
For the spiced walnut stuffing
¼ cup yellow moong dal or mung
¼ cup walnuts
½-¾ tsp chilly powder
¼ tsp haldi or turmeric powder
½ tsp coriander seeds, crushed
¾ tsp saunf or fennel seeds, crushed
¼ tsp jeera or cumin seeds
½ tsp aamchur or dried mango powder
¼ tsp garam masala
A pinch of hing or asafoetida
2-3 raisins, chopped
1 tsp sugar
Salt to taste
4-5 tsp water, or as required
For the dough

1 cup maida or all-purpose flour
1 tsp rava or semolina
3 tbsp ghee
Salt to taste
Water to knead the dough
Oil, for frying
To serve
Method
For the walnut stuffing
In a bowl soak the moong dal for two hours.
Drain off excess water, transfer to a mixer jar and grind till you get a coarse paste.
Keep aside.
In an oven dry roast the walnuts and roughly crush them.
Keep aside.
In a large heavy-bottomed pan over low heat, warm the chilly powder, turmeric powder, crushed coriander seeds, cumin seeds, crushed fennel seeds, dry mango powder, chopped raisins and walnuts.
Add the garam masala, hing, sugar, salt to taste and mix well.
Add the ground moong dal and give it a good stir.
Add a few drops of water and let the mixture cook on low-medium heat for 5 minutes
Check for seasoning, remove from heat and keep aside.
For the kachori dough
In a large bowl mix the maida, rava, oil and salt.
Add the ghee.
Add the water, little by little, and knead to form a smooth dough.
Cover with a moist cloth and keep aside for 15 minutes.
Divide the dough into equal portions and make into medium-sized balls.
Using your palms flatten it and scoop 1 tsp of prepared spiced walnut stuffing in the centre.
Bring the edges together to shut and lightly flatten.
Heat oil in a heavy-bottomed kadhai or frying pan and fry the kachoris, a few at a time till golden.
Drain excess oil and transfer the the kachoris onto a tissue or paper towel-lined plate.
Serve with tea and green chutney.
Chef Abinas Nayak is the winner of MasterChef India Season 6.