Make your weekend extra memorable with these enticing Mediterranean/Middle-Eastern starters by Chef Farah Mohamed.
Lamb Sambousek is a meat filled deep-fried pastry, and Rakakat are crispy rolls filled with cheese and spices.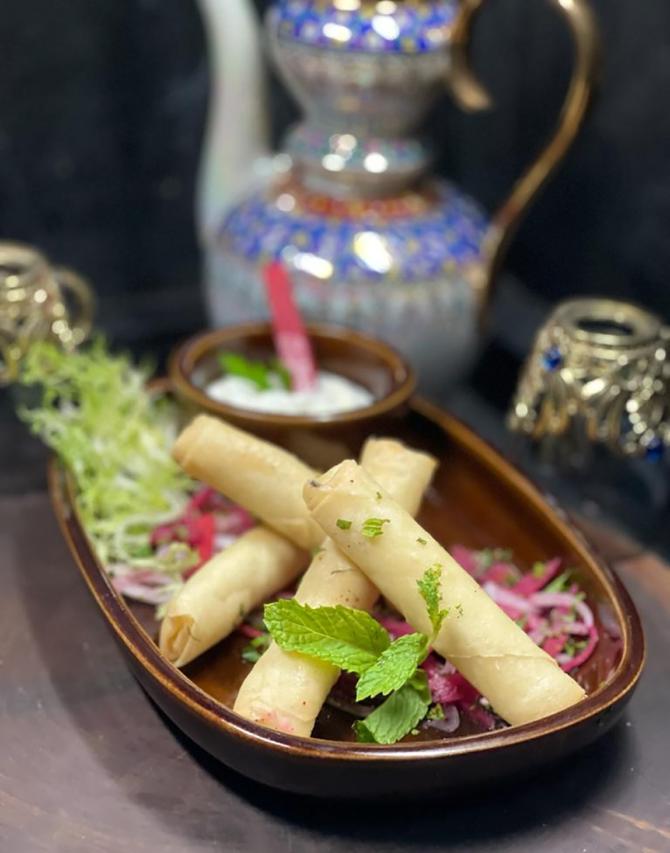 Cheese Rakakat
Serves: 3-4
Ingredients
280 gm Kashkawan cheese, shredded or cut into 2 inch long pieces (Kashkawan or Kashkaval is a semi-hard yellow salty Eastern European cheese that can be substituted with mozzarella)
1 tbsp sesame seeds, toasted
1 tbsp chopped parsley and/or mint
12 sheets of spring roll wrappers
Canola or vegetable oil for frying
Water or egg wash for sealing
Method
For the filling
In a bowl, shred the cheese or cut into 2 inches long pieces that are no thicker than your fingers. Shredded cheese is preferred.
Add the toasted sesame seeds and the fresh herbs like chopped parsley or mint to the mixture.
Mix thoroughly.
Spread the spring roll sheets out and stuff the filling inside it.
Wrap the rolls and the seal the edges with the egg wash or just water.
Cooking the cheese rolls
Heat oil in a deep-bottomed kadhai or frying pan over medium-high heat.
Fry the prepared rolls until golden in colour.
Drain excess oil and place on a plate lined with napkin or a paper towel.
Alternatively, bake the rolls.
Place them on a baking tray, brush each side of the roll generously with some oil or spray it.
Bake in the oven on 400 degree for 15-20 minutes (turning them over half way) until both sides are nice and golden on the outside.
NOTE: Spring roll sheets are recommended as they work well with this recipe.
Phyllo wrappers can be used too but the spring roll wrappers are usually easier to handle.
---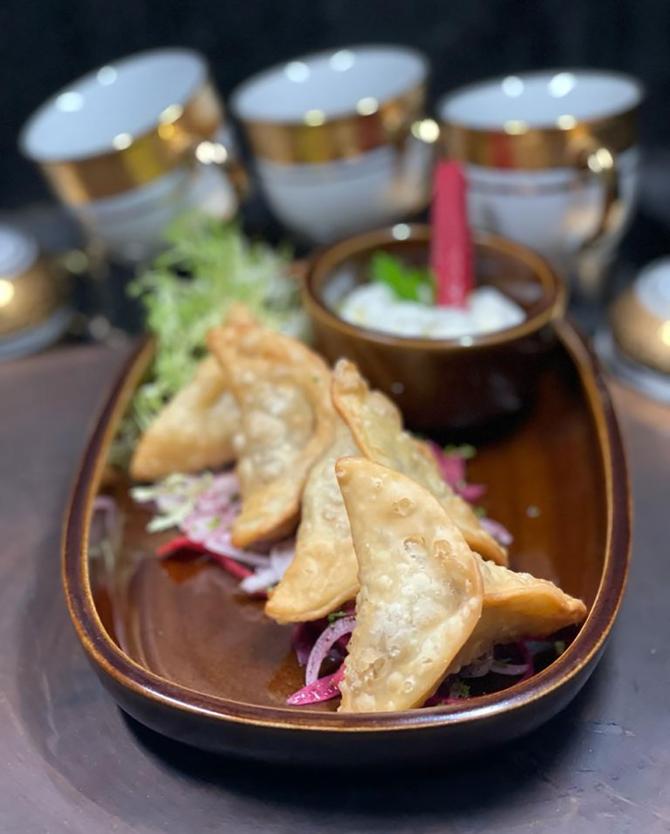 Lamb Sambousek
Serves: 3-4
Ingredients
500 gm minced lamb meat
100 gm onion, chopped finely
20 gm parsley, chopped finely
15 gm celery, chopped finely
30 gm garlic, chopped finely
1 tsp jeera or cumin powder
2 tsp cinnamon powder
2 bay leaf
Salt, to taste
For the dough
300 gm maida or refined flour
100 ml water
50 ml olive oil
10 gm yeast
Salt to taste
Method
Mix the flour, yeast and salt in a bowl.
Add the oil and water and continue to mix.
Divide the dough into small equal-sized balls.
Roll out onto a smooth floured surface and cut into circles of about ½ cm thickness and 3-4 inch diameter.
Cook the minced lamb meat in a heavy-bottomed kadhai or pan over medium heat until brown.
Break down any chunks of meat with a wooden spoon and drain off any excess fat.
Add the onion, garlic, oil, spices, salt and cinnamon powder stirring continuously for 5 minutes.
Add the parsley and celery and saute for a few minutes more.
Take off heat and cool.
Place a tbsp meat inside each prepared dough circles and fold like a half moon and seal well, maybe with a little water.
Heat oil in a heavy-bottomed kadhai or frying pan over medium-high heat.
Deep fry the sambousek at 175°C until golden brown.
Drain excess oil and place it on a plate lined with napkin or paper towel.
Farah Mohamed is the Chef de Partie at Sangu Beach, Ozen Reserve Bolifushi, Maldives.