Rediff Reader Bethica Das from Sharjah brings you a fusion recipe!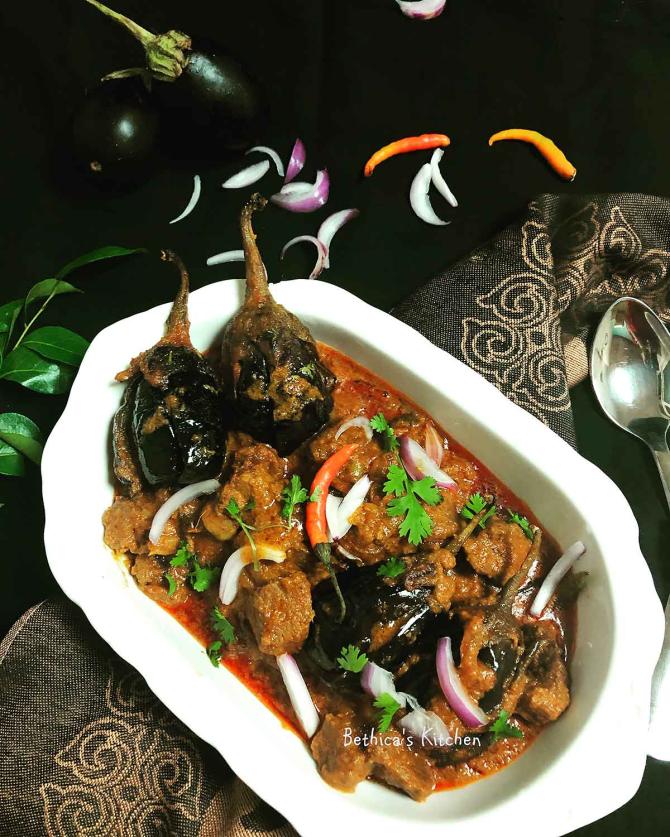 Bagara Baingan is a signature dish from Hyderabad and is generally served with Dum Biryani.
It also goes well with naan or tandoori roti.
I recently combined two recipes -- mutton curry and Bagara Baingan -- to come up with this fusion combo.
The end result was super yummy, spicy and tangy.
You should try it with your family.
Ingredients
For mutton curry
400-500 gm mutton, boneless/ with bones
1 tsp ginger-garlic paste
3 tbsp red chili powder
1/2 tsp turmeric powder
Salt to taste
1 tbsp salt
1 tsp coriander powder
1 tsp lemon juice
1 tbsp oil
For Bagara Baingan
6 baby eggplants, washed, drained and slit
3 tbsp oil
2 tbsp peanuts
1 tbsp sesame seeds
2 tbsp fresh grated coconut
1 tbsp roasted coriander powder
1 tsp roasted cumin powder
2 onions sliced
1-2 sprigs curry leaves
1 tsp ginger-garlic paste
Salt to taste
1/2 tsp turmeric powder
1 tsp red chili powder
1 tsp tamarind paste mixed with 1/2 cup water
1 tsp coriander leaves, chopped
Method
To make mutton curry
Marinate the mutton with all the mentioned ingredients (except oil) for 2-3 hours (preferably overnight).
Heat oil in a pan and saute the mutton on high flame for 4 to 5 minutes.
Cover and cook on a low to medium flame till the moisture has all been absorbed.
Add 1/2 cup water and pressure cook for 15-20 minutes on a low flame after the first whistle. Keep aside.
To make Bagara Baingan
Wipe the eggplants well and keep aside. Heat 1 tbsp. oil and fry them till light brown. Drain and keep aside.
Dry roast the coconut, sesame seeds and peanuts till golden in colour. Cool and grind into a paste by adding some water. Keep aside.
Heat remaining oil and saute the onion till light brown.
Add ginger-garlic paste, turmeric powder, red chili powder, coriander powder and cumin powder mixed with a little water.
Saute till the oil separates.
Add ground coconut paste and curry leaves. Fry on low flame till well combined.
Add the cooked mutton, fried eggplants and salt. Mix everything well.
Cover and simmer on a medium flame for 4-5 minutes or till the eggplants are completely cooked.
Add the tamarind water and simmer further for 2 minutes.
When done, switch off the flame and garnish with coriander leaves.
Enjoy with biryani, jeera rice, pulao, naan or tandoori roti.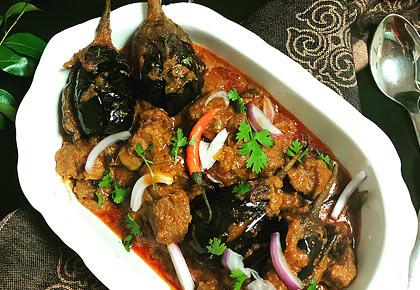 ---
Would you like to share an interesting recipe or cooking video?
Please do send your recipe/video to us at getahead@rediff.co.in (Subject: My Recipe) along with your name, location and, of course, the recipe.