Does the special cooking to be done during Ramzan ever end?
Here's an easy-peasy fusion recipe from Nadiya Sarguroh.
These Cheesy Chicken Canapes are packed with flavour, require little prep time and go well with a portion of biryani.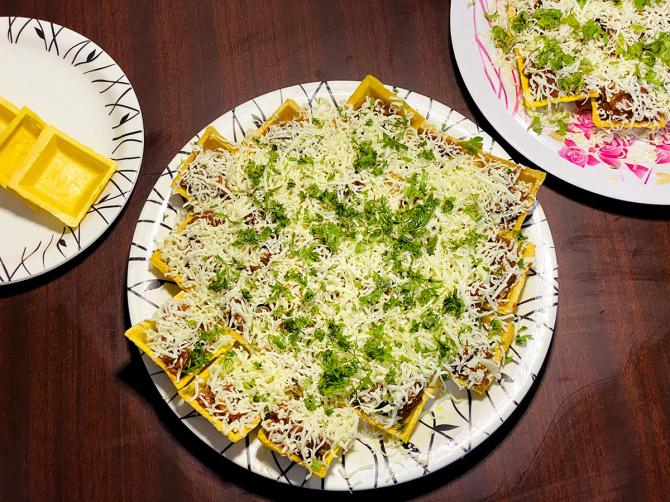 Cheesy Chicken Canapes
Servings: 20
Ingredients
20 canapes, available in any supermarket or large grocery store
1 cup approximately grated cheddar cheese
A handful of fresh dhania or coriander or cilantro, chopped, for the garnish
Oil for frying the canapes
For the marination
300 gm boneless chicken breast, cubed
2 tsp readymade chicken lollipop masala
1 tsp ginger-garlic paste, or more as per taste
1 tsp corn flour
¼ tsp salt
2 tbsp oil or more
For the canape mixture
1 medium onion, finely chopped
1 tsp red chilly powder
1 tsp soy sauce
2 tsp tomato ketchup
2 green chillies, slit in half
1 medium green capsicum, grated
1 tsp corn flour paste, corn flour mixed with 2 tbsp of water
2 tsp oil
1 medium tomato, pureed
2-3 spring onion greens, finely chopped
2 tsp tamarind sauce
Excess water and masala from the marinated chicken
1 to 2 tsp salt, or as per taste
Method
For the marination
In a large mixing bowl, combine the cubed chicken with the lollipop masala, ginger-garlic paste, corn flour, salt and oil.
Mix well.
Let the chicken marinate for 30 minutes and keep aside. Retain the leftover water, with the masalas, after the chicken marination is completed.
For the canape mixture
Heat the oil in a wok or kadhai or heavy-bottomed deep pan over high heat.
Reduce the heat to medium and fry the marinated chicken in batches, until crispy and reddish brown.
Keep the fried chicken aside to cool and then shred it into thick pieces.
In a wok or kadhai or large frying pan, heat the 2 tsp oil over medium heat.
Add the onions and fry until translucent and soft.
Add the tomato puree and stir for 1-2 minutes.
Add the green chillies, red chilly powder along with the water from the marination.
Mix well.
Add the capsicum, salt, soy sauce, corn flour paste and give it a good stir.
Add a little water if required and let it cook for few seconds.
Add the shredded fried chicken and mix well.
Add the ketchup and the tamarind sauce.
Stir till the gravy thickens.
Cover and cook over low heat for 5 minutes.
Take off the heat and cool.
In another kadhai heat more oil and fry the canapes until golden and crispy.
Transfer onto a plate lined with tissue or a paper towel to drain off the excess oil.
Arrange the canapes on a tray and spoon the chicken mixture over them.
Grate generous amounts of cheese until each canape is covered with cheese.
Garnish with fresh coriander leaves and serve.
Watch the video:
Nadiya Sarguroh lives in Mumbai and publishes the food blog HautePot.