An iftar recipe by Nadiya Sarguroh.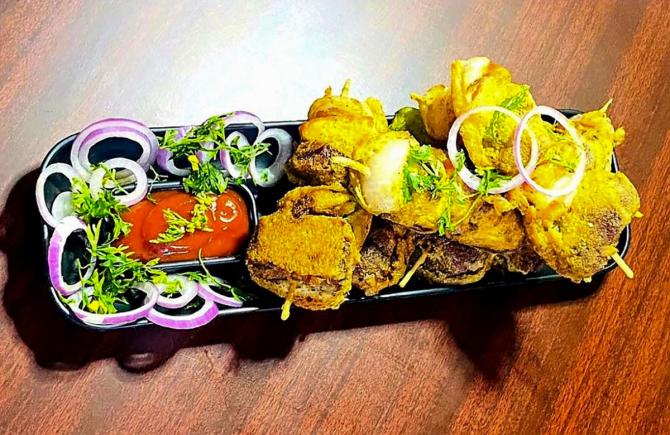 Mutton Skewers
Servings: 3-4 skewers
Ingredients
500 gm boneless mutton, washed, cleaned and cut into small pieces
½ cup water
1 medium capsicum, cut in squares
1 medium onion, cut in squares
1 medium tomato, deseeded and cut in squares
1 cup breadcrumbs for coating
2 eggs, beaten
Oil for frying
Salt to taste
A dash of black pepper powder
Spices for marination
1 tsp ginger garlic paste, or more as per taste
½-1 tsp white pepper powder
½-1 tsp garam masala powder or more as per taste
1 heaping tsp meat masala
Salt to taste
1-2 tsp lemon juice, optional
For serving
Handful of mint and dhania or coriander or cilantro leaves for garnish
1 lemon, cut into half for garnish
Slices of onion for garnish
Green chutney or ketchup for serving
Method
Marinate the mutton pieces with the marination spices, mixing the meat with the spices in a medium-sized bowl.
Let it sit for at least 30 minutes.
Transfer the marinated meat to a pressure cooker.
Add the ½ cup water and, on high heat, pressure cook the meat for 2 whistles.
Lower heat and cook for 10 more minutes.
Turn off heat. With the lid on, let the meat cool for 10 minutes.
Open the lid and check if the meat is cooled and completely cooked.
If there is residual water, cook on high heat until the water dries up and allow the meat to cool.
In a bowl mix the onion, tomato and capsicum pieces and sprinkle salt and pepper over it.
On a skewer, slide a piece of mutton, followed by pieces of capsicum, tomato and onion.
Leave some gap, and add another line of mutton, capsicum, tomato and onion.
Repeat for the remaining skewers.
Spread the bread crumbs on a flat plate and roll each skewer in it, until completely coated.
Heat the oil in a large kadhai or wok or deep pot over high heat.
When the oil is hot, turn down to medium heat.
Dip each coated-skewer in the beaten egg and fry in batches, until golden brown on both sides. Drain onto a paper towel or tissue-lined plate.
Arrange the cooked pieces a serving plate. Squeeze some lime on top.
Serve warm, garnished with the onion slices, the fresh mint and coriander leaves, and with green chutney or ketchup.
Watch the video here!
Nadiya Sarguroh lives in Mumbai and publishes the food blog HautePot.