Give an interesting twist to your Eid menu with these fusion dishes by Chef Varun Inamdar and Chef Abinas Nayak.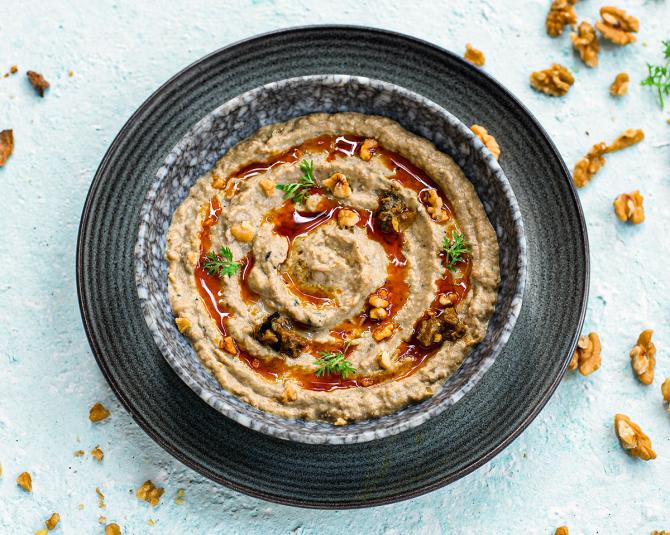 Mutton Keema with Brinjal and Walnuts by Chef Abinas Nayak
Serves: 3-4
Ingredients
1 large brinjal or eggplant
1 cup crushed or roughly chopped walnuts
2 cups minced mutton
Oil, preferably mustard oil, for cooking
1 tsp jeera or cumin seeds
2 bay leaves
1 tsp black peppercorns
5 cardamom pods
3 onions, finely chopped
2 tbsp ginger-garlic paste
2 green chillies, finely chopped
2-3 tsp hung yogurt
1½ tsp dhania or coriander powder
1 tbsp Kashmiri chilly powder
½ tsp jeera or cumin powder
Salt as per taste
½ tsp garam masala powder
Few mint leaves, chopped
Method
For the roasted walnuts
In a heavy-bottomed pan over low heat, roast the walnuts till light brown and toasted.
For the roasted brinjal
With a knife make small slits in the brinjal. Or prick small holes in it using a fork.
Don't overdo it, as the juices need to be preserved.
Roast the brinjal over an open fire.
Keep turning it, so it gets roasted evenly.
Once the eggplant is completely soft, take off heat and set aside to cool.
Using your hands or a knife peel off the burnt skin.
Transfer the brinjal pulp into a bowl and mash well.
For the mutton kheema
Heat the oil over low to medium heat in a wide heavy-bottomed pan.
Add the cumin seeds, bay leaves, peppercorns and cardamom.
Add the chopped onions and saute till brown.
Add the garlic-ginger paste, green chillies, hung yogurt and mix well.
Let it cook for about 5 minutes over medium heat.
Then add the coriander powder, red chilly powder, cumin powder and salt.
Cook for about 5-8 minutes over low heat.
Add the minced mutton and saute for about 2-3 minutes.
Cover and let the mutton kheema cook.
Once cooked, add the mashed brinjal and mix.
Cook over low heat for 5 minutes.
Add the garam masala, the toasted and chopped walnuts and give it a good stir.
Take off heat and garnish with mint leaves.
---
Homestyle Chicken Curry by Chef Varun Inamdar
Serves: 4
Ingredients
4 chicken drumsticks
½ cup of cut potatoes (1-inch pieces)
2 cups hot water
Salt as per taste
4 tbsp oil, for frying
Green chilly, for the garnish
Handful of crushed roasted walnuts, for the garnish
For the spice paste
½ cup chopped onions
½ cup chopped tomatoes
4-5 roughly chopped walnuts, soaked in ½ cup water
1 tsp coriander seeds
½ tsp peppercorns
1 tbsp ginger-garlic paste
1 tsp garam masala
1 tsp red chilly powder
1 tsp haldi or turmeric
Method
In a blender, grind all the ingredients for the spice paste till smooth, adding water if required.
Keep aside.&n
In a heavy-bottomed kadhai or pan heat the oil.
Fry the potatoes on high heat till crisp and golden brown.
Drain the excess oil.
In the same hot oil, add the spice paste and cook on high heat till the oil starts to leave the sides of the pan.
Slide in the chicken drumsticks and cook for 2 minutes stirring intermittently.
Add hot water and potatoes.
Cook on medium heat for 15 minutes or till the chicken and potatoes are cooked.
Take off heat, garnish with chillies and walnuts and serve warm.
Varun Inamdar is a Mumbai-based chef and chocolatier.
Abinas Nayak is the winner of MasterChef India Season VI.