The mouth-watering Dahi Kebabs by Chef Abinas Nayak and the delicious Sheer Pira by Chef Meghna Kamdar are perfect for an iftaar meal or for upcoming Eid celebrations.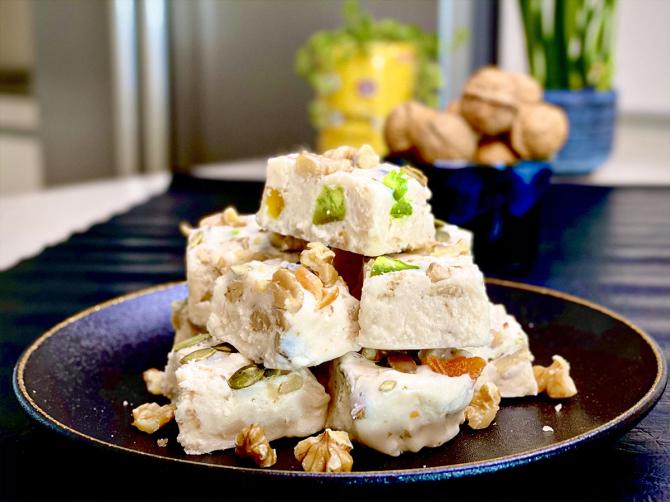 Sheer Pira by Chef Meghna Kamdar
Servings: 10-12 pieces
Ingredients
1 cup walnuts, chopped + extra for the garnish
2 cups water
2 cups sugar
2 green elaichi or cardamom, powdered
3 cups milk powder
Few pumpkin seeds
2-3 tbsp chopped dehydrated fruits like orange, kiwi and mango + extra for the garnish
Oil for greasing the tray
Method
Heat a heavy-bottomed saucepan on low to medium heat and add the 1 cup of chopped walnuts.
Dry roast the walnuts for a few minutes. Transfer the roasted walnuts into a bowl and keep aside.
Add the 2 cups of water in the same saucepan to make chasni or sugar syrup.
Add the sugar and the cardamom powder.
Boil for at least 15 minutes or more over medium heat till you have a one-string consistency chasni (please see note below).
Reduce the heat to low and add the milk powder 1 tbsp at a time and keep stirring vigorously to avoid getting lumps.
Add the roasted walnuts and the pumpkin seeds.
Turn off heat and add the dehydrated fruits to balance the sweetness of other ingredients.
Mix well.
Transfer the mixture to tray lined with greased parchment paper or foil.
Sprinkle the chopped walnuts, pumpkin seeds and dehydrated fruits on top.
Keep aside for a minimum of 3 hours at room temperature to set.
Cut it into pieces and serve.
---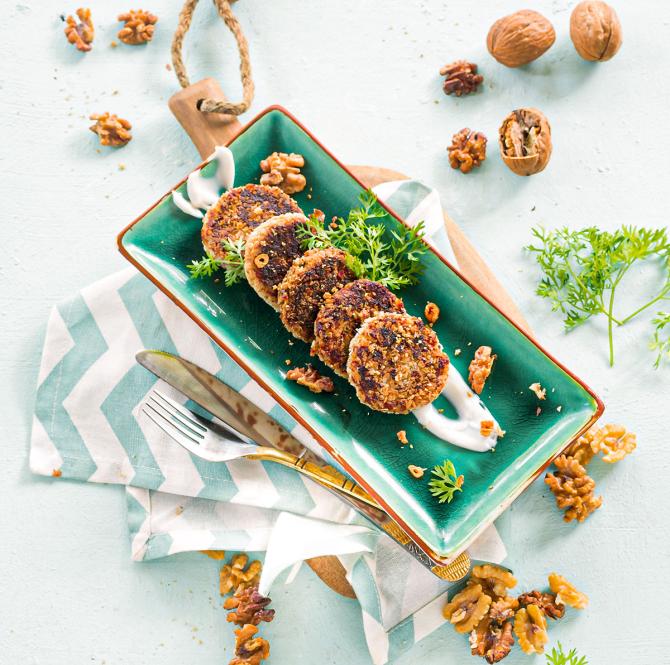 Dahi Kebabs by Chef Abinas Nayak
Servings: 5-6 kebabs
Ingredients
1 cup hung curd
1 tsp onion paste
1 tsp roasted walnut paste made from blending a handful of roasted walnuts with little bit of water in a blender
3 tsp grated paneer
2 tsp grated cheese
½ tsp chopped dhania or green coriander or cilantro + extra for the garnish
1-2 tsp of chopped mint leaves
1-2 tsp chopped green chillies
½ tsp of roasted jeera or cumin seeds
½ tsp of saunf or fennel seeds
½ tsp of finely chopped ginger
Salt as per taste
Ghee for frying
Method
In a large bowl mix the hung curd, paneer and cheese.
Add the onion paste, walnut paste, chopped coriander, mint, green chillies and give it a good stir.
Add the cumin and fennel seeds, along with the chopped ginger.
Add salt and taste. Mix well until all the ingredients are well combined and you get a thick mixture.
Refrigerate for 30 minutes.
When slightly chilled, mould the kebab mixture into small balls and flatten.
Shallow fry the kebabs in ghee on a hot tawa or non-stick frying pan,.
Drain the excess ghee and place on a plate lined with tissue or a paper towel.
Garnish with coriander leaves and enjoy warm with green chutney.
Note: A one-thread syrup is sugar syrup viscous enough to pass the one-thread test.>
It is important to keep testing for consistency while the sugar syrup is boiling.
The test for this is: Dip a spatula, preferably wooden, into the boiling sugar syrup and take out.
Some syrup would have coated the spatula.
Let it cool.
Touch the cooled syrup with your forefinger. Some syrup will come onto your finger.
Touch that with your thumb and separate thumb from forefinger.
When one little continuous delicate thread is formed by the syrup, when the coated forefinger is pulled away from your thumb, you have one-thread consistency sugar syrup.