Sushant Parab, Executive Sous Chef, Sahara Star, Mumbai, shares his special recipe.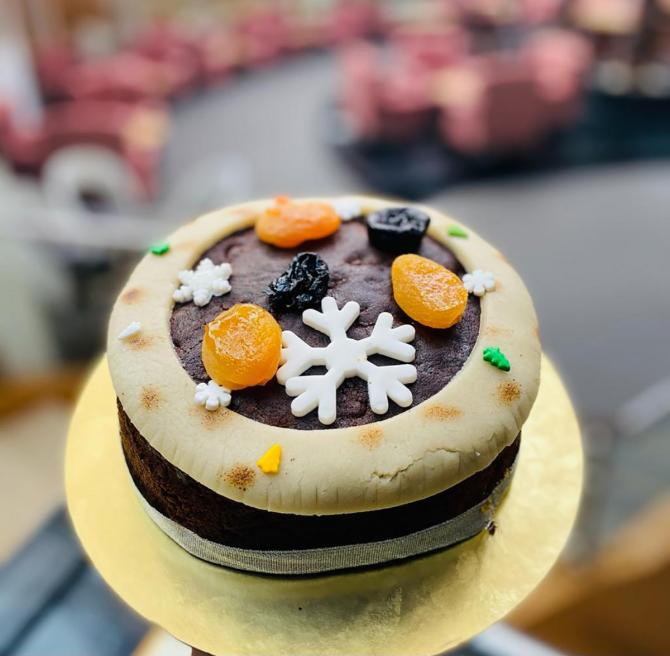 Plum Cake
Ingredients
140 gm butter
170 gm brown sugar
4 eggs
600 gm mixed fruits
130 gm refined flour
80 gm bread crumb
40 ml caramel
6 gm baking powder
2 gm baking soda
10 gm mixed fruit jam
2 gm spice mix
Method
Take a large bowl and sieve together the flour and the baking powder. Keep it aside.
Now in another bowl mix together the brown sugar and butter, till the sugar dissolves completely with the help of an electric blender.
Break the eggs and add them one by one.
Keep beating the mixture till it is light and frothy.
Gradually add the flour to this egg-butter and sugar mixture, spoon by spoon, so that no lumps are formed.
Keep stirring to attain a smooth mixture.
Add caramel and spice mix. Blend well.
Allow the batter to rest for 10 minutes.
Chop the nuts and the prunes finely.
Mix in the batter.
Beat well again.
Reserve some nuts that you can put on top of the cake.
Pre-heat the oven to 180°C for 15 minutes.
Prepare a baking tray by lining it with butter paper.
Grease it with oil or butter and dust some flour.
Add the batter.
Bake at 170°C for 25-30 minutes.