These uplifting drinks may sound exotic, but they are really simple to prepare.
The cocktail called Brilliance is a malt shaken with freshly ground ginger and a hint of pineapple juice
Infused with cinnamon smoke, Smokehattan combines bitters, whiskey and vermouth.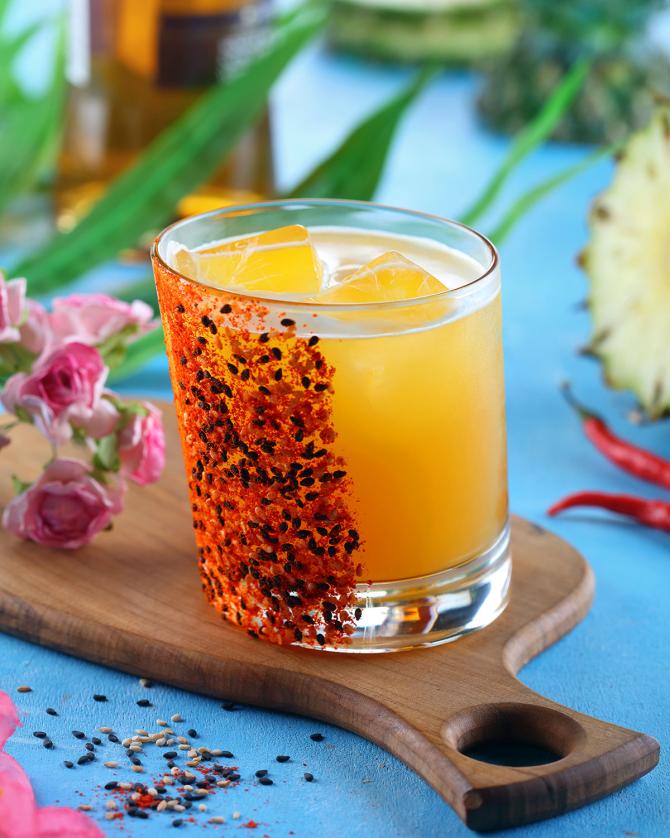 Brilliance
Recipe courtesy: Bayroute, Mumbai
Serves: 1 or 2
Ingredients
60 ml Brilliance, a kind of malt produced in Goa by Paul John
6 small pieces of ginger
90 ml pineapple juice
100 gm ice
An old-fashioned glass
For the masala rim
½ tsp of black sesame seeds
½ tsp of white sesame seeds
½ tsp red chilly powder
¼ tsp clove powder
Method
Using a mortar and pestle mash the pieces of ginger.
Transfer into a cocktail shaker and add the Brilliance, pineapple juice and ice.
Shake well and double strain before pouring into an old-fashioned glass.
NOTE: To rim the glass, combine the seeds and powders and place on a flat surface.
Roll one side of the glass in the masala so that it is well-coated. Please see picture above.
---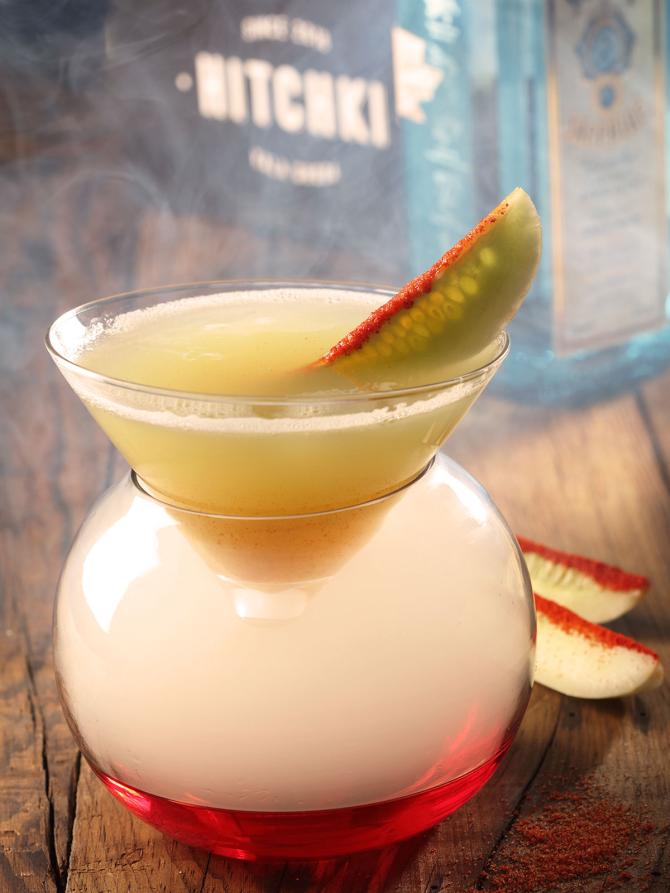 Smokehattan
Recipe courtesy: Hitchki, Mumbai
Serves: 1 or 2
Ingredients
60 ml whiskey
4 drops Angostura bitters, an herbal concotion from Trinidad and Tobago available in larger liquor shops
15 ml vermouth, a kind of aromatised wine
60 ml apple juice
100 gm ice
Several cubes ice
Long slices cucumber sprinkled with chilly powder
Cinnamon smoke
Half cut martini glass + a fish bowl glass (please see picture above)
Method
In a cocktail shaker, combine the whiskey and vermouth along with the ice.
If you don't have a shaker, transfer the ingredients into a glass and give it a good stir.
Strain and transfer into the half cut martini glass.
Pour the apple juice and bitters along with the ice cubes into a fish bowl glass.
Place the martini glass over the fish bowl glass and flavour with cinnamon smoke.
Garnish with a slice of cucumber laced with chilly powder.
Serve chilled.
NOTE: To create the cinnamon smoke, take a cinnamon stick and smoke it using a lighter. Do not burn it.
It just needs to be heated to give a smoky effect like an agarbatti.
Do insert the stick into the fish bowl glass.