A lot of people believe that a vegetarian diet means eating just salads and soup.
On the contrary, vegetarian diets are rich in their variety. From curries and wraps to burgers and tacos, the options are truly endless.
On World Vegetarian Day, here are delicious recipes for you to try at home:
All recipes by Chef Neha Deepak Shah
Photographs: Kind courtesy California Walnuts
Beetroot Walnut Dumplings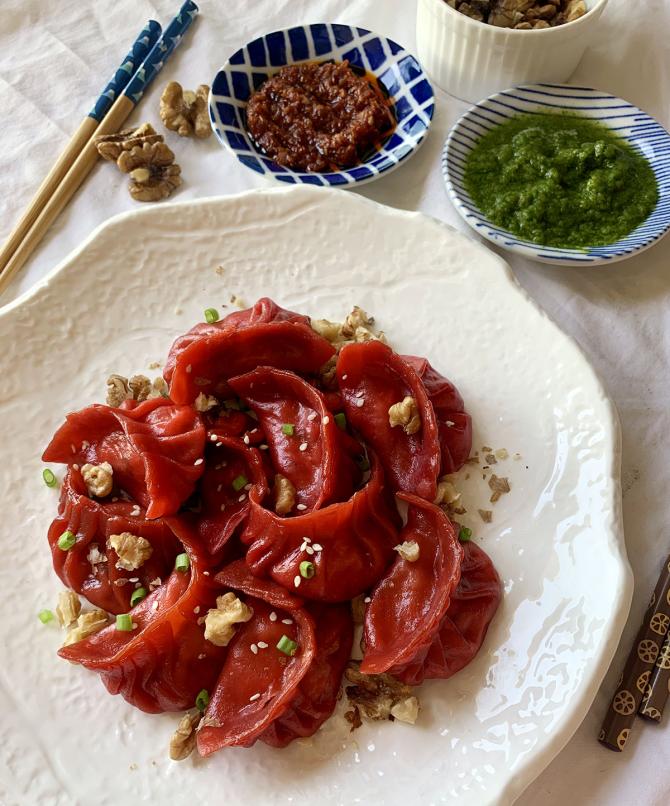 Ingredients
For beetroot wrapper
3/4 cup all-purpose flour
Salt
1/4 cup water
2 tbsps roasted beetroot puree
1 tsp vinegar
For walnut cottage cheese filling
1 cup mashed cottage cheese
1/2 cup walnuts, chopped finely
1/4 cup onions, chopped finely
2 tbsps coriander, chopped
1 green chilli, chopped finely
1/4 tsp grated ginger
Salt
Pepper
Method
Bring water, salt, beetroot puree, and vinegar to a boil. When it starts bubbling, add the flour.
Cook this for 30 seconds and then transfer to a working counter, it will be hot, knead it all together, rest for 20 minutes and then keep it covered with a muslin cloth.
Divide into 10 gm-12 gm portions and use accordingly.
Shape the dumplings with the filling inside and steam for 10-12 minutes.
Serve.
---
Walnut, Garlic and Herb Cheese Log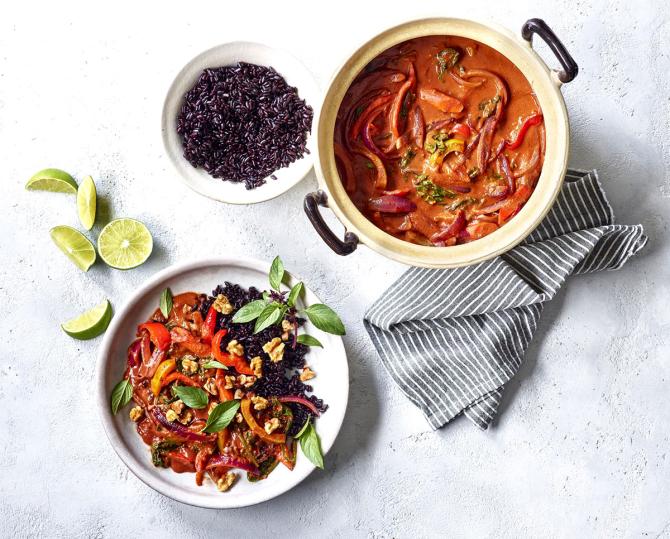 Ingredients
500 g fresh cream
1/2 tsp crispy garlic
1/2 tsp chilli flakes
1/4 tsp salt
1 tbsp chopped parsley
1 tbsp chopped spring onions
1 tsp fresh thyme (optional)
Crushed black pepper and pink salt
For coating
1/4 cup walnuts finely chopped
1/2 tsp chilli flakes
1/2 tsp parsley
Method
Heat the cream to a simmer state on a low flame and keep stirring continuously (Before boiling stage).
Add the mixture of vinegar and water to this and slowly stir it. It will start lightly curdling (unlike paneer, it won't be visible, the mixture will seem thick)
Strain this on a muslin cloth over a sieve and set it aside for 20-25 minutes
Most of the water will drain off and at this point, cover this and leave it as it is in the fridge for at least an hour and if you want to store it as it is, put it in an airtight container and keep it upto 3 days.
Add garlic, herbs, salt, and season it.
Roll it on a cling wrap and refrigerate for 20 minutes before coating.
For the coating, mix chopped walnuts, herbs, and chili flakes and roll the flavoured cheese log on this and use it as required.
---
Walnut Curry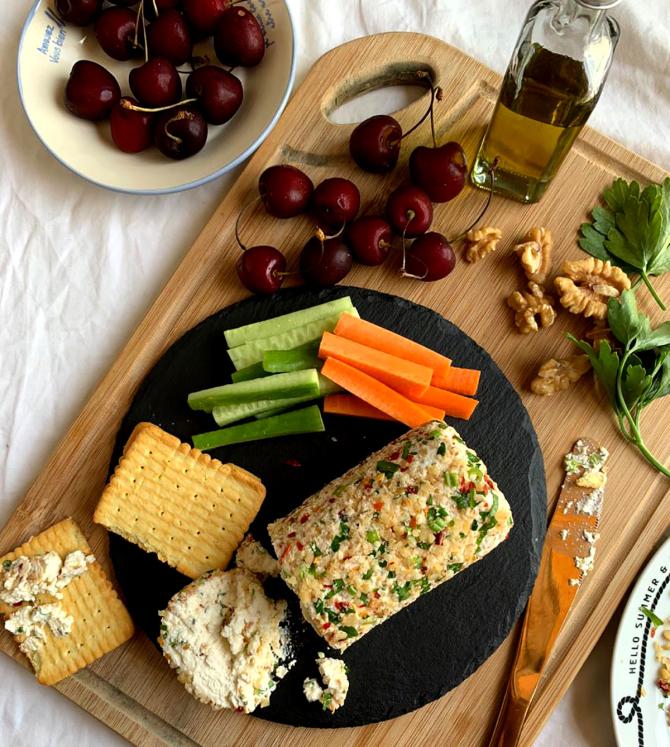 Ingredients
3/4 cup walnuts
6 tbsps water
Walnut cream as required
3 tbsps vegetable oil
2 carrots, peeled and sliced 1/4-inch thick cut diagonally
1 red onion, halved and sliced 1/4-inch thick
1 medium red bell pepper, quartered and sliced 1/4-inch thick
1 medium yellow bell pepper, quartered and sliced 1/4-inch thick
1 tbsp minced fresh ginger
3 cloves garlic, minced
3/4 cup coconut milk
1/2 cup vegetable stock or broth
1/4 cup tomato paste
2 1/2 tbsps Thai red curry paste
1 1/2 tbsps soy sauce
1 tsp rice vinegar
3 cups baby spinach
1 cup black rice, cooked according to package directions
For garnish
1/4 cup chopped walnuts, toasted
Fresh cilantro leaves, small Thai basil sprigs, fresh lime wedges
Method
To prepare walnut cream, puree walnuts, and water in a small blender or food processor until light and fluffy.
To prepare vegetable curry, heat oil in a large skillet over medium heat.
Add carrots and onion and cook for 10 minutes to soften, stirring occasionally.
Add bell peppers and cook for 2 to 3 minutes or until crisp-tender. Stir in ginger and garlic and cook for 1 minute more.
Add coconut milk, vegetable stock, tomato paste, red curry paste, soy sauce and vinegar; cook for 3 minutes more.
Stir in walnut cream and spinach, cooking just until spinach is wilted.
Serve over hot cooked rice and garnish with walnuts, cilantro, Thai basil and lime wedges.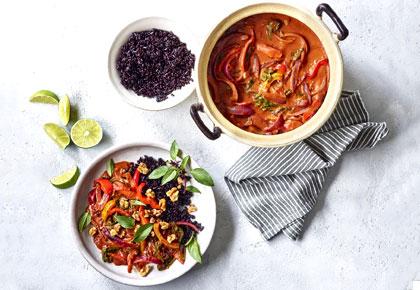 ---
Would you like to share an interesting recipe or cooking video?
Please do send your recipe/video to us at getahead@rediff.co.in (Subject: My Recipe) along with your name, location and, of course, the recipe.