Don't wait for the weekend to binge on these tempting dishes!
All recipes and photographs: Kind courtesy Academy of Pastry and Culinary Arts .
Machboos al dijaj (Lebanese Chicken Pilaf)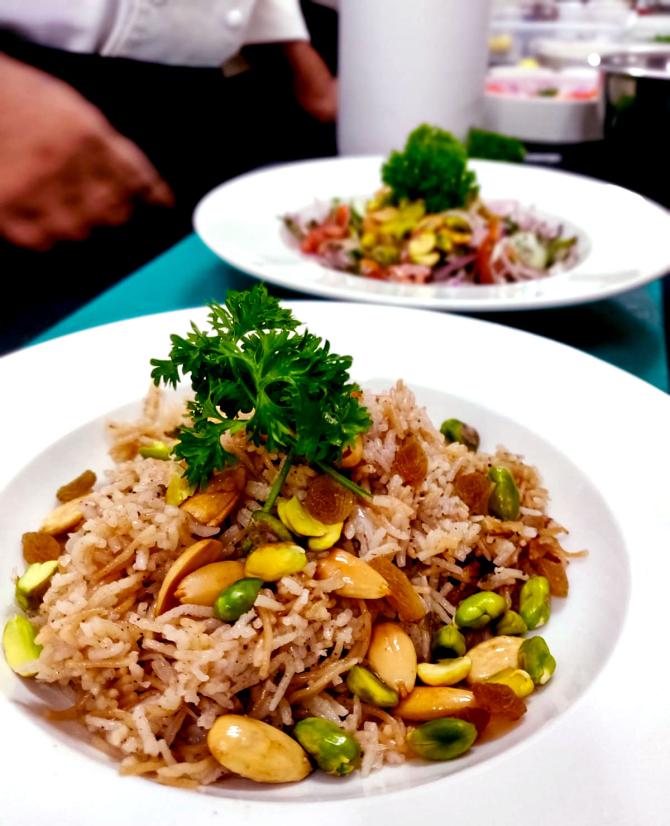 Recipe by Chef Jagadish Purushothama
Ingredients
1 kg basmati rice
1 kg chicken (curry cut)
500 gm onions (sliced)
300 gm tomatoes (sliced)
Half bunch parsley
Half bunch mint leaves
Half bunch coriander leaves
300 ml ghee
50 gm almonds
50 gm pistachio
50 gm cashew nuts
100 ml olive oil
2 tbsp cinnamon powder
2 tbsp roasted cumin powder
2 tbsp paprika powder
Method
Heat some ghee in a heavy bottom pan.
Add whole spices. Once the aroma is released add sliced onions and cook until translucent.
Add in all the spice mix and cook for about 2 minutes.
Add chicken and sear the meat well. Reserve for later process.
Immediately add rice on top and season with salt and pepper.
Stir all the ingredients together, and add hot water 1:2 ratio. Bring the water to a boil until the rice is cooked about 80%.
Reduce the heat to low. Cover the pot and allow the rice to cook 15 minutes at low temperature.
Once the rice fully cooked, turn the heat off, but don't uncover the pot. Leave the rice undisturbed for 5 minutes to allow the steam to finish cooking the rice.
When you uncover the pot, fluff with a fork or a flat spatula.
Grill the reserved chicken and top it on the cooked rice and serve hot.
Note: The dish can be topped with assorted nuts which are fried in ghee.
---
Lamb Donne Biryani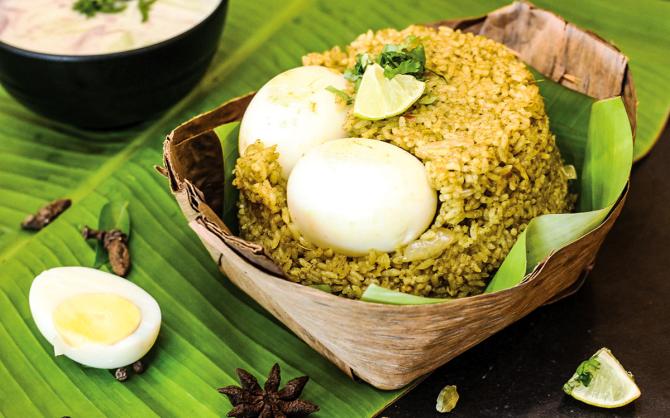 Recipe by Chef Jagadish Purushothama
Ingredients
1 kg jeera samba rice
1.5 kg lamb curry cut
500 gm onions sliced
300 gm tomatoes sliced
200 gm ginger garlic paste
150 gm curd
1 bunch mint leaves
1 bunch coriander leaves
200 ml ghee
100 ml oil
2 gm bay leaf
2 gm cloves
2 gm mace
2 gm cardamom
2 gm star anise
½ tsp turmeric powder
2 tbsp chilli powder
1 tbsp garam masala powder
Salt as required
Boiled eggs (optional)
Method
Soak rice for at least 20 minutes.
Make fine paste of half bunch of mint and coriander. Chop and reserve the remaining.
In a heavy bottom pan add oil and ghee. When it heats, add all the whole spices.
Add sliced onions and cook until it turns golden brown.
Add ginger garlic paste and cook until the raw flavour is gone.
Add some chopped mint and coriander leaves and fresh green chillies.
Add lamb curry and cook until the meat is sealed.
Add turmeric powder, chilli powder, salt and garam masala powder and cook for about 15 to 20 minutes.
Add sliced tomatoes and cook until the tomatoes are completely mushy.
Add curd and cook until the oil is released at the corners of the pan.
Add the reserved mint and coriander paste and cook for another 15 minutes.
Add lemon juice and check for seasoning.
Add water and bring it to boil. Check the lamb if cooked or need some time.
Add in the soaked rice and stir well gently.
Cook until the rice absorbs about 80% of water.
Switch off the flame, add ghee and chopped coriander and mint on top and cover it with silver foil.
Cover it with a lid and place the cooking pot on hot grill under medium heat for about 20 to 30 minutes.
Once done, portion it in a serving bowl and serve hot.
---
Lamb Tagine (Lebanese Curry)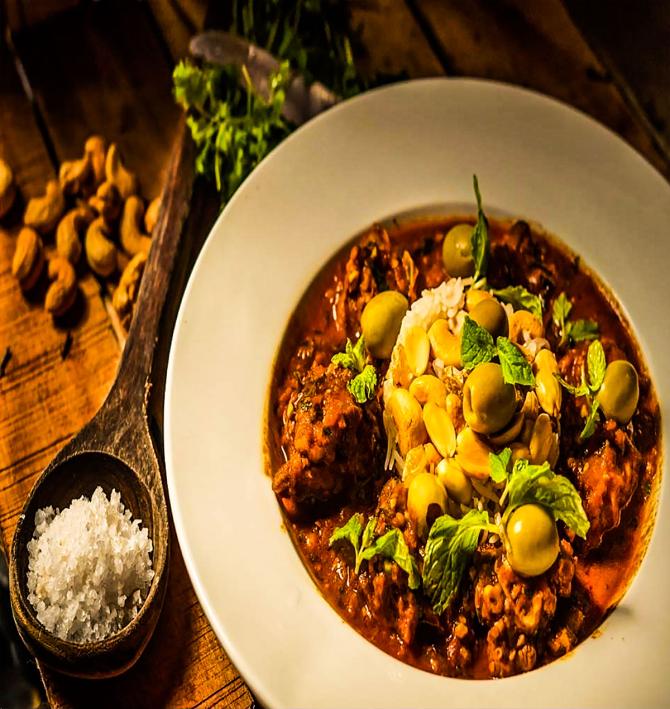 Recipe by Chef Jagadish Purushothama
Ingredients
1 kg lamb (curry cut)
1 tbsp garlic (minced)
Half bunch mint
Half bunch coriander leaves
1 tsp cinnamon powder
2 tsp roasted cumin powder
2 tsp paprika powder
2 bay leaves
5 tomatoes (sliced)
1 tbsp tomato paste
50 ml oil
50 ml ghee
Parsley for garnish
Olives black and green for garnish
Jalapenos for garnish
Salt and sugar to taste
Method
Heat up the oil in a large frying pan. Add chopped shallots and fry on a low heat until almost translucent, stirring from time to time.
Add chopped garlic. Keep on stirring frequently until the onion is translucent and garlic softens completely and releases its beautiful aroma.
Add all the ground spices to the fried shallots and garlic mixture and stir them around well. Fry them off gently for a minute or two stirring the whole time as they burn easily.
To prevent burning add water and cook until oil releases at the corner of the pan.
Add lamb, sear the meat and cook for about 10 minutes.
Add chopped tomatoes and cook until mushy.
Add tomato paste to the pan and stir it into the mixture add sweet potato cubes, and salt to the pan.
Cover the pan with a lid to cook potato for about 10 minutes.
Add chopped mint and coriander and cook for another 5 minutes.
After about 5 minutes of simmering, take the lid off and let the sauce thicken by simmering it slowly, without the lid.
Once the sauce thickens, taste and season with some black pepper, salt and sugar if needed.
Portion the stew into a serving bowl. Top it with generous amount of olives. Serve over rice or couscous.
---
Creamy Polenta with Mushroom Ragout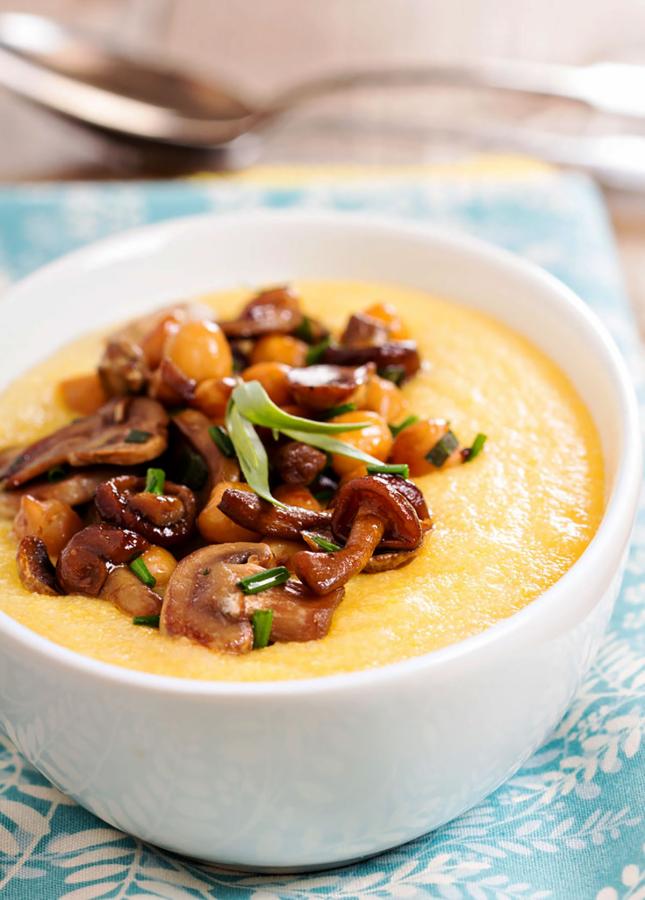 Recipe by Chef Charles Jayakumar
Ingredients
250 gm polenta
1000 ml water/milk
100 ml cream
50 gm grated parmesan cheese
50 gm butter
Few sage herb
25 ml extra-virgin olive oil
Salt to taste
Method
In a medium pot heat oil. Add minced garlic and cook until soft.
Add 4 cups of water/milk and boil to a high simmer.
Add roughly chopped sage leaves
Add butter to the simmering liquid.
Slowly whisk in the polenta.
Add 1 more cup of water/milk and simmer for 15 minutes, stirring frequently.
Add in cream and grated parmesan cheese and mix well until blended well.
Turn off the heat and whisk in the olive oil and sea salt. Cover and let stand for 5 minutes. Season to taste and keep it aside.
For mushroom ragout
Ingredients
500 gm button mushroom
100 ml cream
50 gm grated parmesan cheese
50 gm minced garlic
1 onion finely chopped
1 tsp parsley finely chopped for garnish
60 ml white wine
Salt and pepper to taste
50 ml olive oil
50 gm butter
Method
In a medium pot, heat oil and butter. Add minced garlic and cook until soft.
Add onions and cook until translucent.
Add in cut mushrooms and wilt it or cook until soft which is for about 2 to 3 minutes.
Deglaze the pan with white wine.
Add in cream and cook for about 2 minutes to a simmer.
Add grated parmesan cheese and cook until it blends well.
Check the seasoning after adding salt and pepper.
Pour the mixture on top of the reserved creamy polenta and serve hot.
---
Broccoli and Corn Cutlets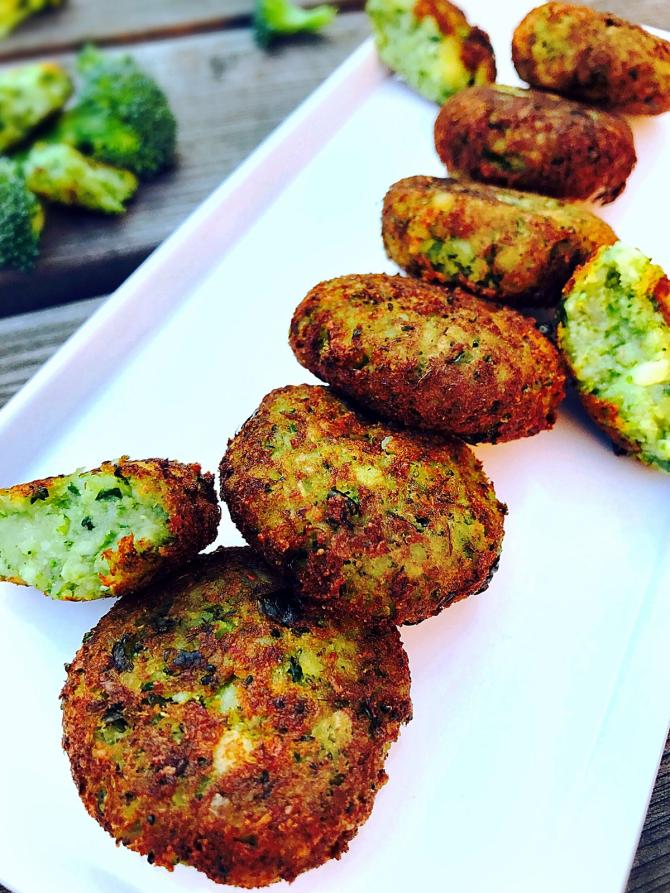 Recipe by Chef Charles Jayakumar
Ingredients
2 potatoes
250 gm broccoli
100 gm sweet corns
2 tbsp garlic minced
1 onion finely chopped
2 tbsp olive oil
10 gm thyme
500 gm bread crumbs
250 gm flour
Salt and pepper to taste
Oil for frying
Method
Boil the potatoes until cooked and mash it using fork and allow it to cool.
In a pan or cooking vessel, heat some oil. Add minced garlic.
Add onions and cook until translucent followed by adding minced broccoli and sweet corn.
Cook the mixture for about 2 minutes add thyme and seasoning.
Allow the mixture to cool.
Once the mixture is cooled mix it with mashed potatoes and check seasoning and add seasoning if required.
Shape the mixture into cutlets and store in the chiller for half an hour.
Make slurry using flour and water with a pinch of salt and pepper each.
Dip the cutlets into slurry and coat them well using bread crumbs all around.
Fry the cutlets into medium hot oil until the surface of the cutlets turns crispy.
Remove excess oil if any using paper towels. Serve hot.
---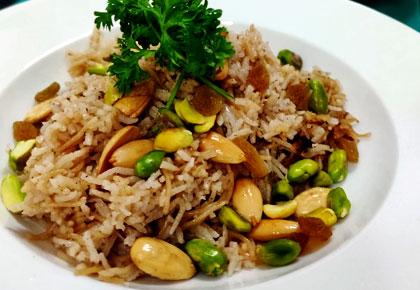 Would you like to share an interesting recipe or cooking video?
Please do send your recipe/video to us at getahead@rediff.co.in (Subject: My Recipe) along with your name, location and, of course, the recipe.