You can even involve your kids to make these interesting snacks with you.
Kids love to snack. And sometimes it's a challenge to think of interesting recipes to keep them excited.
Presenting three recipes that are easy to make and serve at home:
All photographs and recipes: Kind courtesy Funfoods by Dr Oetker
Bunny chow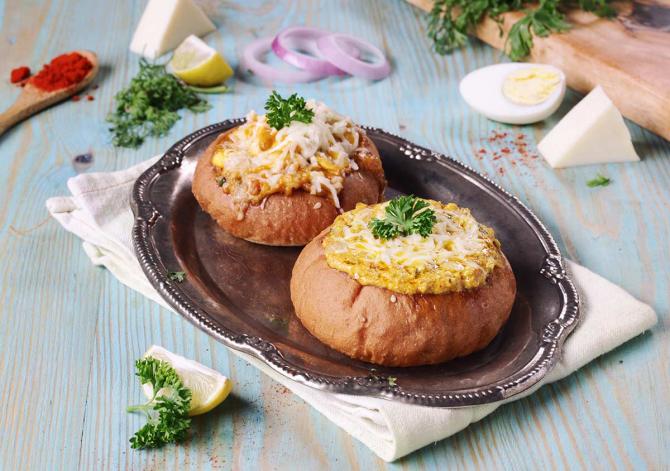 Level: Beginner
Preparation time: 15 minutes
Cooking time: 5 minutes
Baking time: 2 minutes
Serves: 2
Ingredients
1 tbsp oil
½ onion, chopped
¼ red, yellow and green capsicum, chopped
100 gm paneer crumbled
Salt as required
4 tbsp pasta and pizza sauce
4-5 fresh coriander leaves, chopped
50 ml water
2 burger buns
Method
Heat oil in a non-stick pan on medium flame.
Add onion, capsicum and paneer. Sauté for 2-3 minutes and season vegetables with salt.
Add 2 tbsp pasta and pizza sauce, water and coriander. Stir well.
Preheat oven to 180°C.
Hollow out the inner of burger buns, apply remaining pizza and pasta sauce and fill up with paneer mixture.
Sprinkle cheese and place in oven for 2 minutes.
Serve.
---
Fruity Fun Skewer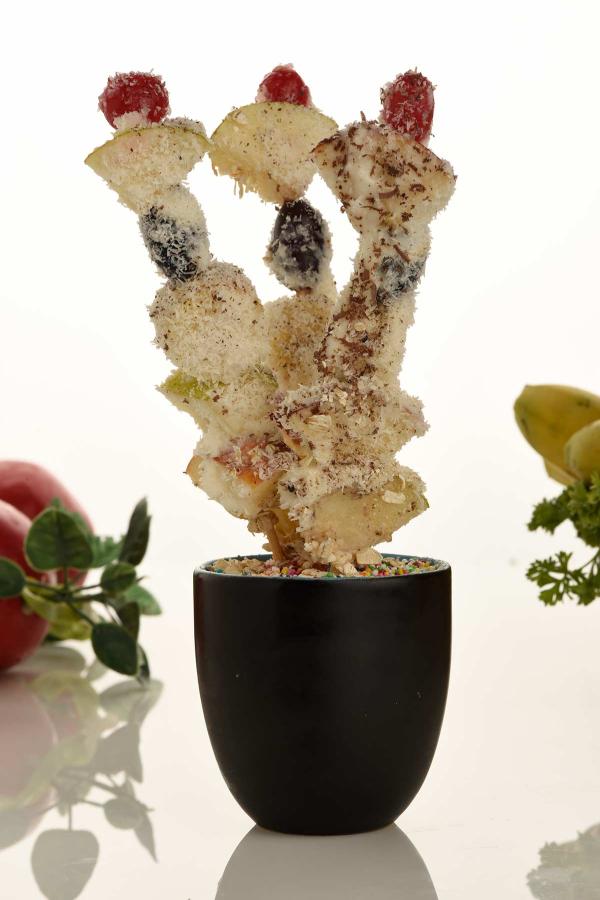 Preparation time: 15 minutes
Servings: 2
Ingredients
1 medium apple, cubed
1 banana cubed
5-6 grapes
¼ pineapple cubed
8-10 wooden skewers
6 tbsp veg mayonnaise
6 tbsp coconut powder
2 tbsp colourful sprinklers
Method
Place fruits alternatively in skewers and refrigerate for 30 minutes.
Dip fruit skewers firstly in mayonnaise and once coated roll them up in coconut.
Garnish fruit skewers with sprinklers and serve cold.
---
Hawaiian Veggie Burger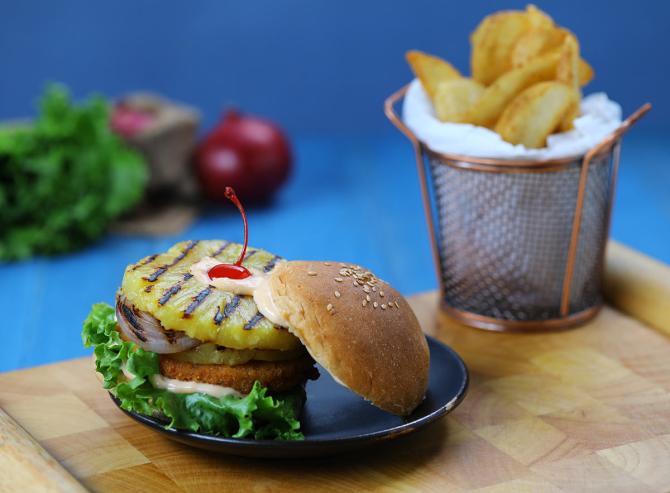 Level: Beginner
Preparation time: 15 minutes
Cooking time: 20 minutes
Serves: 1
Ingredients
1 tsp butter
2 rings canned pineapple
½ medium onion, rings
3 tbsp veg burger mayonnaise
1 burger bun, cut horizontally in two halves
1 lettuce leaf (optional)
1 veg patty, deep fried
Method
Heat butter in a griddle pan on medium flame.
Grill the rings of pineapple and onion until caramelised and there are nice grill marks on both sides.
Spread 1 tbsp burger mayonnaise on each half of burger bun.
On bottom, half of burger bun place lettuce leaf, followed by burger patty, onion rings and pineapple.
Add a dollop of mayonnaise on pineapple and top it up with other half of bun. Serve hot.
---
Would you like to share an interesting recipe or cooking video?
Please do send your recipe/video to us at getahead@rediff.co.in (Subject: My Recipe) along with your name, location and, of course, the recipe.