We asked you, Dear Readers, what would you like to cook for Kamala Harris?
Bethica Das, who lives in Sharjah, suggests the US Veep sample her distinctive Black Grapes and Gooseberry Rasam recipe. You too must try your hand at making it!
"This is a new combination -- black grapes and gooseberry in the form of this amazing rasam," says Bethica.
"It is lip-smacking with a slight hint of sweetness and tanginess. Relish it with plain steamed rice or enjoy it as a piping hot soup, especially during a cold winter night."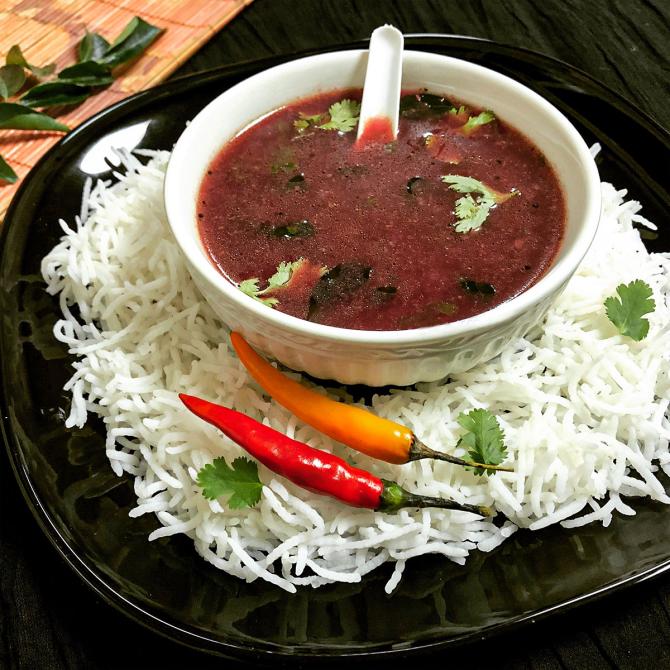 Black Grapes and Gooseberry Rasam
8-10 black grapes, pureed
2-3 tbsp amla or gooseberry puree
1 tbsp ghee or oil
½ tsp rai or mustard seeds
1 sprig curry leaves
¼ tsp hing or asafoetida
Salt to taste
1 tsp jeera or cumin seeds
½ tsp whole peppercorns
2-3 garlic pods
2 cups water
1-2 green chillies, slit into half, optional
1 tsp dhania or coriander leaves, finely chopped
Method
Add the cumin seeds, peppercorns and garlic in a mixer.
Add a little water and grind to a smooth paste.
Heat the ghee or oil in a kadhai or wok.
Add the mustard seeds.
After the seeds stops spluttering, add curry leaves and asafoetida.
Saute for a few seconds.
Add the ground paste and saute till the ghee/oil separates.
Add the pureed grapes, gooseberries, salt, water and green chillies.
Bring it to a boil and simmer for 2-3 minutes.
Turn off the heat and garnish with coriander leaves.
Enjoy with plain steamed rice or as a soup.
---
What would you like to cook for Kamala Harris?
Mail your recipes to getahead@rediff.co.in (subject: Recipe for Kamala) along with your NAME and the place where you LIVE.
Please don't forget to share pix of your dish. And a video too, if you have it. We'll publish the best recipes on Rediff.com.