Akanksha Mary Balmuchu from Jharkhand's Ho tribe is starting a Master's programme in climate change in the UK.
When she walks into campus, she fulfils not only her dream, but that of her grandmother.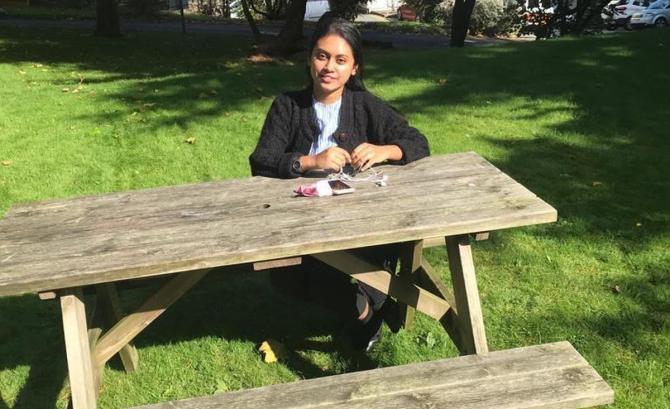 Akanksha Mary Balmuchu, 24, is among the recipients of the Jharkhand government's first Marang Gomke Jaipal Singh Munda Scholarship for tribal students.
A graduate in biochemistry, Akanksha will pursue a master's in climate change, science and management at Loughborough University in the UK.
Soon after landing in the UK, Akanksha tells Rediff.com's Archana Masih how she made it from Chakradharpur in Jharkhand to Loughborough. "My greatest inspiration were the working women in my family," she says.
---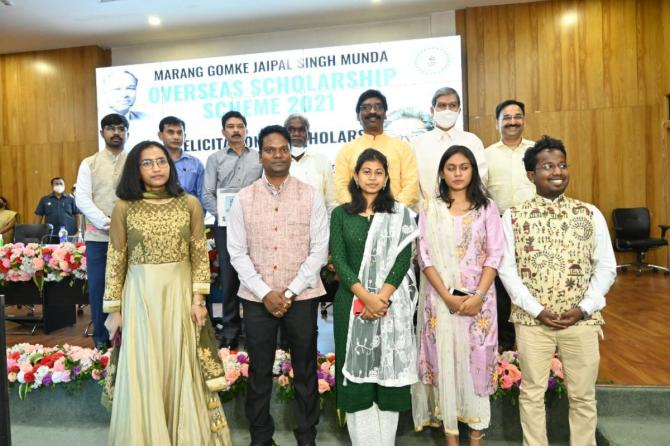 I am really looking forward to starting my study programme.
The weather has been fine, I am settling down in the apartment and the flat owner came to pick me up at the airport, so I can say that I have had a good start to my stay in UK.
I applied to three British universities and was really looking for a scholarship. I got about 50% scholarship at the University of Swansea, but it was difficult to raise the balance funds.
In July I saw the advertisement for the Marang Gomke Jaipal Singh Munda Scholarship for tribal students from Jharkhand and applied. It just came up from nowhere and everything fell into place after that.
I did not expect to hear back from them, but I got a call from the office asking me to appear for the interview.
There were lecturers, Tribal Welfare Commissioner Naman sir [Naman Priyesh Lakra] and people from the healthcare department too on the interview panel.
They asked about my research plan and several other questions.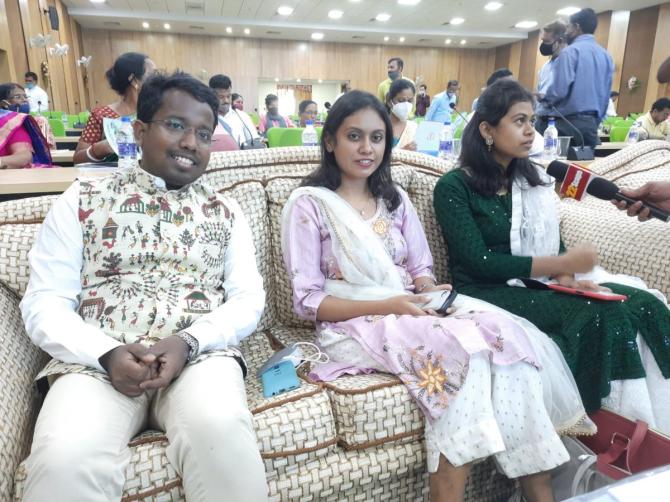 'I am from the Ho tribe'
I grew up and studied in Chakradharpur, Jharkhand. I belong to the Ho tribe.
I studied at St Xavier's School till Class 10. My teachers were supportive and we had an encouraging school atmosphere. I was the head girl.
I was interested in writing. I started writing while I was in school and my work got accepted in the children's section in The Telegraph newspaper. I was on cloud nine!
My cousins from the maternal side were in Bengaluru. My mother was clear that after Class 10, I would go to boarding in Bengaluru.
I went to Bishop Cotton's Bengaluru for Classes 11-12. I also got internship in a newspaper in Bengaluru which was really fun.
Bishop Cotton's gave me a lot of exposure in the sense of how journals and publications work. We had very good college publications. I headed the student editorial team.
I wanted to study science, not with the aim of doing an MBBS or becoming a doctor or an engineer. I clearly told my father that I would take up science, but won't become a doctor or an engineer. He was like, okay, fine, you see whatever you want to do.
I thought maybe I could do science journalism.
I graduated with a degree in biochemistry.
I wanted to do my master's and was trying for universities in the UK.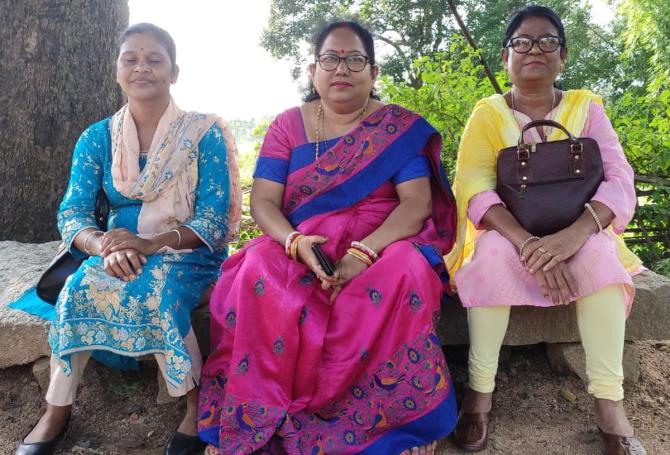 'My grandmother's wish was I study in the UK'
I am an only child. My parents live in Chakradharpur. My father retired from the State Bank of India four years ago. He had a transferable job, so my mother and me stayed in Chakradharpur.
I always wanted a good career. Both my grandparents were career people -- my grandfather was a ranger and my grandmother was a headmistress.
I have always been around working women in my family. I was always told that irrespective of gender, I had to be focused about a career.
My grandmother wanted me to study in the UK. My family is really happy that I got this scholarship.
SBI had scholarships of Rs 2,000-Rs 3,000 for good students and I used to get that sometimes.
My father's salary was sufficient for education in India. If I had to do my Master's in India, it would have been no problem.
After his retirement, his pension was less than what he drew as salary.
By God's grace we had sufficient to live by, but we certainly did not have money for an education abroad. Neither did we have resources to take an education loan and repay it.
The tuition fee in the UK is about Rs 19 lakhs-Rs 20 lakhs and living cost around Rs 10 lakhs for a year. That is really expensive for us! If not for this scholarship, I don't know how I would have fulfilled my dream.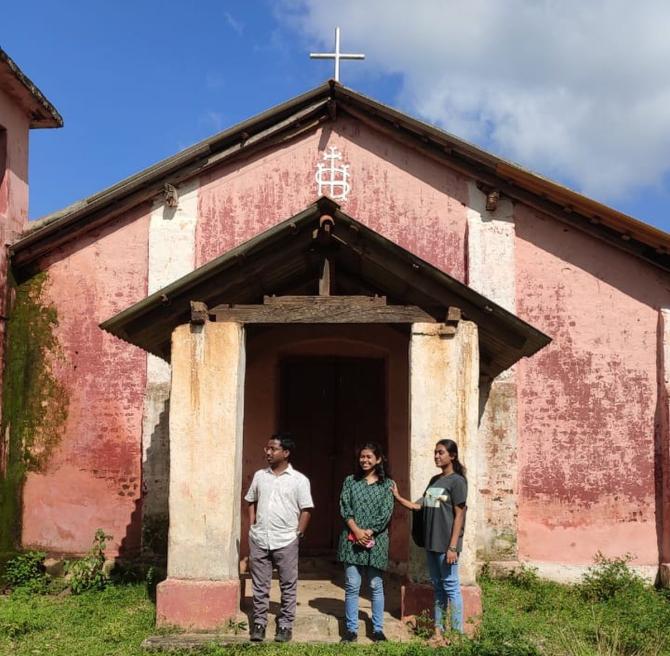 'We need to adopt local strategies to combat climate change'
My master's programme is in climate change, science and management.
After my education in Bengaluru, I worked with a Delhi-based organisation that studied climate change and sustainability in Uttarakhand.
I came across a lot of people and saw how their adaptation strategies helped them cope with landslides. My aim is to bring up those adaptation strategies on a global platform.
Climate change is a very global issue, we do not have a lot of options to combat it locally. But then there are strategies on the ground that show how people are actually trying to cope with it. We can bring those strategies up on a global level and support these communities at the same time.
I hope to apply for a PhD or work as a research associate.
I would like to work with the United Nations in any climate change project management programme.
Feature Presentation: Aslam Hunani/Rediff.com