'My parents had no idea what CA is or how difficult it is to crack the exam.'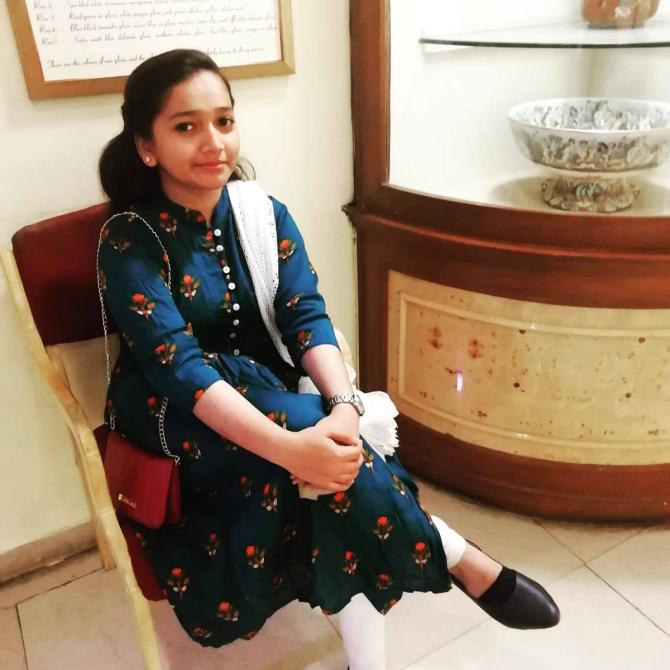 Until February 8, 2021, no one knew who Zareen Khan was, where she lived or what her dreams were.
All that changed a few hours after the results of the Chartered Accountancy intermediate results were announced online this year.
Zareen, the eldest among four siblings, who had appeared for the exam in November 2020 for the first time after pleading her case with her parents, had secured an All India Rank of 1 and topped the exam scoring 461 marks out of 700.
"It was my younger sister who encouraged me to appear for the exam once. Earlier, I'd taken a break for two years to work before I could complete my post-graduation. I knew this might be the first and maybe the last time I could become a CA. So I told my parents to give me one chance to prepare and appear for this one, Zareen, who thinks she is a "little old at 25 years" tells Rediff.com's Divya Nair in a late night conversation over the telephone.
When the results were announced, Zareen who didn't even have the courage to check her marks online, had to further explain to her bewildered parents what her success in the exam meant.
"My parents had no idea what CA is or how difficult it is to crack the exam," she says while talking about how the entire neighbourhood came together to congratulate her for her achievement.
What makes Zareen's story so inspiring is the fact that she is the first post graduate in the family and perhaps one of the few highly educated young women in Mumbra, a township on the outskirts of Mumbai, where she grew up and currently lives with her family of six.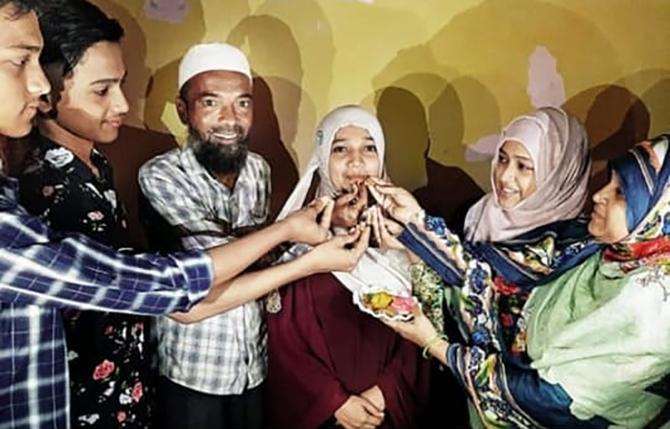 Growing up, Zareen, an academically bright student, was often subjected to criticism from neighbours over pursuing higher education.
"I used to score over 85 per cent and even stood second through my graduation and post graduation. Yet people would often say 'kya kar logi itna padhai karke? Aage jake shaadi hi to karna hai,' she recalls.
"I am sure everyone knows now that I stay in a 300 square foot one room kitchen which is shared by my parents, a younger sister and two brothers," she says while explaining that her educational journey wasn't a cakewalk for her.
Zareen's father works as an auto mechanic and all her siblings equally contribute towards running the home, she informs us.
Although Zareen was aware of her family's financial and social standing, she firmly believed that the "place, conditions or challenges you are born with doesn't define how your future will turn out to be."
Studying for a competitive exam like Chartered Accountancy, where the overall pass percentage is less than 25%, requires more than just academic brilliance or good coaching, she agrees.
Zareen pursued online coaching through an institute in Faridabad which provided her study material and other resources.
"In the morning, the kids would be playing outside. My mother would be cooking at home; anyone would walk in to chat or for some work. So I would wait till evening to begin my studies," she says.
"10 pm to 6 am was perfect for me. I started in November 2019 and studied minimum 10-12 hours in the months leading to the exam and up to 16 hours a month before the exam."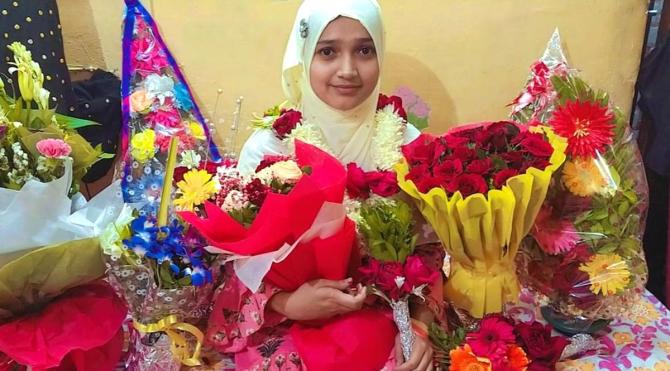 For Zareen, the biggest hurdle was fighting her fears. "Like everyone else, I feared failure. I know the best of people crumble under pressure. I had only one chance. I didn't want to fail."
Looking back, she feels that the lockdown was a blessing in disguise for students like her.
"When the exam kept delaying from May to November, I used all the time to revise over and over again. I think this constant link between studies and revision helped me prepare better and finish the exam on time. My aim was to attempt all the questions in 3 hours, which was possible. I must have barely left out 3-4 marks."
Zareen's new found fame may have turned her into a mini celebrity of sorts in Mumbra. But she is unperturbed by all the attention around her.
"I am happy that people want to support me. I feel more responsible now. I want to be a positive example for compulsory higher education among girls," she tells us.
Zareen feels that this success is an eye opener for her to chase her dreams and support her family.
"I will not lie -- I wasn't too confident of my abilities, yet I could reach so far purely because of my consistent dedication. Also, my family supported me. I really hope my story gives more women the power to dream big and fulfill them too."
Currently, Zareen spends her time applying for articleships and wants to focus on preparing for the CA final exam scheduled for November 2021.
"Agar aap me dedication aur vishwas hai, aap kuch bhi kar sakte hai. At least ab to koi nahi bolega itna padh likhke kya karoge?" she says.
"I am the first post graduate in my family. I want to be the first CA too."