'Whenever I felt like giving up, I'd think about my father.'
'I think about all the hardships he'd undergone to put me in a good school and give me the best of coaching.'
Abhishek Meena's life, Rediff.com's Divya Nair discovers, is an inspiration for all of Young India.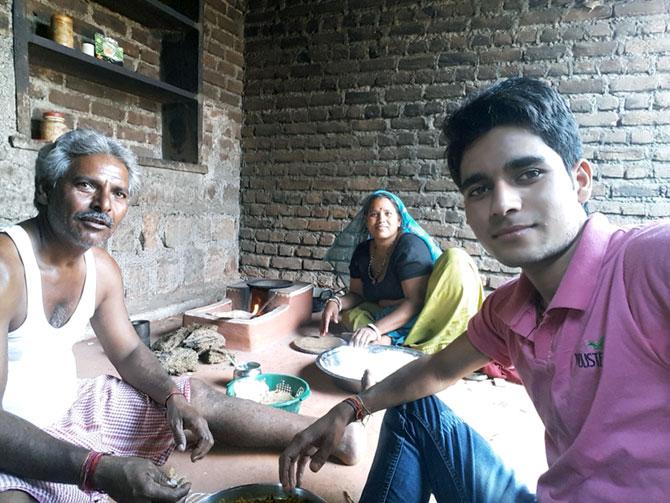 IMAGE: Abhishek with his parents Ramdayal and Sultanbai at his home in Chhathrapur, Rajasthan. All photographs: Kind courtesy Abhishek Meena
Abhishek Meena was born in the small village of Chhathrapur in Jhalawar district, Rajasthan.
His father, a farmer, who studied up to Class 10, grew soyabean in their baara bigha zameen (12 acre farm) and struggled to feed five mouths -- Abhishek, his mother and two younger brothers.
Even though the family lived a tough life, Abhishek's father Ramdayal had a dream for all his sons -- that they all should get good education.
Unlike other parents in the village who expected their children to assist them on their farms, Ramdayal sent Abhishek, his eldest son, to the nearest school to study.
"My father never expected me to join him in earning an income. He'd tell me to concentrate on studies."
The village school Abhishek went to had limited classrooms and teachers.
"Students from Classes 1 to 4 studied together; those from the 4th to the 6th were put in another class," he explains about the school in which he studied up to Class 5.
Seeing his son's interest in his studies, Ramdayal made arrangements to send Abhishek to the Shivaji Balvidya Mandir in Ayana district.
"The school was three kilometres away from my village and we could not afford a cycle. I'd walk for 30 minutes to reach the school every day."
New school, new challenges
Besides food, education and travel, Abhishek now had a new challenge to overcome.
"I had never studied in a proper school before, so the idea of classroom teaching was new to me. I now had to read textbooks and understand Hindi. In my village, teachers would talk in Hadoti, our local language, and learning Hindi was difficult," Abhishek recalls.
"In the first month, I struggled with studies and the new environment. I even thought of quitting, but my father encouraged me to work harder and not give up soon."
Towards the end of the second term, Abhishek's maths teacher told Ramdayal that his son was bright and had scored maximum marks in maths in the class.
This motivated him to study better. "In Class 6, I stood second in class and first in Class 7," he remembers.
When he began Class 8, Ramdayal gifted his son a cycle so he could cut his commute time.
Chasing the IIT dream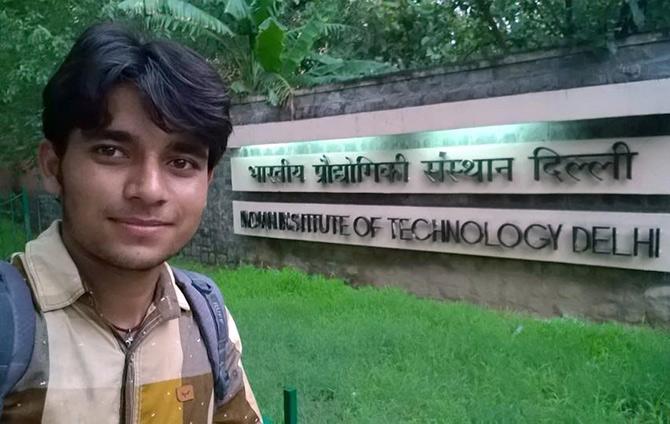 IMAGE: Abhishek studies mechanical engineering at IIT-Delhi.
In Abhishek's village and school, the word IIT was unknown. The highest degree anyone knew was a BSc, he says.
"When my cousin informed me about IIT, I had no clue what he was talking about. From what he told me, I understood it was some big and important exam. I asked him what questions would be asked and how I could prepare for it. My cousin told me I'd have to focus on maths and science chapters from Classes 11 and 12 and that I'd have to sign up for good coaching."
The idea stuck with him through Class 10 and through his cousin's friends, he found out that Kota was the best place to prepare for the IIT-Joint Entrance Exam.
After scoring 73 per cent in Class 10, he stood second in the school. "I was motivated to study further and wanted to try the IIT-JEE. I shared my dream of going to Kota with my father. He had no idea what I was talking about. But after making some enquiries, he agreed to send me there," says Abhishek.
The fees for the Allen Coaching Centre would be over Rs 1 lakh (Rs 100,000), a figure that made the dream seem a remote possibility.
Ramdayal, who has by then begun working for NREGA (the Mahatma Gandhi National Rural Employment Guarantee Act), earned at most Rs 3,000 for a 14-day project. He did not have much savings to turn to. At the same time, he did not want to disappoint his son.
"My father ran pillar to post and borrowed Rs 50,000. Considering my academic performance, the institute gave me a 25 per cent discount. I had to pay Rs 73,000 which my father managed to pay somehow."
"Since Kota was a new place, Sunitadidi (a cousin from his father's side) agreed to come along with me. She would pursue BEd and I'd prepare for the IITs."
Living and studying in Kota
India's coaching capital proved tough for Abhishek, torn between preparing for the Class 12 board exam and the now expensive JEE.
"There was so much to study and I was struggling. My friends would advise me to focus on the board exam. They told me if I did not clear Class 12, I wouldn't be eligible for IIT. I was worried about the hefty fees my father had paid for the entrance coaching, so I had to do well in that as well."
Abhishek would attend coaching classes between 7 am and 2 pm, take a break for an hour or two and study for another two hours till 6 pm. After dinner, he would spend a few more hours preparing for the following day's class.
"You cannot afford to fall sick or take a day off. If you missed a class, you'd feel completely lost the following day. Every day, the faculty would test you on what was taught the previous day. So, one had to study every day, finish homework and also prepare for the following day."
Asked about what it was like living and studying in Kota, Abhishek says it isn't meant for everyone.
"A lot of students sign up for the IIT-JEE without knowing what they want. They are either forced to, or give in to peer pressure. When they are not able to cope up with the rigour, they give into depression or give up on life," he says.
"One needs to be mentally strong and feel motivated every day when preparing for highly competitive examination like the IIT or civil services," he feels.
The inspiration to fight on
"Whenever I felt like giving up, I'd think about my father. I'd look at his photograph and think about all the hardships he'd undergone just to put me in a good school and give me the best of coaching."
"He had so much hope in me. He believed I had the potential to achieve my dreams and I'd tell myself that I need to make him proud and happy."
Joining the IIT: A dream come true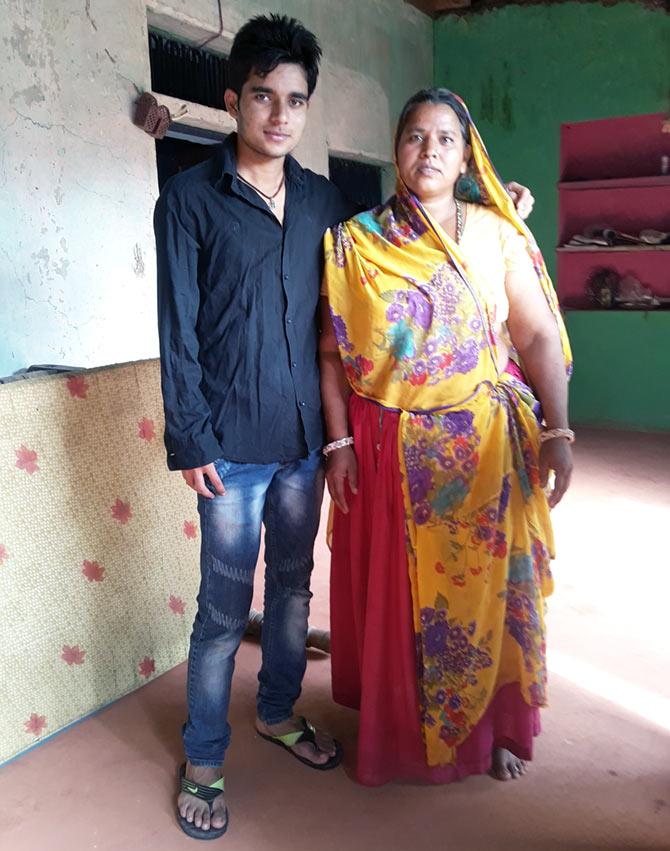 IMAGE: Abhishek with his mother Sultanbai.
Abhishek scored 83 per cent in his Class 12 exam and secured an All India rank of 257 in the JEE.
He opted for mechanical engineering at IIT-Delhi because "it was the best and closer to home."
In 2016, Abhishek became the first student from his village to make it to the IITs.
Now that his dream is fulfilled and he'd made his parents happy and proud, he had to face a new set of challenges.
"After Hindi, I now struggled with English. All these years, I had studied in Hindi. I even appeared for the JEE in Hindi, but now, I have to study in English. Although English was one of the subjects in school and college, unfortunately, I cannot read or understand it well. I realised this during the orientation lecture at IIT-Delhi. The faculty spoke only in English and I could not understand a word of it."
"The first few months at college I simply stared at the board. I would take down the notes and try to understand them after the class got over. I asked the professor once if he could occasionally talk in Hindi, but he told me there were students from Telangana and other parts of India who only understood English; besides it's the primary medium of instruction."
"I felt helpless, but then I remembered what my maths teacher used to say. He'd said, 'If people ridicule or laugh at your weakness and it affects you, it is not their problem. It is yours. You and only you can deal with your weakness and make your life better. Never let your weaknesses make you weak'."
Abhishek is still struggling with the English language, but is persistent not to let this come in the way of his dreams.
"The faculty at IIT-Delhi is helpful, but they can only help me to an extent. I am taking extra lessons on improving my English. Hopefully, I will do better towards the next semester."
The ultimate dream
"Right now, I am not very ambitious, but I really want to do something for my hometown. There are not enough schools or playgrounds in my village. I want to find a way I can introduce the kids to good quality education and teachers."
"When parents from my village ask me to guide their children, I feel good and sometimes helpless that I have so much limited information and exposure to share. Still, I help them in whatever little way I can."
"After completing engineering, I want to work in a good firm, earn some money and give a better life to my parents and brothers."