Hercules Singh Munda's father used to open the gates to a forest.
Today, Hercules leaves for London to open the gates of his many dreams.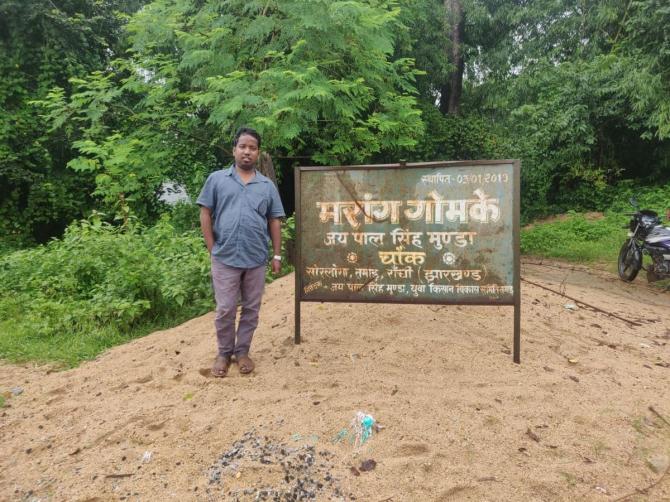 Hercules Singh Munda, 28, spent his childhood at Jharkhand's Naxal epicentre. The son of a forest department employee he is the first person from his family to travel abroad.
Hercules is one of the six recipients of the Jharkhand government's first tribal scholarship.
In 2015 when he graduated from the Birla Institute of Technology, he was the first IT engineer from his village. Last year, he secured admission to the famed School of Oriental and African Studies (SOAS) in London, but did not have the funds.
The Marang Gomke Jaipal Singh Munda Scholarship has made his dream come true.
Today, September 28, Hercules leaves his village in Khunti to fly to London to pursue a Master's degree in Linguistics.
His passion is the revival of his native Mundari language and create language technologies for tribal languages.
He spoke to Rediff.com's Archana Masih about his journey from a forest hut to one of the world's leading universities.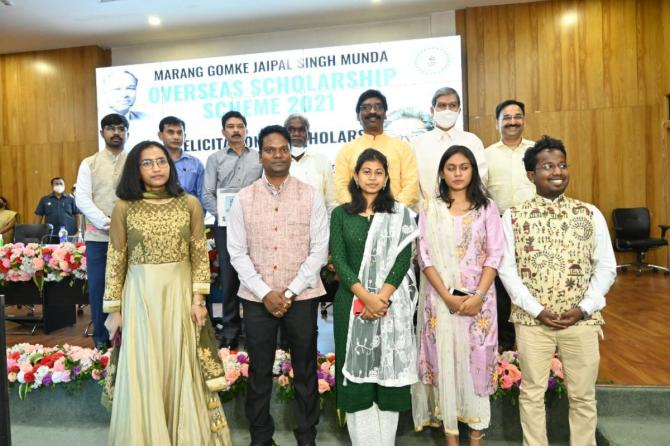 I live in Khunti around 40 km from Ranchi.
No one in my extended family has ever gone abroad. I am the first engineer from my village.
For us village folk, studying in Ranchi, the state capital is a big achievement, so my going to UK to study is huge!
My parents very proud of me and people from my village say that I have brought fame to our village.
We are a family of four. My father works in the state forest department. My mother is a housewife and brother is preparing for entrance exams.
The earliest memory of my father is him working as a forest guard. He opened the gate when cars passed. We lived in a hut in a forest in Bandgaon village between Ranchi and Chaibasa.
My father got promoted over the years and is now a government staff.
I lived at the epicentre of the Jharkhand Naxalite movement. I remember the first bomb blast that had happened there. It was like a war zone.
I was sent to a missionary school in Khunti from Class 4-10 and went to Ranchi for plus 2. I cleared the All India Entrance Engineering Exam [now known as JEE] and got admission to the Birla Institute of Technology, Mesra, Jharkhand.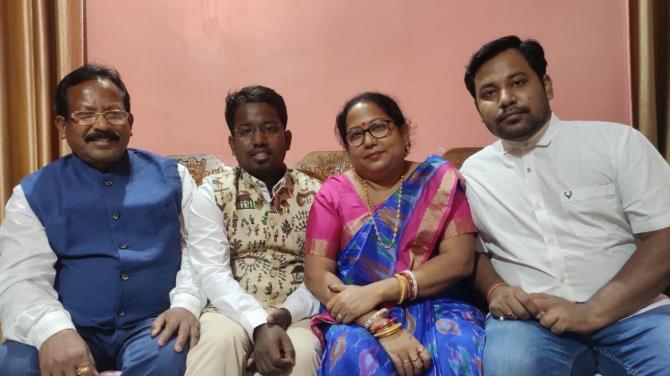 Why I quit the IT sector to study Languages
I completed engineering at the Birla Institute of Technology in Mesra, in 2015. Till 2018, I did multiple jobs in various sectors -- marketing, sales, operations, sales, IT etc.
My first job was as a marketing intern in Outlook magazine.
In 2018, I quit the IT sector and was thinking what do I do next?
I came home for Makar Sankranti. I do that every year since it is a big festival in our community. Usually when we are amongst our community, we speak our mother tongue.
I saw that my younger cousins did not know our native Mundari language. I wanted to do something about it.
That triggered the thought process. As an engineer I started devising my own solutions to teaching my mother tongue.
I wanted to make my language known not only in my region and state, but also internationally.
In the process, I learned a lot about Jaipal Singh Munda (after whom the scholarship is named) and that inspired me.
Singh was the first student from a scheduled tribe to study at St John's College in Oxford. He returned to India to join the Indian Civil Service, but left to captain the Indian hockey team that won a Gold medal at the 1928 Olympics in Amsterdam.
In order to pursue this passion, I had to transition from my IT background, so I joined a social entrepreneurship programme at the International Institute of Information Technology, Hyderabad.
I was there for six months where I learned about social development and community from an academic point of view.
I also wrote several to professors in India telling them that I am from the Munda community and want to save and promote my language, Mundari. I wrote in my mails that I had no educational or technical background and requested them to guide me.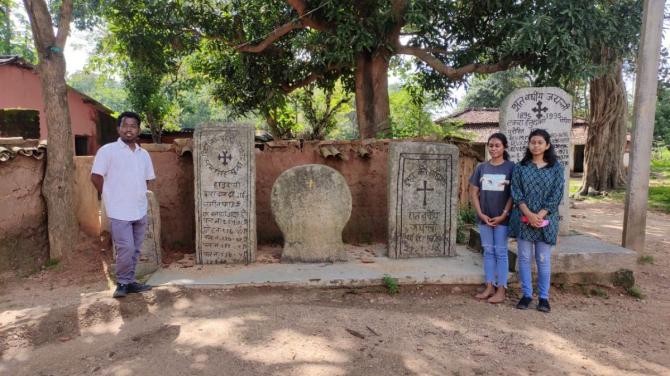 Mundari is among the vulnerable native languages
Dr Dipti Misra, head of the department of Linguistics at IIIT, Hyderabad replied and gave me an opportunity to work under her.
IIIT gave me an academic environment. I got the opportunity to write research paper, attend conferences and meet 50-60 tribal communities in central India.
I got a sense of the academic world and wanted to pursue it further.
Last year, I moved from IIIT after receiving a grant from Indian Institute of Management-Calcutta to work on language technology.
I registered a one-man company and worked on that project for a year during the pandemic.
There is a way to measure the health of a language on a scale of 1-10.
One means it is extinct.
Ten means a language is doing well in every front of human existence, ie, in the sphere of technology, education, society, culture, tradition.
One means it is extinct.
Mundari is around 4 -- meaning it is vulnerable. Mundari doesn't have a script. Devanagari and Roman scripts are used.
I am building a translation system for Mundari -- something like Google Translate. We are putting the whole Santhali script on Google infrastructure.
In the next 10 years just as you get Hindi, Marathi, Tamil, Kannada etc options when you log in, you will get the Ho language [related to Mundari] option as well.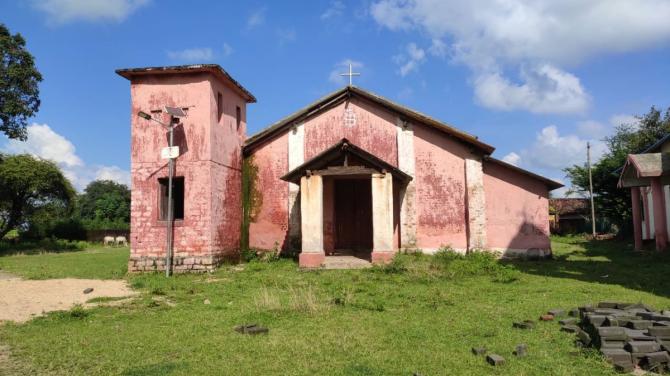 How I got the scholarship:
I applied to the School of Oriental and African Studies in London and was accepted.
I got an offer letter last year, but I did not have the funds. I was struggling to raise the money and the saying 'Where there's a will there's a way' literally came true for me.
One of my relatives sent me the application for the first Jaipal Singh Munda Jharkhand state Scholarship on WhatsApp.
I needed around Rs 40 lakhs to fund my Master's Degree and applied for the scholarship.
The student has to secure admission and get the offer letter on his own. The scholarship takes care of the financial aspect. The scholarship committee has no connection with securing the admission.
The applicant's family income had to be less than Rs 12 lakhs per annum. S/he should have a first division, domicile, caste certificate. We had to submit our research proposal and statement of purpose.
The interview panel consisted of experts on the subject. My panel included people from film and animation and healthcare.
A commissioner on the panel asked how would I implement a language project in the district.
The scholarship includes tuition, accommodation and also money to buy things we may need over there like woollen clothes.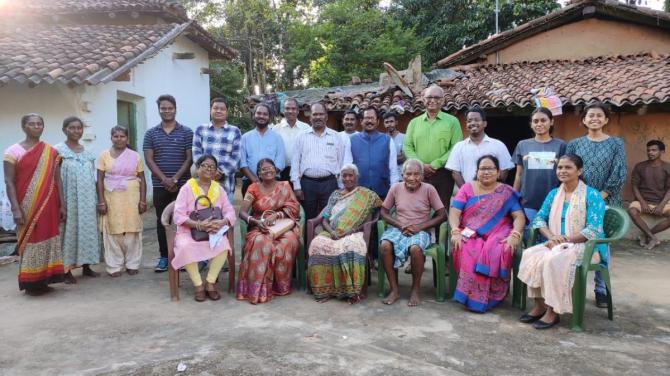 Student life in London
Somebody from the college admission team will come to pick me at the airport.
I will be staying in a single accommodation which is a 15 minute walk to the university.
Classes begin from October 4, but I will be undergoing a 15-day quarantine before starting college.
The six of us who have received this scholarship are going to different universities in the UK, but we plan to meet every semester. We have become friends.
I am taking some homegrown rice and dal. We plan to meet for dal-bhaat!
Mr Arindam Banerjee [adviser to Jharkhand Chief Minister Hemant Soren] and the tribal welfare commissioner [Naman Priyesh Lakra] have really helped us prepare. They gave us classes in personality development, soft skills.
I will finish the one year Master's degree in Linguistics and come home.
Feature Presentation: Aslam Hunani/Rediff.com