Back in Tiruvannamalai, a town in Tamil Nadu, 14-year-old Vinisha Umashankar has been creating a buzz with her solar-powered ironing cart.
The youngest finalist of the Duke of Cambridge's The Earthshot Prize 2021, she is a shining example of why one is never too young to help the environment.
If Vinisha were to win, she will receive 1 million pounds in prize money to scale up her dream project.
Her solar-powered ironing cart replaces charcoal with clean energy and comes with a built-in phone top-up and charging points.
Vinisha, who studies in the 10th standard at the SKP Vanitha International School and will turn 15 next month, tells Anita Aikara/Rediff.com about her innovation and how it will help create a cleaner tomorrow.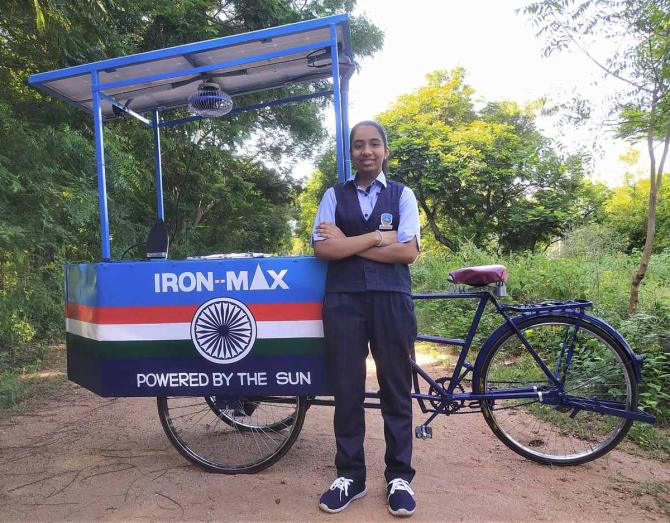 It all started off when Vinisha was 12. On her way back from school, she saw vendors ironing clothes on the street she lives on using charcoal.
"It felt wrong because of the pollution caused by charcoal," she says. The smoke from charcoal can damage people's lungs.
Her research revealed that charcoal consumption was a major contributor to climate change and deforestation -- every year, a huge number of trees are felled to make charcoal.
She decided to come up with a modernised but sustainable ironing cart.
After almost a year of research, innovation and creation, her solar-powered ironing cart was ready.
"It took me 6-7 months to get out of the research phase. I needed to understand how the process works and come up with something that is practical and efficient."
She then started to design the cart and, like other researchers and scientists, wrote a technical paper about how it functions.
Once charged in bright sunshine for five-six hours, Vinisha's cart can work for six hours or more. "The solar panels are continuously being charged so the time can extend by a few hours," she says.
"The cart can function even during the monsoon because the solar panels are still taking in sunlight; it just maybe not the same amount they'd take in on a sunny day."
The ironing cart got international attention and Vinisha became one of the 15 finalists for The Earthshot Prize 2021, instituted by Prince William, the duke of Cambridge.
"I am happy and a little shocked as well. I never really imagined I'd come to this stage of being a pioneer," she exclaims.
Is she excited about meeting Prince William if given a chance to travel to the United Kingdom to collect the prize?
"Of course! One doesn't get that opportunity often. It's something that comes once in a lifetime.
"It would be exciting to meet The Earthshot Prize committee as well. All of them are really special."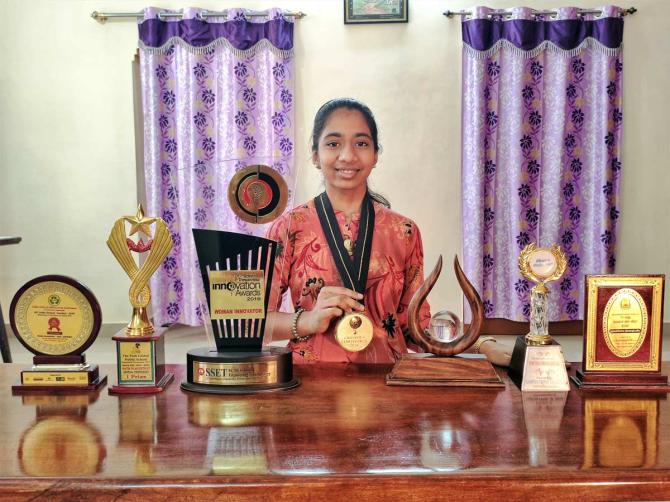 If she wins, Vinisha would like to start a manufacturing unit with the prize money.
"Innovation can only reveal its true potential if it actually reaches the people," she says.
"I want to manufacture the solar ironing cart within my own state first, then across the country and later scale it to an international level."
Currently, her cart is priced at between Rs 40,000-Rs 50,000.
Since it's a solar-powered product, one can expect subsidies and loans from governments, which will reduce the price even further.
"Considering this cart can be used for 20-25 years with little to no maintenance, I think it is a worthy investment," she says.
Vinisha's effort was first recognised in 2019. Before that, she did win a few prizes in academics and talent search competitions.
"I was known for my academic excellence, but nobody really knew the idea I was working on behind the scenes.
"The first time my cart got noticed was in 2019 at the Dr A P J Abdul Kalam Ignite Award, which is a national innovation competition. I could not believe I had won a national award for my first innovation."
Vinisha has always been interested in science; her idols include Nobel Laureates C V Raman and Marie Curie.
Her father Umashankar, an online business consultant, and her mother Sangeetha, an English teacher, have been great influences.
"My mom is hard-working, smart and does the right thing. In terms of values and morals, she has taught me well."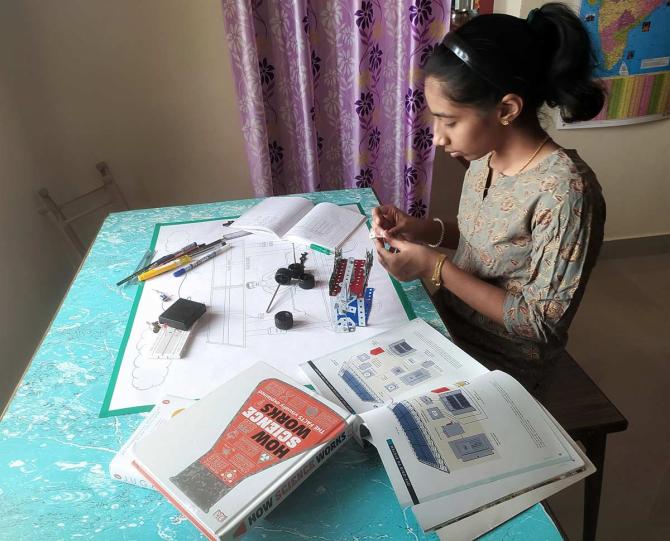 A fan of her mom's cooking, especially her vegetable fried rice, she also likes eating chapati with Palak Paneer or Paneer Butter Masala. However, her all-time favourite dish is idli with podi.
"My parents encouraged me to listen to several podcasts from a young age. That's how I picked up the accent, vocabulary and fluency.
"I couldn't do it without my parents's help. They have supported me, and my project, for two years .
Vinisha would also like to promote tree plantation in India and make people reconsider their mode of transportation.
"I have noticed a lot of air pollution is caused due to the exhaust fumes of vehicles.
"If only we could do away with petrol and diesel-powered vehicles and give electricity and renewable energy a chance! It is becoming more popular and is cheaper as well."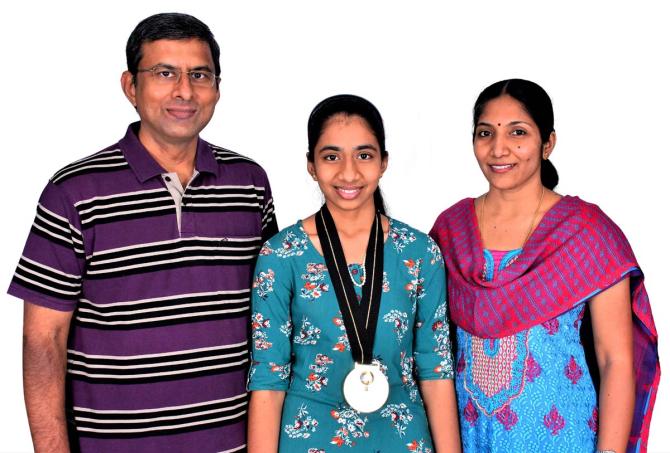 She has watched a few movies, Bollywood and Tamil, but she is more of a YouTube and book person.
If she had to name one Indian movie she really likes, it would be Dangal.
"I remember watching the movie for the first time and being really inspired by the girls feeling rebellious towards the tough training regiment, but then realising the importance of it and feeling grateful.
"They trained to become gold medallist wrestlers. The movie sent across a really inspiring message."