Why was it so easy for students to get a college degree? asks Geetanjali Krishna.
Illustration: Uttam Ghosh/Rediff.com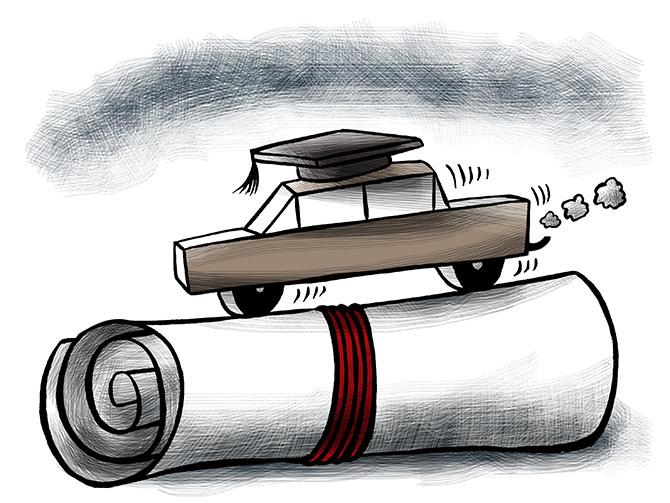 In the last few months, I've spent a bit of time in rural UP and have been struck by the number of young graduates I've met. Most of them have studied locally. Some plan to get a post-graduate degree as well.
On the face of it, it seems promising. But the ground reality is, more often than not, different. A conversation I had with a taxi driver while driving from Kanpur to Banda last week illustrates why.
He offered me a laddu when I got in the car at Kanpur airport. "I just got my college exam results," he explained. "I now have a BSc degree in physics, and that is something to celebrate, isn't it?"
It must have been a tough course, I commented. His response was surprising.
"I don't really know," he said. During the three-year course at Chhatrapati ShahuJi Maharaj University, Kanpur, he said he'd attended barely a month every year.
"I work as a driver in Lucknow," he explained, "and don't have time for class."
A month before the exams, he'd come to Kanpur, attend a few classes and study enough to scrape through the exams.
Local colleges in UP, he said, had lax attendance requirements, making it easy for students like him to get their degrees while doing, what he called, "better things".
He, for instance, had earned Rs 8,000 to Rs 10,000 per month as a driver all through his "student" life. He couldn't have had much driving experience at the beginning of college when he'd have been barely eligible for a driving licence, I pointed out.
"This is UP, madamji," he laughed. "I'd been driving for years before I got my licence."
There were very few students, he said, who actually attended class. "Most of them got by doing exactly what I've done," he said. "In fact, this has worked out so well that I plan to enroll for MSc as well."
The conversation raised many questions in my mind. Why was it so easy for students to get a college degree?
If students got away without attending class (or somehow subverting attendance rules) and somehow passing their examinations after a cursory 30 days of study (if at all), what was their degree worth?
I asked the driver to explain why he wanted to collect all these degrees if he didn't really experience student life or learn anything. Surely he must have an interest in physics if he was planning to do MSc in the subject?
His response made me realise that it was naïve to assume a correlation between obtaining an education and getting a degree.
"I don't really understand physics much," he said. "I just opted for the subject as there were seats available in it," he said.
A degree, he said, was the only way people like him could get ahead at a time when jobs were hard to find. His father was a farmer, while many of his friends came from weaver families. Few wanted to take up the family trade.
He was lucky, he said, to have landed this driving job. Which is why his plan was to keep working in Lucknow while completing his MSc in physics in Kanpur.
"Meanwhile, I'll apply for every government position that falls vacant," he said. "And, of course, if nothing else comes up, I'll just become a teacher."