'I may not have had a lot of money to spend on her, but I certainly make sure the government did,' a Delhi electrician who inspired his daughter to study tells Geetanjali Krishna.
Illustration: Uttam Ghosh/Rediff.com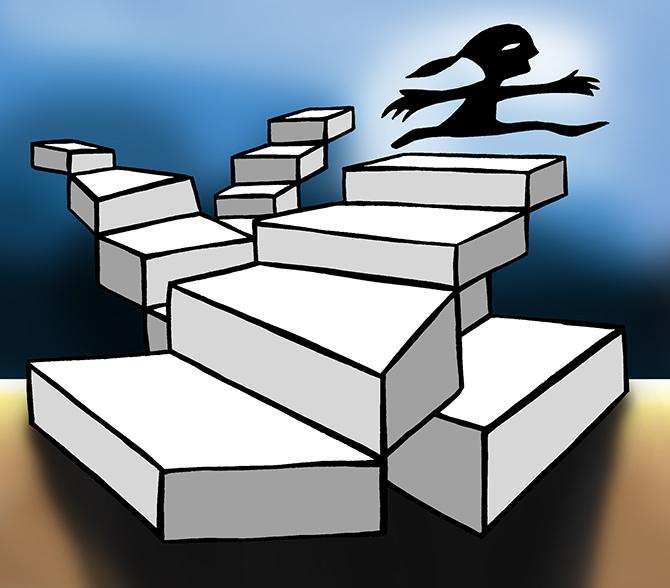 I don't often tell very happy stories, and for good reason.
Sometimes, problems seem more newsworthy while one takes happiness and satisfaction for granted.
Also, I don't often meet people who tell me happy stories. But Bhupinder Singh was different, and that is why I so enjoyed chatting with him.
Bhupinder Singh is an electrician in Delhi who is street-smart but having studied merely up to Class 10, has always been restricted by his lack of education.
That is why, when his eldest daughter was born, he promised to give her the best education possible, even if he couldn't afford it.
"I didn't want her to have the sort of problems that I have had in making a career for herself," he says.
His wife and mother didn't agree with him initially, arguing that he only needed to worry about marrying her into a good family and not about enabling her to find a good job.
"I explained to them that in this day and age, parents should worry equally about the education and careers of their sons and daughters," he said.
So, when his daughter was old enough, he enrolled her in the best government school in his neighbourhood.
Spurred by her father, the girl proved to be a good student. But Singh wanted her to do even better.
When she was promoted to Class 6, he decided it was time to get her some extra coaching.
"After all, none of us at home could help her with her studies," he said. However, coaching classes in his neighbourhood were prohibitively expensive.
By then, he'd also had two more children. "Just when I was wondering how to apportion my earnings between the household and my three children, I got to know that a benefactor at our local gurdwara was offering needy girls full scholarships," he said. He promptly put in an application for
his daughter, and she was selected.
After this, Singh became inspired to apply for every scheme the government launched that his daughter could possibly benefit from.
"Whether it was the Ladli scheme or any government-sponsored health benefits for girls I ensured my daughter could avail of them," he said.
Consequently, her school fees as well as extra classes did not cost him a single penny.
After school, she was able to secure a seat in a good Delhi University college because Singh belonged to an Other Backward Class, and had the papers to prove it.
"I realised what a difference a good college made when I saw the exposure she got there," he said.
While completing her graduation, Singh's daughter began working on a SAP certificate course. "We didn't even know what SAP was all about, until she landed a job that paid her over Rs 1 lakh per month," he said.
His daughter married one of her colleagues soon after she started working. The couple took a joint loan to buy a flat in Gurgaon.
"Recently, she gave me the good news that she was expecting," he said.
"So, I gave her the good news that she was now entitled to 26 weeks of paid maternity leave from her place of work."
Singh said the look of relief on his daughter's face told him that he'd done his duty as a father.
"I may not have had a lot of money to spend on her, but I certainly make sure the government did," he said.
Our conversation left me ruminating how unfortunate it is that there aren't many like Singh, who keep track of government schemes they are entitled to.
If they did, perhaps there would be many other happy stories for me to share.
MORE GEETANJALI KRISHNA features in the RELATED LINKS BELOW...