'His father spent Rs 5 lakh on his studies. He works with a chartered accountant in Delhi for Rs 8,000 a month.
'He's excited at the thought of landing a job at Rs 17,000 -- even if it is as a sweeper,' says Anjuli Bhargava.
Illustration: Uttam Ghosh/Rediff.com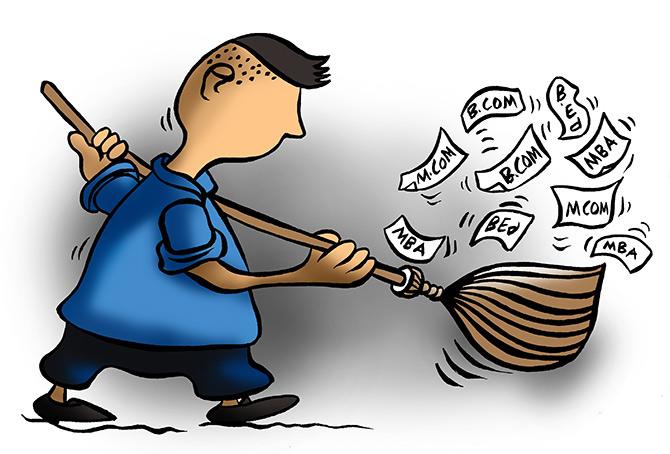 Every once in a way, a news report, an event or happening in India brings out the absurdity -- and uniqueness -- of the way things work in our country and how slowly, if at all, things -- attitudes, beliefs and practices -- change.
A news report I came across in The Indian Express on the recruitment of safai karamcharis in Uttar Pradesh was both an eye-opener and a reality check.
The state is looking to recruit around 20,000 sweepers and drain cleaners and has received -- which comes as no surprise -- around 20 lakh applications for the jobs (one out of every hundred will make it).
As is often the case, there are MBAs, MCom and MSc degree holders -- all clearly overqualified -- applying for the positions from cities like Mumbai, Delhi and Kolkata, a testimony to how coveted government jobs are and how rare jobs in the country have become.
But what struck me is the absurdity with which the bureaucracy in the state is handling the whole process.
To start with they are conducting practical examinations (applicants have to sweep in their presence) and recording this on camera (there are photographs of this taking place with the piece).
It doesn't seem to have struck the officers that with a camera closely capturing them, candidates are likely to put their best foot forward for the moment.
But no one has stopped to think that it is in no way a guarantee that they will continue to do so after bagging the position.
As is well known, witnessed and documented, once people bag a government job, large numbers fail to turn up to actually do their duties.
Or if they do, they have a half-hearted approach towards their work.
This is particularly acute in the sanitation and municipal corporations as the state of cleanliness across the country will testify.
Moreover, for some odd reason -- condemning the next generation -- the bureaucracy has decided to give points to those whose parents have been sanitary workers in the past.
In other words, if your father or mother was a sweeper, it is assumed that you are likely to make a better sweeper.
And then the bureaucracy is looking for 'aptitude'.
How many of the applicants really want -- or demonstrate a deep desire -- to be sweepers for the rest of their lives?
The officials are seeking those who genuinely want to be sweepers as opposed to those looking for the 'security of a government post'.
Equally riveting is the thinking of the applicants (encapsulated in the same article) that reveals how slowly attitudes change, if they change at all.
Twenty-three-year-old Varun Kumar Singh from Kanpur is the most highly qualified candidate with a BCom, MCom and an MBA degree from the Gautam Buddha Technical University in Lucknow.
His father spent Rs 5 lakh on his studies. He works with a chartered accountant in Delhi for Rs 8,000 a month.
He's excited at the thought of landing a job at Rs 17,000 -- even if it is as a sweeper.
He had filled the form when he saw the job would pay Rs 17,000, not paying much attention to the fact that it was as a sweeper.
But he says it's no big deal; he can clean if need be.
There's 66-year-old Hari Kumar from Etah who wants his daughter Ravina to get the job so that it can open doors for his only son's future.
If she lands the job, he can send his son to study in the city and that could alter his future forever.
He's not apologetic about his open favouritism and concern for his son's future.
The daughter doesn't detect any bias in her father's thinking. She accepts her fate.
Marriages, they say, are made in heaven, but in India, a government job can sway the odds.
So there's the predicament of 27-year-old Shyam Sundar who has a BEd degree from Gorakhpur and has cleared the teacher eligibility test from Allahabad, but doesn't mind becoming a sweeper as it will increase his eligibility in the marriage market.
His chances of getting a bride are improved if he finds a government job even if it's sweeping rather than teaching.
And finally there's the over-riding concern of all applicants that the job may be handed out on grounds other than merit.
The price? Rs 2 lakh to Rs 3 lakh per job, more than what many of the applicants can shell out.
A reality they live with.